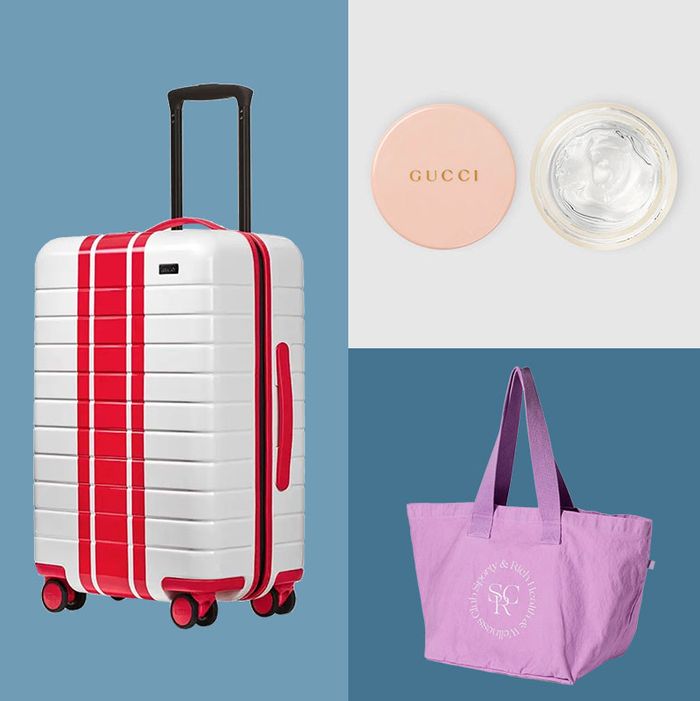 Photo: Courtesy of the retailers.
As usual, there are a lot of shoes in this week's edition of Don't Dillydally (including some Vans that we may very well buy ourselves), as well as some Street Ski luggage, a state-of-the-art breast pump, and a limited-edition stamp.
Everlane Court Sneakers
They're available for men too.
Gucci Face Gloss
Since everyone wants to look shiny and a little bit wet these days, Gucci Beauty just launched a new Éclat De Beauté Effet Lumière gel face gloss that's meant to give eyes, lips, and cheeks a "reflective, dewy finish."
Tibi x Clarks
Tibi has given the Clarks Wallabee a patent leather and metallic update. Our favorite (the silver) is pretty much all sold out, but there are quite a few sizes left in the black and white.
Away Chalet Collection
Further proof that the Street Ski trend is a thing: Away just launched a limited-edition Chalet line of alpine-inspired luggage.
Willow Generation 3
Willow, the very quiet, wireless, wearable breast pump ("You just wear it and let it suckle," we wrote), has come out with its latest model. The Generation 3, which debuted at CES, claims to "increase of milk output by 20 percent and offers a new range of pump sensitivity settings."
Vans Origami Sneakers
These deconstructed Vans look like maybe they were made in collaboration with Margiela or something.
Sporty & Rich's Spring 2020 HBX Capsule
Okay, this is complicated so stay with us. Emily Oberg is an influencer-type whom Molly Lambert just deemed "streetwear's Martha Stewart." Among other things, she runs a clothing line called Sporty & Rich. Sporty & Rich just teamed up with HBX (Hypebeast's e-commerce line) on a range of clothes and accessories adorned with a New York Health & Racquet Club-inspired logo. We like this lavender tote.
Revival Rugs' Moroccan Collection
Revival Rugs, purveyors of cheaper-than-average vintage rugs, just recently branched out into Moroccan rugs, and a lot of them have already sold out. At press time, this pink number was still available. (Revival offered to send us one of their new Moroccan rugs to try, so we will report back on our findings.)
Gwen Ifill Stamp