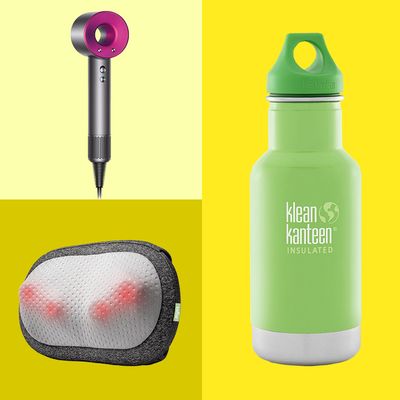 Photo: Courtesy of Retailers
If you follow our biweekly feature Your Shopping Cart, you know that we have some eerily good intel on what you all are buying. Which led us to think that, as Strategist editors, we could turn the tables and highlight all the things we've been buying for ourselves. As you'll notice, it's both a blessing and a curse to be a Strategist editor; we're picky, but sometimes we just have to get on with it. (It's online-shopping expertise meets IRL needs.) Below, what we all bought in February.
Tembe Denton-Hurst, staff writer
I, like many other Strategist staffers, have purchased these Wranglers at the convincing recommendation of Rio Viera-Newton. I'm curious about how they'll fit my plus-size, thick-thighed frame (especially because they run notoriously small), but I'm excited about the prospect of adding cool-casual slacks to my wardrobe. I've already started dreaming up outfits.
I've loved Audre Lorde since college, and although I've read her other work, like Sister Outsider, I've been slow to dig into Zami, arguably one of her most popular books. It came up numerous times for a story I'm working on, and it feels like the right time to visit the text for myself.
Casey Lewis, senior editor
Winter has not been kind to my hair. If it's not completely dry when I leave the house in the morning, my curls collapse, completely deflated by the cold. But my very old drugstore blow dryer wasn't cutting it. Not only did it take forever, it was also actively damaging my hair. That's the only way I can explain how, one night after work, I walked into Sephora, blacked out, and walked out with a Dyson in my hand. (Don't worry — I paid for it, according to the receipt and my very sad bank statement.) It really is unbelievably pricey, but I regret nothing. It dries my hair so fast, even using the low setting and a diffuser, and I swear it looks healthier.
Or maybe it looks better because I switched up my hair products. I'm not sure what to think about the recent DevaCurl backlash, but it scared me enough that I bought the highly-recommended Aveda's Be Curly curl enhancer. As Strategist writer Hilary Reid explained in her roundup of expert-recommended products for curly hair, "The expanding effect of wheat protein adds body and volume to hair, and because wheat protein easily absorbs into the hair shaft, it can help repair damage to the follicle, as well." After using the stuff for almost a month, I believe it.
Maxine Builder, managing editor
Perhaps it is sacrilege for an editor at New York to have made this purchase. But I saw Luke O'Neil wearing a version of this Carhartt baseball cap when he was in town promoting his book Hell World, and I have not been able to stop thinking about it. He had the fitted version, and I went with the adjustable one, but in both cases, there's something about the combination of the Red Sox logo on the front and the Carhartt tag on the back, all in that sturdy duck canvas, that's so deeply and wholly New England, it sends shivers up my spine.
I don't know what possessed me to buy a pair of Converse high-tops. Maybe it's because my coworker said she was "kind of over" chunky sneakers, or maybe it's because it feels like spring, or maybe it's the fact that Green Day came out with a new album this month that I've been listening to compulsively, with the fervor of a teenager who carefully writes their favorite song lyrics on their sneakers in pen (one of my favorite pastimes back in the day). Whatever the case, I found these all-white ones at Journeys in SoHo, in case you needed more proof that I am 28 going on 14, and they scratched whatever itch I had. They're admittedly hard to keep clean but have quickly become the only sneakers I want to wear because they work with everything, and I really like that they're not broken up by the blue and red stripes.
Chloe Anello, junior writer
I'm planning on moving into my first apartment at some point this year, so whenever I see an excellent deal on a possible apartment essential, I buy it. These were 50 percent off at HomeGoods, and while I'm not necessarily a great cook (yet), I figured this was too good of a deal to pass up because they're utensils I should be able to have long after my first apartment.
After lots of research on better reusable containers for lunches, I landed on S'well's new eats containers, because they have two parts: an insulated bowl to keep everything warm and an interior, removable, microwave-safe prep bowl. It's nice because I tend to take the same thing multiple days in a row, so now, instead of dividing them into containers each morning, I can do it all at once. Plus, they're compact, so it doesn't take up too much room in my already cluttered bag. I haven't actually used them yet because I had to exchange this set for the larger size, because the smaller size is very small, so unless these are exclusively for snacks, opt for the larger size.
Karen Iorio Adelson, senior writer
Because of my below-average height (I'm 4'11"), shopping for pants is always a struggle. But I lucked out recently and found two pairs in petite-length from Madewell. Until I put on the Emmett pants, I assumed I'd just have to sit out the wide-leg crop trend since all of the pairs I tried before looked ridiculous on my short legs. These actually hit at the right spot — just above my ankle bone — and because they're a "slim" wide-leg, they don't overwhelm my small frame. As for the dark gray skinny jeans, they're a perfectly fitting everyday staple.
Warm hats make my cold, winter morning runs much more bearable, but most of mine are several years old and looking a little worse for wear. I ordered a few replacements including this cozy (but still lightweight and moisture-wicking) Smartwool beanie. It covers my ears (a must), is super soft, and stays put while I'm running.
Dominique Pariso, writer
The problem with testing fancy jewelry for two weeks is that my neck started to feel a little bare once I had to return said fancy jewelry. I bought this Mejuri chain to replace the one I borrowed from the Last Line, and I am pleased to report that multiple people (including a few of my eagle-eyed coworkers) couldn't tell the difference — for a tenth of the price.
I also bought the climate-change book that everyone's talking about and tore through it during an unseasonably warm weekend. It's a very meditative — and hilarious — tome of doom.
Jenna Milliner-Waddell, junior writer
I'm not really a T-shirt person, and I'm definitely not a graphic-tee person, but I came across this "Happy Endings" one from Ganni and couldn't resist. I tossed it in my cart during one of the Outnet's sales along with some super-sale Commando and Calvin Klein underwear. I'm happy with everything I received, but one thing that will always delight me the most about ordering from the Outnet is the quick delivery time. The free shipping option got my goodies to me in two days.
Anthony Rotunno, senior editor
Earlier this year, I swapped my iPhone SE for an iPhone 11. (I refuse to say "upgraded" because I'm not exactly sure that's what it was.) Anyway, as of February 21, I'd yet to get a case for the new phone, so when I saw there was an under-$20 style of handykette — the crossbody phone case that our friends at the Strategist U.K. have spotted on a set of fashionable Europeans — it seemed novel and different and cheap enough to give it a try. I've only had it for a few days, so I really can't speak to how strong or durable the case is. (And to be honest, I've only worn it outside of the house once.) But I did wear it while cooking dinner one night, and was totally taken by how, well, handy it was to have my phone (a.k.a. cookbook) at arm's length without occupying space on my counter near water or spices or other stuff that could damage it. For that reason alone, I think it was worth the modest investment.
An impulse buy for my Sphynx cat, Pebbles, while poking around the new Nordstrom in Midtown on a recent day off. After reading about all the sweaters Barbie Ferreira bought her Sphynx, Morty, I kind of felt like a bad cat dad. Pebbles is tiny — like, about 8 pounds — so I got the extra small and it fits her fine. (Alas that size has sold out, but many others remain available.) The sleeves are a bit long, but cuffing them solves that problem while also giving her some personal style.
Peter Martin, senior editor
I finally gave in and bought this thing when we ran it as a deal of the day a couple of weeks ago. Between the 25 percent mark down and Casey's proselytizing, I'm surprised everyone in the office didn't buy one, too. When I brought it home, my wife asked how much I paid for it, laughed at me, and called it ugly. But that just means it's all mine. Unlike the foam roller in my closet or the Thera Cane that lives permanently under our bed, the Mynt requires exactly the same amount of effort I am willing to put into using it: none. Lately I've taken to propping it on my lower back while I'm on the computer at night, or letting it shift me around awkwardly (but so relaxed) on the couch while we watch McMillions and wonder why it wasn't condensed into four perfect episodes.
Jessica Silvester, contributing editor
I'm still pregnant, and I will tell you what: No bras are working for me these days. I have big boobs to begin with, and now, after ballooning up and down with my first pregnancy and filling way back up again in the second, they're just … ugh. I tried this highly recommended True & Co. number but it only supported me for about the first two hours of the day, after which I was bulging and drooping all over the place. I longed to be back in my Hanes pullover bras that I discovered several years ago, after they were put on the free table by our fashion director. Nothing has ever held me in and lifted me up quite like them (and this is coming from someone who once dropped $700 on "investment" undergarments from a fancy Upper East Side lingerie store). The problem was that my usual size small no longer fit me in my prenatal state. But this month I had a revelation: I could just … go up to the next size. And so here I am, back in Hanes.
Also on the subject of expecting a new baby: I'm going to need more places to shove stuff. And I loved the look of these new handwoven rattan bins from West Elm (in the warmly stained "natural" color). Plus they're big enough to hold firewood, so I figure that should be plenty of space for tucking away surplus diapers and wipes and breast pumps and such.
Hilary Reid, writer
I've been wearing a pair of rimless glasses for the past few years, but they were starting to feel a little too 19th-century-antiquarian-bookseller, so I set out to find something new. After trying on a gazillion pairs of thick acetate frames and round wire frames, I finally landed on this basic Tom Ford pair. I like how nondescript they are, kind of like the glasses that Diane Keaton and Jack Nicholson accidentally swap in Something's Gotta Give.
Last month I interviewed the artist Shannon Cartier Lucy, who has a wonderful show of paintings up at Lubov gallery through the first week of March. In addition to her paintings, she makes some great and wry prints, a few of which happen to be surprisingly affordable. I went for this "Mine, All Mine" one, and can't wait to hang it in my bedroom.
I also bought this tea tree oil floss, which has a sort of poisonous flavor, but in a good way? I'm not sure if it's actually more effective than other flosses, but it does taste more medicinal and less sugary, which makes me believe it's more effective.
Alexis Swerdloff, Strategist editor
Hands down the best purchase I made this month is the audiobook of Jessica Simpson's new memoir, Open Book. It was the writer Elizabeth Holmes who planted the seed in my head with this tweet, so thank you, Elizabeth! To be honest, I didn't have much of a relationship to Jessica other than having listened to her songs on Z100 in the '90s, yet I've been finding it so moving and absorbing and just intimate that I even missed my subway stop the other day while Jessica was getting into it about her emotional affair with Johnny Knoxville. She's a masterful reader and it's both uncomfortable-making and also so compelling when you hear the tears in her voice when she talks about her relationship to alcohol, her body, her cousin Sarah, her dad, Nick Lachey, John Mayer … Plus, there's just a lot of good late-90s/early-aughts gossip in it.
Lauren Ro, writer
Augie celebrated his first birthday and got baptized this past weekend. Naturally, I took that as an excuse to splurge on a special outfit for the occasion. I've always loved the way the royal babies are dressed and wanted to cop their look, so I turned to London-based brand (and Prince George fave) Pepa & Co. for its traditional children's garb. I chose a Peter Pan collar shirt with herringbone bloomers that came as a set, T-bar shoes, plus knee-high socks. (Tradition has it that royal babies aren't supposed to wear trousers until they're older, which is why they're always in shorts, I recently learned!). My husband was reluctant to put Augie in such precious (and pricey) clothing, but when he saw it on, he was sold. (It also helped that I got everything on sale.)
Augie is on the verge of walking, so his Zutanos weren't going to cut it anymore. These have a flexible rubber sole that's meant for new walkers. (We're keeping the T-bars aside for special occasions.)
I'm running my first half-marathon in four years in May and needed new cold-weather running gear since I'm (supposed to be) training while it's still cold out. I asked the Strategist's resident runner, Karen, for her favorites, and she recommended Oiselle's Lux tights for their phone-sized side pockets. I also picked up this top on sale that has built-in foldover sleeves and thumb holes. I love that it's super warm (without being too hot) and that I don't need to take a jacket (or gloves) with me when I'm running outside.
Louis Cheslaw, writer
I have to re-up on this guy every four months or so, and February was one of them. I especially feel I have to include it here as I wasn't able to contribute to the Strategist's editors' deodorants story and am horrified that there is no option on that list for rollerball fans. As a Brit, the decision of American men to drag a chalky rectangle across their armpits rather than an easy sphere will never make sense. Mitchum's is fast-drying, has no smell, lasts forever, and can be easily replaced at any drugstore.
I've loved Jungmaven's rough and stretchy tees and sweatshirts, which are made out of climate-friendly hemp, for years. I've always stuck to their solid designs, but couldn't resist picking up the longsleeve, white option from their cozy new Earth Day shirt range when it was released this month. The design, which could honestly double as Father of the Bride album merch, is relaxed and playful enough to make me feel like I'm at summer camp, but restrained enough not to attract too much attention.
I simply couldn't justify the price of this planner to myself throughout the months of November, December, and January — but that didn't stop me wandering into Smythson stores whenever I passed by them to stroke it. But early in February, flying back from a quick trip home before starting my new job (at the Strategist), I came across a massively discounted version in the airport's duty-free section. I really love the way the pages are balanced between a to-do page and the days of the week, an improvement to my 2019 planner where I had to shamefully re-write a task onto the next day of the week whenever I didn't finish it. It's not the only planner with this layout, but it's the only one that makes me feel like a 1950s Italian banker when I use it. Plus, my Smythson wallet has lasted for six years so far, whereas my Moleskine planner didn't make it to the end of 2019.
Liza Corsillo, writer
I have a ton of water bottles that I love, but I still can't get myself to stick to carrying any of them with me on a regular basis. So two weekends ago after doing a makeup shift at the Park Slope Food Coop, I picked up this kid-sized Klean Kanteen Sports bottle in bright green. It was an easy decision because prices at the Coop are a lot cheaper, so I think I only paid $14 or $15. It's smaller than my other water bottles which has so far made it easier to plop into my bag every day, and the color is really cheerful so I like looking at it on my desk. Who knows if the habit will stick, but so far I'm drinking more water.
This week I spent a few hours walking the aisles of NYC's annual Toy Fair at the Javits Center. The fair is enormous and extremely fun, but every one of the over 6,000 brands exhibiting is vying for your attention. So it was also exhausting. But there was one booth that felt like an oasis from all the madness. The distributor told me that he focuses on open play style toys made with natural materials, including the German toy food brand Erzi. Erzi's wooden fruits and vegetables are so beautiful I went online to buy a few for myself as soon as I got home that night. My favorites include this pair of wooden cherries with a suede stem, a tin box of wooden sugar cubes, and a set of wooden cured meats. I'd like to build a little curio cabinet to display them in my apartment, but they'd also be great as they were intended, as gifts for actual kids.
My friend Andrew recently started a company called Jambys that makes boxers with pockets. And though we are buds, and I trust that anything he makes would be great, I was a little skeptical about the need for such a product. Then this month he sent a few pairs to the office for us to try. Now I sleep in them every night. The surprising thing about Jambys, which are basically house shorts, is how insanely soft they are to the touch. A few of the other writers tried them and reported liking the way they feel and fit. And because they're so comfortable, I'm sure I'll be wearing them every weekend around the house this summer.
Katy Schneider, senior editor
I am now the owner of two pairs of Tabi sneakers. The first I purchased in Kyoto at a charming store called Sou Sou, which I sought out specifically after hearing it was rife with all matter of Tabis (Tabi sneakers, Tabi slippers, Tabi boots, et al). I got two pairs, one for me, and one for my best friend — now we look like a pair of strange brunette centaurs.
The second were sent to me by new cool-guy Tabi company ILYSM. These have a kind of thick translucent-y plastic bottom and are made with a stretchier fabric than my other (canvas) Tabis. The style is generally more "fuccboi Tabi." In any case, I now am someone who wears Tabis nearly every day, so do with that information what you will.
My poor, dry face. Rather than invest in a new moisturizer or fancy ampoule, or whatever, I decided to buy something to help me fake some dewiness by buying a tube of Rio-recommended Make Tinted Marine Salve. It's really helped me look better during work hours — I apply it to my cheeks and lips near-constantly and then take it off when I get home to reveal my leathered skin.
Rio Viera-Newton, writer
This planner from Papier is amazing for any notebook obsessive. Not only is it super adorable and customizable (mine says "Rio's Planner 2020" and has a cute Miffy print), it has sections for monthly and weekly planning, a goal chart, as well as tons of bullet lined pages for jotting down notes or quick thoughts.
I'm obsessed with these adorable, insanely comfortable baby blue briefs that I got from Parade! These underwear fit perfectly — not too tight, not too loose — and are ultra-flattering. The fabric is also sustainably sourced, which I love.
The Strategist is designed to surface the most useful, expert recommendations for things to buy across the vast e-commerce landscape. Some of our latest conquests include the best acne treatments, rolling luggage, pillows for side sleepers, natural anxiety remedies, and bath towels. We update links when possible, but note that deals can expire and all prices are subject to change.