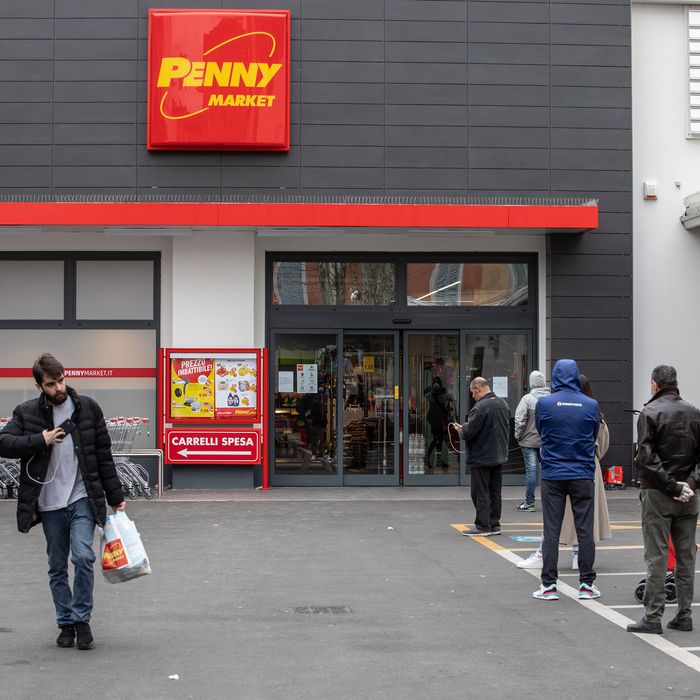 Photo: Emanuele Cremaschi/Getty Images
Over the last few weeks, the thought of buying products online, ordering takeout, or even going to the grocery store has stopped being simple. Now our minds are filled with questions: Is it safe for consumers? Is it safe for the delivery people, store employees, or warehouse employees? And what do you do if not? Here, we are answering the biggest questions that we have — and that we've been asked — about best practices for ordering things amid the coronavirus pandemic.
Even in cities with shelter-in-place orders, grocery stores are still open for business. Is it safe to buy food in person?
"The best practice that I would recommend is to try to avoid going into the store where possible," says Aaron E. Glatt, chair of medicine at Mount Sinai South Nassau and a spokesperson for the Infectious Diseases Society of America. The two other infectious-disease specialists we spoke with agree that grocery delivery and curbside pickup are better options than actually going into the store where you'll be exposed to a larger number of people.
If those options aren't available to you, there are ways to shop safely. Lindsey Gottlieb, director of infection prevention at Mount Sinai Morningside, recommends taking three steps: (1) Go at a time that's likely to be less crowded. (2) Maintain a six-foot distance between yourself and other shoppers or store employees. (3) If possible, visit a store that's limiting the number of customers allowed inside at one time and making sure that people stay a safe distance apart while waiting on line outside. With the exception of fruits and vegetables that you can wash at home, Ravina Kullar, an infectious-disease researcher in Newport Beach, California, says to avoid buying from bulk bins or buffets of prepared foods. "You don't know who was in that [area] before, or if they sneezed on it," she says. "This is a respiratory virus and those droplets could have come into that open supply."
If I do have to go into the grocery store, should I wear gloves?
Both Gottlieb and Kullar agree that wearing gloves isn't necessary and may actually give you a false sense of security. "People often use gloves instead of washing their hands," Gottlieb says. "I'd rather people spend the effort washing their hands after they are out and about, after they're touching surfaces, and before they're touching their face." Instead of gloves, Kullar recommends wiping down your cart or basket handles with a cleaning wipe or alcohol-based hand sanitizer, using hand sanitizer when you leave the store, and washing your hands thoroughly once you get home.
How can I safely get groceries delivered?
If given the option, all three of our experts recommend choosing a no-contact delivery method (the delivery person leaves your items at your door without physically handing them off). "I don't think it puts a huge inconvenience in anybody's life to have it delivered to the door to eliminate that possibility of opening the door and having somebody cough on you," Gottlieb says. If you don't have the opportunity to leave a tip while ordering online, remember to leave your tip outside for the delivery person. And be generous. They're risking their health for you.
Should I be wiping down my groceries after I get them?
While a recent study showed that the virus can survive on surfaces like plastic and metal for up to three days and cardboard for up to 24 hours, experts stress that you're much more likely to catch the virus from person-to-person contact than from a surface. There is a small chance of transmission this way, however — especially if you touch a contaminated surface then touch your mouth, nose, or eyes. So it's not unreasonable to give boxes and packages a wipe down before putting them away. Gottlieb says deciding how far to go in your sanitizing efforts depends on whether or not you fall into higher-risk categories. "As an individual, what is your own likelihood of having complications from this virus? That should inform how aggressively you try to minimize the risk," she says.
If you're immunocompromised or elderly, or live with someone who is, be safe and wipe things down. Clorox, Lysol, or other alcohol-based cleaners will do the trick. (Here's a list of cleaners approved by the EPA for killing coronavirus.) "The good thing is these types of viruses — coronaviruses — are pretty easy to kill with most wipes," says Gottlieb. As for fruits and vegetables that others may have touched and that you'll be eating directly, Kullar recommends cleaning them with soap and water. "Hand soap is perfectly fine, just make sure your food is thoroughly washed with water afterwards and make sure you get that soap out," she says.
Is it safe to order from local restaurants?
Yes, as long as you practice no-contact delivery and take the same precautions as grocery delivery. As for the safety of your actual food, Glatt points to recently released FDA guidelines which state, in part, "Currently, there is no evidence of food or food packaging being associated with transmission of COVID-19." If restaurants follow standard food-safety practices and aren't allowing employees to come to work while sick, there's very little risk from delivery food.
What about online shopping? What should I do with boxes I get in the mail?
Since the virus lasts for a day at most on cardboard, experts say the contents of packages are generally safe. There are still steps you can take to be extra cautious. "For those who are most at risk, it can't hurt to open the box in the hallway, take out items, and then get rid of the box," says Gottlieb. Glatt's instructions are even simpler: "Take it inside, open it up, take your stuff out, wash your hands. That's more than enough."
How can delivery workers protect themselves?
Even if you want to order dinner from your favorite local restaurant to support them during this tough time, you may be worried that your order is putting delivery workers at risk. According to Kullar, delivery workers are "the ones who are most prone to coming into contact with individuals who are sick." In accordance with the CDC's current recommendations, delivery workers should be wearing cloth face masks (along with anyone else going out in public), but no-contact delivery remains your best option, both for them and for you.
And what about store and warehouse employees?
The same guidelines for social distancing and hand hygiene apply to employees. "Even if you have to go out into the workforce, you still want to try to maintain your distance," says Gottlieb. "Continue to distance yourself as much as you can while you're out, continue to follow the same recommendations that we've been harping on since the start of this: washing your hands, avoiding touching your face as much as you can."
Like with delivery workers, it's impossible to deny that these employees are at greater risk than anyone who is able to stay home, but some companies are making an effort to keep their people safe. Whole Foods has put in place policies that limit the number of people in each store at one time in some areas, and Trader Joe's has closed stores where employees have tested positive. In an email, a UPS spokesperson told us the company has taken steps to protect employees, like eliminating signature-on-delivery requirements and modifying facilities to allow for proper social distancing.
The Strategist is designed to surface the most useful, expert recommendations for things to buy across the vast e-commerce landscape. Some of our latest conquests include the best acne treatments, rolling luggage, pillows for side sleepers, natural anxiety remedies, and bath towels. We update links when possible, but note that deals can expire and all prices are subject to change.