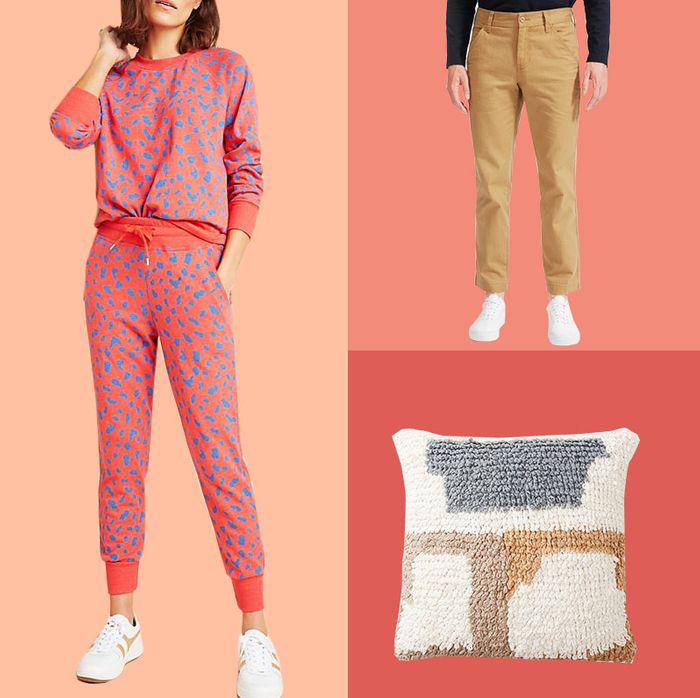 Photo: courtesy of the retailers
In this, our weekly dive into the best deals the internet has to offer, we unearthed a whole bunch of house pants, lots of cozy blankets, and some practical work pants and flouncy dresses for when things go back to normal.
A pair of kicky spotted sweats.
And a glamorous robe to top things off.
This matching hoodie-and-leggings set is for those who want to really want to up their around-the-house look.
When it's finally time to leave the house, this flouncy maxi-skirt will do the job. It'd look great with Rio's new favorite tank top.
At Nordstrom, a whole bunch of blankets are 40 percent off — classic wooly ones from Faribault Woolen Mill and less heavy, a little more design-y ones from Hudson, New York, textiles line Minna.
This muted throw is good for all the greige living rooms out there.
A slightly more cabin-in-the-woods option.
This 100 percent cotton Minna throw was handwoven in Oaxaca.
A more heavyweight cotton throw made by a cooperative of women in Chiapas, Mexico.
This nubby pillow adds a very restrained playfulness to the living room.