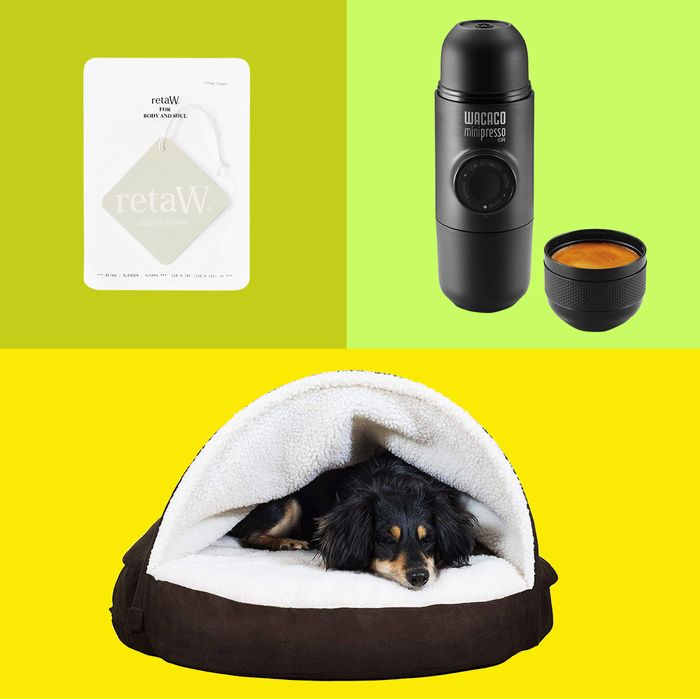 Photo: Courtesy of the retailers
We write about hundreds of products a week. Here, in our version of the Sunday circular, we've plucked out some of our favorites — expert-recommended essentials, life-changing stuff you didn't know you needed, newly-launched gizmos, and the very good deals we uncovered while trolling through the vast online-shopping universe this past week.
A radiation-blocking laptop pad
With social distancing becoming the new normal as the coronavirus continues to spread, you may be preparing to spend the next few weeks (or longer) working from home. When we spoke to more than a dozen people who work from home — many five days a week, for years — about their set-ups, one woman who runs her Miami-based business out of her house recommended this laptop pad for anyone who likes to sit with theirs in their lap on the couch or in bed. "Considering a laptop case can easily be over $60, the portability and peace of mind this pad gives me is definitely worth it," Sophia Kardonski says of the DefenderPad, which slides right under a laptop and uses EMF shielding technology to combat radiation.
Some of our favorite jeans for men and women, at 30 percent off
Even if you are only commuting from couch to kitchen table and back, those who do work from home say it can be helpful to actually get dressed in order to make your workday feel a bit more normal. Columnist Chris Black is one of those people. "The first rule: Get dressed, you cannot sit in your pajamas all day," he says. We're most excited to get dressed when we have something new to put on, which is why our eyes widened when we saw that, through March 19, Levi's, the maker of lots of our favorite jeans for men and women, is offering 30 percent off (with code FRIEND) on lots of styles — including the women's Ribcage style we've called the "goldilocks" of jeans, and the 501 Original Fit we deemed the best straight-cut jeans for men.
Mini boxes of our favorite Keto-friendly cereal
A dog bed for burrowers
From our list of dog beds recommended by vets and other dog experts comes this cave-style model that three pros recommend for dogs who like to burrow, because it's built-in cover is "essentially a blanket attached to the top of the bed that a dog can slide under to cuddle," explains one of the vets who suggested it. A second vet agrees, adding that the Furhaven is particularly good for toy breeds, like Chihuahuas, because "covered beds can provide the security and warmth these pets crave."
A fishnet body stocking
"When hot-girl summer came to a close last year, I couldn't stop thinking about those fishnet crop tops," begins contributor Stephanie Buschardt's ode to this unusual garment that she says is now the most versatile item in her closet. "When layered beneath a polished work dress, peeking out below the sleeves and continuing the party down below, it makes for an unexpectedly elegant look," writes Buschardt (who shows how she's styled the bodystocking here), adding, "Most recently, I tucked it under a belted COS dress for a MoMA opening — the look elicited cries of approval from every single one of my friends, plus a charmingly bespectacled man carrying a Chihuahua in his sweater."
A candle we have yet to cover …
"A patient turned me on to the brand, and now I burn them at home all the time," says acupuncturist Gabriel Sher, who turned us onto one of the few candles we have yet to write about when we talked to him about everything he uses to create a sense of calm at home (and at his office). "I love the smell of this, and these candles burn the perfect amount of lavender. The smell is not too overwhelming, and the candle burns for 70 hours."
… and a Chris Black–approved scent for your car
Replying to a reader who asked for ways to zhuzh up his new ride, Chris suggests this air freshener: "Japanese brand retaW makes a chic 'fragrance car tag' to keep your whip smelling good. Natural Mystic, a spicy mix of patchouli and vanilla, is my favorite and will impress any passenger."
The portable espresso maker pilots use at 39,000 feet