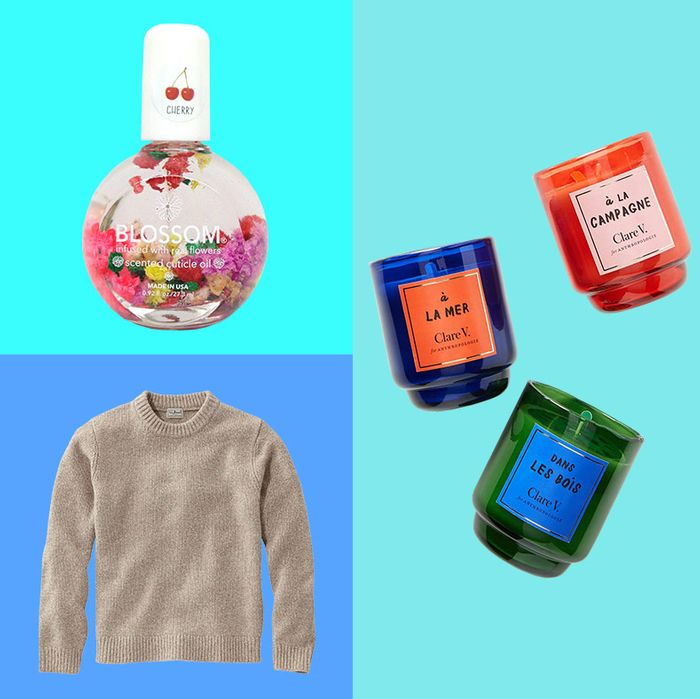 Photo: Courtesy of the retailers
We write about hundreds of products a week. Here, in our version of the Sunday circular, we've plucked out some of our favorites — expert-recommended essentials, life-changing stuff you didn't know you needed, newly-launched gizmos, and the very good deals we uncovered while trolling through the vast online-shopping universe this past week.
A sweater that simulates a warm embrace
In replying to a reader who asked about things to make the home they live in alone cozier while in quarantine, our columnist Chris Black had a suggestion that's as sensory as it is stylish. "Why not put on a GIANT sweater? Something oversized might make you feel like you are being hugged," he wrote. "This Classic Ragg Wool Crewneck from L.L. Bean in an XXL could become your best friend during this time in lockdown."
An affordable alternative to the gold standard of ergonomic office chairs
Whether you're in a proper office or home office, hours spent sitting can take a toll on your body. In talking to doctors about the best ergonomic office chairs you can buy, many, including Dr. David Perna, named one that costs more than $1,000 as "the standard" for its mesh material and adjustable lumbar support, armrests, and seat — all key design elements for reducing strain on your back and shoulders. For a fraction of $1,000, you can get this chair from Modway that Dr. Rudy Gehrman says offers many of those features, including supportive mesh as well as the ability to adjust its armrests and seat height.
Some (on sale) Kindercore candles to brighten up days indoors
Springtime is beloved as much for its warmer weather as it is for the many vibrant colors it brings to the world outside (green grass! blue skies! red flowers!). These primary-colored candles from Clare V. for Anthropologie would be a great way to bring those cheerful pops indoors. Each of the "French countryside-scented" candles featured in a recent Micro Sale burns for 64 hours, and right now they are 25 percent off as part of Anthropologie's spring home décor and furniture sale. The price shown is for one candle, and the discount is taken automatically at checkout. (Candles, by the way, are one of the 16 things that experts say can help instantly relieve any stress.)
A cooler way to capture your WFH Fit
The spike in folks working from home has thus led to a spike in mirror selfies, but as we learned from our investigation into the $10,000 Ultrafragola mirror, not all are created equal when it comes to capturing your fit. While not cheap, this sculptural mirror from our list of the best decorative mirrors according to design-minded folk is among the most delightful of the bunch, costs far less than a $10,000 Ultrafragola, and would produce a similarly high-brow selfie: According to Clémence Poles, the creative director and founder of online magazine Passerbuys, the mirror could be mistaken for something from the Noguchi Museum. (Though our list has even less expensive options, including mirrors under $100 that are just as unique.)
The small, standing light a TikTok star uses when filming her videos
If you're looking to up the production value of your Zoom calls, virtual happy hours, or courses taught online, take a cue from TikTok star Loren Gray, whose videos are watched by more than 41 million people. She told us this ring light is an item she can't live without. "I always have a ring light with me. I've had this one for three or four years — it gives me great lighting when I'm filming videos."
A nourishing nail oil
"Last week, I wrote an article about everything a person might need to give themselves an at-home manicure," begins Rio's latest piece: An expert-recommended list of everything you need to remove gel, SNS, or acrylic manicures you may have gotten before many nail salons were ordered to close amid the coronavirus pandemic. Beyond the essential tools, Rio says this nourishing oil recommended by her go-to nail artist Fleury Rose is a must. "I bought the Blossom Cuticle Oil that Fleury suggested and it's been wonderful at nourishing and healing my now very fragile nails. I've been using this every day to make sure my nails stay well-moisturized," she writes.
Our resident illustrator's favorite colored pencils
When it comes to things to pass free time at home, Strategist's resident illustrator Liza Corsillo says that drawing is a hobby you can pick up at little expense and with little to no training at all. "Other than not judging yourself, the hardest part of getting into drawing is deciding what to draw," she says. Her list of essential tools for beginners includes her favorite graphite pencil, pens, and paper (all things you might already have lying around), as well as this set of colored pencils, which Corsillo says "will help you add color to your black and white drawings or add a kick to your sketches by drawing in dark green, brown, or navy instead of black."
A sewing machine for beginners
While it may require a bit more training and time, quilting is another at-home hobby that can be particularly rewarding. "Quilts don't come together quickly, but making one is very satisfying," graphic quilter Audrey Esarey told us when we talked to her and other quilters about the supplies you'd need to get started. Chief among them is a sewing machine, and many of the pros say Janome makes great ones for beginners. The Janome Mod 30, for instance, has a built-in needle threader, up-down positioning capabilities, and a drop feed that allows for free-motion quilting. (Should sitting at a machine seem too intimidating, allow us to direct you to the kit of sewing needles and yarn that our newsletter editor used to knit herself a very stylish sweater: She says it's so user-friendly that even "if you've never knit a stitch in your life, you'll be fine.")
A developmental distraction for cooped-up kiddos