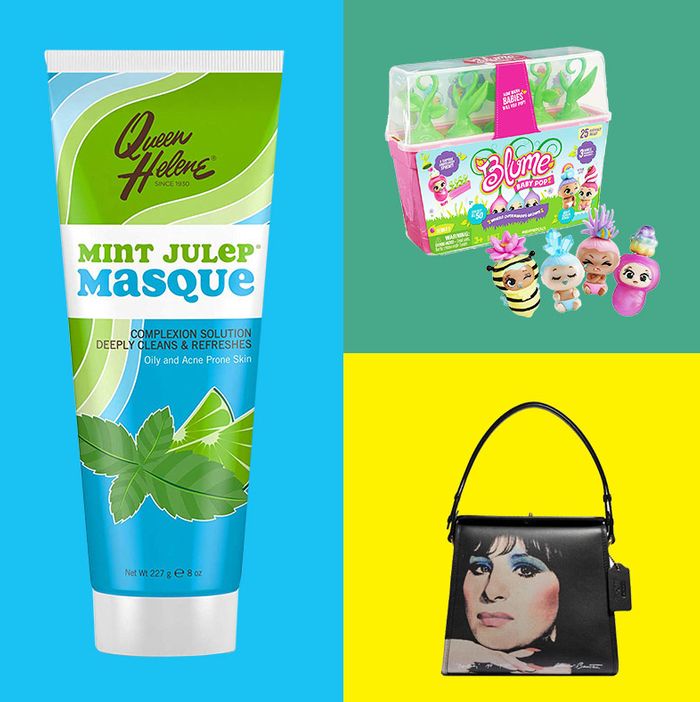 Photo: Courtesy of the retailers
We write about hundreds of products a week. Here, in our version of the Sunday circular, we've plucked out some of our favorites — expert-recommended essentials, life-changing stuff you didn't know you needed, newly-launched gizmos, and the very good deals we uncovered while trolling through the vast online-shopping universe this past week.
The best gift for a writer, according to John Waters
Yes, that John Waters. The author and auteur weighed in for our round-up of the best gifts for writers, according to writers, suggesting this slang dictionary that he uses himself. "From 'sneezing in the cabbage' to 'having lunch downtown,'' the expressions are sublimely obscene and refreshingly hideous," he told us. [Editor's note: The starting price shown at Barnes & Noble is for used copies.]
The $9 'potion' that replaced one writer's 'fancy conditioners'
Wonder Water, writes contributor Julie Vandal, "is even better than an in-shower mask." She adds that the formula "won't weigh your hair down like a more intense treatment, and because of its convenient bottle, there's no awkward scooping of a frosting-like cream conditioner from a tub." With one squeeze three times a week (each bottle contains seven 20-ounce doses that are "marked on the side of the bottle"), she says the stuff leaves her hair "so shiny and smooth that passersby could practically check their reflections in it."
The drugstore face mask Chris Black's been using since high school
Among the products we surfaced last week during Drugstore Week is this inexpensive face mask that our columnist has been slathering on since he was a teen. "It's cheap and actually shrinks pores. Unlike wild specialty shit, you can find this at lots of places while on the road. I always have some in the medicine cabinet," Black says. For 100 more drugstore buys, head on over to our new Strategist Drugstore.
Barbra Streisand, on a bag
In Don't Dillydally, we wrote about how "Coach has collaborated with the famed (late) Interview magazine cover artist Richard Bernstein on a collection of bags and apparel adorned with his images of Barbra Streisand, Michael J. Fox, and Rob Lowe." Babs fan or not, it's the sort of thing that, once sold out, could reappear at twice the cost on resale sites (the stock market's current state only makes it seem even more of a sound investment).
Harlean Harris, on a magazine
"Teenage New Yorker is most recent to be crowned among bumper crop of beauty queens" declares the coverline on this December 1954 issue of Jet, which is among the ephemera sold at Blk Mkt the shop we just named the best new store in Brooklyn. According to co-owner Kiyanna Stewart, "Folks grew up with Jet in their household — reading them or just seeing them on their coffee tables or in their bathrooms. We have a couple hundred issues in the store."
Cool-person-approved (on-sale) men's jeans
We pretty much said all there is to say about these when we surfaced them for a recent Micro Sale, so allow us to repeat ourselves: "When we asked a bunch of stylish guys about the best jeans for men, Tim Melidio, the writer behind menswear site Stay Classic, said his friends swear by Everlane. 'The price is right,' he said — and right now, they're 30 percent off the already approachable price."
Some brand-new sneakers that are also on sale (until tomorrow)
A sleeker way to get more storage
Wall ladders have long been a favorite decorating hack here at the Strategist, given their double-duty as a place to store blankets, clothes, linens, or anything that can be hung, and décor. When we asked some interior designers about some stylish, affordable wall ladders to buy right now, designer Lisa Gilmore suggested this reasonably priced model from Wayfair. "I find that most storage ladders tend to be more boho and rustic, so this is a great option for someone whose style is more sleek and modern," she told us.
Sony's new (to the U.S.) wearable speaker
"The horseshoe-shaped device is new to the U.S. but has been out in Japan since late 2017," contributor Anna Peele wrote of the gadget she recently tested for us. The non-Bluetooth-enabled speaker requires wires to use when it's not near a TV, but "a transmitter plugs into your TV and sends a wireless signal," making movie-watching that much more intimate, Peele learned. "When I watched the Taylor Swift Netflix documentary Miss Americana, I got actual goosebumps as the sad bass underscoring Taylor's emotional nadirs hummed over my shoulder." Ditto with playing video games: "It let my husband clearly receive the coordinates and abuse being shouted at him by the 10-year-olds he was playing" Fortnite with. But, according to Peele, "the speaker had the most utility during an activity I can't imagine Sony intended it to complement: a bike ride," because it allowed her to hear both "Islands in the Stream" and oncoming traffic.
The next generation of a must-have toy
The runaway hit toy of the 2019 holiday season is returning to shelves smaller than ever, according to writer Liza Corsillo, who spotted these baby Skyrocket Blume dolls while checking out all the latest and greatest playthings at this year's New York City Toy Fair. "Instead of a single doll in a single round flowerpot, Baby Pop gives you five secret reveals," Corsillo explains. " The planter transforms into a nursery (with one of five secret themes), the lid turns into a swimming pool with a slide for baby pool parties, and lots of other little surprises hide within."
And a rowing machine approved by humans (and their pets)