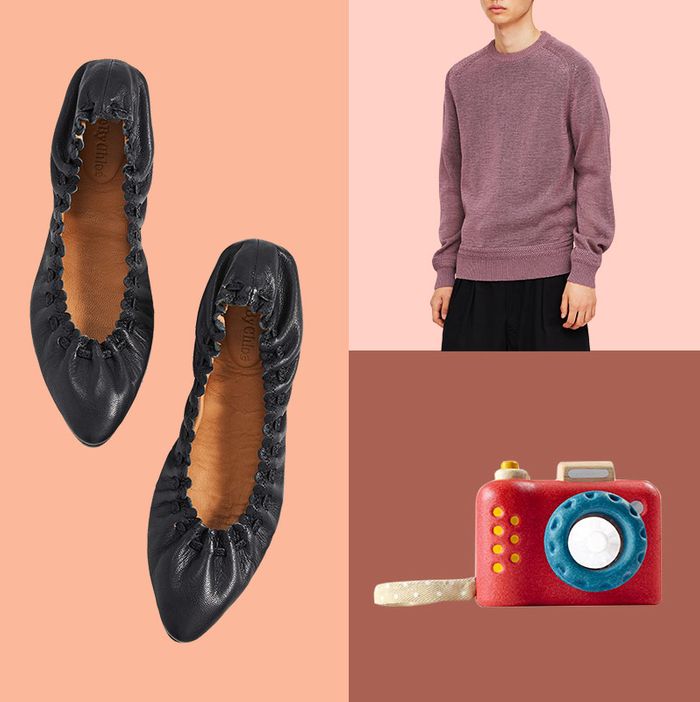 Photo: Courtesy of the retailers
We write about hundreds of products a week. Here, in our version of the Sunday circular, we've plucked out some of our favorites — expert-recommended essentials, life-changing stuff you didn't know you needed, newly-launched gizmos, and the very good deals we uncovered while trolling through the vast online-shopping universe this past week.
A highly Instagramable rug
When you're an obsessive person, that trait tends to influence all parts of your life. Case in point: Our beauty columnist, Rio, fell so hard for these reasonably priced rugs in all sorts of cheery colors that she bought not one, but two of them (in lilac, then yellow), for her home. "Every time I took my hand off it I found myself once again believing the thing was from ABC Carpet & Home," she wrote about her first encounter with the rug. "When I got home and laid the rug down in my living room, my apartment completely changed. And anytime I post a photo of my apartment on my Instagram, I without fail receive a slew of DMs, all asking the same question: "Where did you get that rug!?"
A dupe for SK-II's pricey sheet masks
"It's called Transformazing," contributor Brodie Lancaster wrote about her new favorite sheet mask from Australian skin-care brand called Go-To, "and it has a satisfying, oozy gel texture, much like SK-II. (But it's a third of SK-II's price.)" Lancaster added that this mask is now what she'll put on "before events and after hangovers" — and, sometimes, both: "On the eve of my 30th birthday, a wine-soaked dinner bled into a summer concert and a 3 a.m. bedtime, all before I had to wake up for my actual birthday party. I put this mask on, and it made my face feel so genuinely bouncy that the only makeup I needed was some SPF and a little Glossier concealer."
Space-saving bath towels
"I believe in waffle fabric. It has great integrity and I feel intelligent when I'm using it," acclaimed illustrator Maira Kalman told us when we spoke to her about the things she can't live without, which include these waffle-weave towels. "They take up a lot less room in the closet. I used to be in the thick-towel camp because I didn't know any better. Then I got introduced to these and I thought, 'How could anybody choose anything else?'"
A seriously solid portable speaker
"During a kayaking trip, I tied this to the bow lashings so I could paddle and listen to music — until I flipped the kayak and all my gear was submerged for at least ten minutes," begins one person's review of this speaker, which took the title of best portable speaker for travel on our list of the best-reviewed portable speakers on Amazon. "When I finally righted the boat, the speaker was STILL PLAYING. I'm blown away at how well the design prevents water damage, the sound quality is just what you'd expect if not more."
The lightweight sweater Chris Black wants to buy this spring
"Spring calls for a little color," our columnist wrote in response to a reader's question about what new men's clothing and accessories he wants to add to his own wardrobe. "This Lemaire-designed sweater for Uniqlo in a soft shade of purple will give your look a new dimension." It's one of several basics Black loves from the brand, all of which we included in our new guide to shopping at Uniqlo.
An oversize hoodie we want to buy this spring
"A bright spot amid Outdoor Voices' recent few weeks of bad news," we wrote in Don't Dillydally, is the brand's new "elegant capsule collection designed with St. Vincent." This slouchy sweatshirt is among the pieces that caught our eye, and even though it's modeled by a woman, its roomy cut and four neutral-enough colors (which also include white, green, and burgundy) make it seem pretty unisex to us.
A hand cream doctors and educators use after washing
With the novel coronavirus spreading domestically, we spoke to doctors, disaster-relief specialists, and other experts about ways to prevent contracting it, including supplies you can use while traveling and other things you can buy to prepare for a potential quarantine. The number-one recommendation from everyone: Wash. Your. Hands. (With soap, under warm water, for 20 seconds — or the time it takes to hum "Happy Birthday.") When we spoke to folks who wash their hands a lot — including chefs, teachers, and doctors — many said after all that washing, you may need something to moisturize, and this shea-butter-enriched cream is what private-school administrator Terrill Caplan and cardiologist Nieca Goldberg rely on. According to Caplan, it's "wonderful" and "smells fantastic."
A tool to open packages, or butcher caribou
Speaking of things to have on hand for general preparedness, a pocket knife is an age-old tool that both Boy Scouts and U.S. Special Forces operators swear by. It was one of the latter who recommended this specific pocket knife to contributor Michael Easter, who told us he's "carried the USA-made Mini Griptilian most days" ever since. Easter adds that the four-ounce knife's "3.45-inch blade has sliced through apples and packages, gutted trout alongside Utah streams and Wyoming lakes, and butchered 400-pound caribou on the Arctic tundra." And he shared one important tip: "Select a yellow or bright blue handle, which makes the knife harder to lose when you drop it in the field — and harder to overlook when you're checking your carry-on before heading to the airport."
On-sale black flats, just in time for flats season
Maybe we're still a few weeks out from flats season, but the time will soon come to retire those boots. And when it does, wouldn't it be nice to treat your feet to a pair of flats so versatile you could wear them seven days a week? We featured these See by Chloe ones in a recent Micro Sale, noting how the scalloped edge makes them just-different-enough from your basic black flats — and how, "at the discounted price of $208 (with code SPRING), they basically warrant a spot on our roundup of best black flats under $200."
And a cute little camera for the kiddos