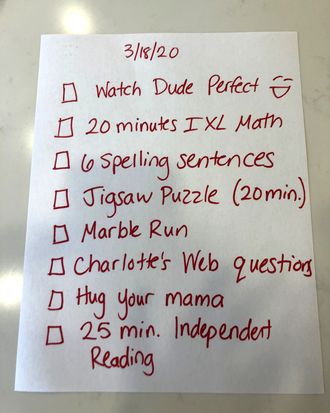 The daily agenda from a former NYC public school teacher and mother of a 2nd grader, 1st grader, and toddler
Photo: Danielle Fendt
New York may be on pause, but, as parents know, little kids have no such button. With city families confined in close quarters and with no release date in sight, the idea of trying to achieve any kind of work-life balance, much less an optimal one, just seems quaint. But desperation leads to innovation (and sometimes a little Xbox). We asked two dozen NYC parents for the tricks they've found most useful for allowing kids to learn and be entertained while grown-ups get a little work done — or finally have time to shower. Here are our favorite suggestions.
Learn how an astronaut bathes
Stewart and her son Adric, 7, in Bayside, Queens, love checking NASA's site for a livestream from the ISS. You can also learn how astronauts cook in space and get a bathroom tour on the European Space Agency's YouTube Channel. (Adric recommends paying special attention to the astronauts' weightless hair.)
Check in on the animals
Livestreams at zoos and aquariums give animal fans of all ages a quick pick-me-up. Shima and her daughter Rhys, 10, in Morris Heights in the Bronx, enjoy the creature-filled open-sea cam at the Monterey Bay Aquarium — especially during feeding time. Kate of Forest Hills, Queens, says her kids, Marley, 7, and Adeline, 10, enjoy the Instagram videos of the Shedd Aquarium penguins, who've been allowed to waddle amok outside of their enclosure. And Erin of Windsor Terrace, Brooklyn, says her son Abram, 6, is so into the Cincinnati Zoo's Facebook Live events that "he started jotting down notes that he shares during our closing circle at the end of the day."
Hide in Frida Kahlo's house
Unlike most museum's virtual tours, which simply let you look at art, La Casa Azul gives you access to every part of the building. And more. Melissa of Washington Heights, Manhattan, says her kids, Lila, 7, and Sebastian, 5, ask, "'Can anyone see us there?!' They feel like they're sneaking around the house." They can even explore the garden and surrounding Ciudad de México streets.
Give your neighbors an art show
Like those Brooklyn families who created a rainbow trail, Stewart and Adric use art to uplift their neighborhood by taping each day's creations to their front door. "I like to think people walking their dog and looking over and saying, 'Look at that door!' and smiling," Adric says. "'Cause some people are not so happy, but the door could make them happy."
Hang a playground from your doorway
They won't miss restricted outdoor playgrounds when they have one inside. Two families raved about Gym1's Deluxe Indoor Playground, affectionately known as the Gorilla Gym. "It hangs in a doorway and has a swing, rope climb, rings and other attachments that keep an active guy moving!" Stewart says. Allison of Windsor Terrace, Brooklyn, mom to Max, 9, agrees. "We live in an apartment, so we have to do physical stuff that doesn't drive the downstairs neighbors crazy."
You haven't bought Magna-Tiles yet?!
Three different parents (with six kids among them, ageS 5 to 11), gushed about the classic open-ended building toy and the creativity it inspired. "They keep proving themselves as indispensable," says Lauren of Carroll Gardens, Brooklyn, mom to twins Pia and Maewyn, 6.
Check out the other babies on Zoom
A lot of parents of young kids might still be taking music and other classes online, but Erin of Astoria, Queens, has a fun way to keep her son, Xavier, 1, engaged: Instead of keeping the video of the instructor pinned to the screen, they rotate among the other families during class. "He loves seeing the other babies in the Zoom windows," she says.
Build your own pinball machine (out of cardboard)
Hope of Sunset Park, Brooklyn and her son Dash, 8, had stored up a trove of make-your-own kits. One of their favorites is the PinBox 3000 DIY cardboard pinball machine. "You can customize the pinball board and add your own little obstacles and such," Hope says. "It was just the right amount of challenge for an 8-year old. He actually got impatient and finished it without me. And it works, really well!"
Turn math into dessert
Two lessons in one, and all fun: Darren of Chelsea, Manhattan, says his husband mixes cooking and computations for their daughter Melina, 10, having her pick recipes and prepare the measurements for a smaller serving size. "Just a little math and we all had lemon bars!"
Watch Mo Willems with everyone else
Five families with kids ages 6 to 10 count the award-winning children's author-illustrator's 1 p.m. doodle tutorials as a must-watch livestream. Jody of Harlem, Manhattan, says the sessions are fun for her 6-year-old, Polly, and "oddly soothing for me. He brings a very Mister Rogers quality to it," and the sessions are perfectly timed to allow parents to prepare lunch in peace.
But don't forget LeVar Burton
Rachel of Forest Hills, Queens, is revisiting her youth by showing her daughter Aimee, 2, and Sabrina, 6 "very old episodes" of Reading Rainbow. "You can watch them on YouTube. Our absolute fave is when LeVar Burton visits the crayon factory!"
Bring sports indoors (even if they're made up)
Mary of Woodside, Queens, says she's cleared space in her kitchen so her sons Colin, 6 and Thomas, 8 can play soccer with a squishy ball. "We call it La Liga Cocina — The Kitchen League." Meanwhile, Ken on the Upper West Side plays "slow-motion indoor football" with his son Jacob, 7. Things are even more unusual at Joanna's home in Sunnyside, Queens, where her daughter Imogen, 8, and her stepdad have been doing "Ninja Training. It's basically Fight Club if it had been about an 8-year-old girl trying to beat up a 46-year-old man," Joanna says.
Create your own classes
Sure, there are seemingly an infinite number of online courses, but who better to teach the tykes life skills than Mom or Dad? Maureen of Flatbush, Brooklyn, hosts "Tool Time With Mama" for her twins, Ivy and Abe, 8. "Yesterday's tools were Google docs and Google slides. The day before the tool was a hammer."
Trust in the allure of a stopwatch
Timing is everything — especially to little kids. "Odysseus loves to be timed!" says Dawn of Windsor Terrace, Brooklyn, about her 7-year old. "He runs from the kitchen to his bedroom and back, and we time him. He runs to get his PJs, we time him." Shima (in Morris Heights) has turned running up and down the stairs in her townhouse into a competition with Rhys. "We time each other to see who can do ten sets the fastest! Great cardio and great motivation."
Teach them your favorite game from 9 years ago
Remember how much fun we had during the year of Cards Against Humanity? Joanna (in Sunnyside) introduced a more appropriate version to Imogen called "Kids Against Maturity." Expect "lots of fart jokes," Joanna says. "It's been great for taking breaks (and having a few giggles) throughout the day when I don't have long stretches of time to interact."
The Strategist is designed to surface the most useful, expert recommendations for things to buy across the vast e-commerce landscape. Some of our latest conquests include the best acne treatments, rolling luggage, pillows for side sleepers, natural anxiety remedies, and bath towels. We update links when possible, but note that deals can expire and all prices are subject to change.