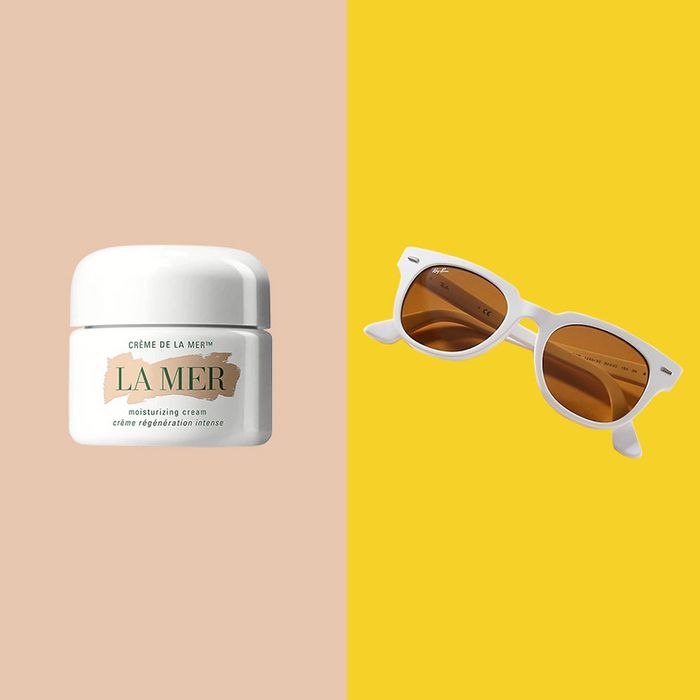 Photo: Courtesy of retailer
Just as we're beginning to see signs of spring (from our windows and porches), we're pleased to report that there are also some warmer-weather finds in today's midday sweep through the internet's sales-o-sphere: a couple of Cannondale bikes are 20 percent off at REI (the brand comes expert-recommended for commuting — or biking around the block for the time being), a pair of Ray-Ban Wayfarers are just $105, and some lightweight Entireworld tees in pleasant shades of sky blue and sage are about $20 each. As usual, there's also some stuff to make your time indoors a bit more entertaining and comfortable, like a table-tennis set and discounted espresso that you can still get shipped to your home (from Bed Bath & Beyond, of all places).
We've been delighted by the cheerful homeware from the Clare V. for Anthropologie collaboration, and now we have our eyes (!) on this bright-blue tee from the line, which features Clare V.'s signature graphic.
A bunch of breezy, made-for-the-outdoors pieces — which, for the time being, you can wear while reading on your stoop or walking your dog around the block — are on sale right now at Anthropologie, including these classic Wayfarer shades.
Usher in spring with a set of Kate Spade's lightweight, floral-printed pajamas, since that's all we're wearing these days. (Sizes are limited, but there's a bunch of other appropriately pastel sale-on-sale items on discount during the brand's Spring's in Bloom Sale.)
Some more lightweight loungewear, this time a jersey tee from Entireworld in a lovely shade of sky blue.
Or a slouchy (but not schlubby) under-$20 Entireworld tee for him in sage green.
With items flying off the shelves of grocery stores and food-delivery services alike, Bed Bath & Beyond is an unlikely but effective retailer for stocking up on your tea and coffee — including this discounted espresso. Plus, shipping is free if you spend over $39.
This $100-off Xbox One console and controller come with the newly released Star Wars Jedi: Fallen Order, and gets rave reviews from tween and teen gamers, if you're looking for something to keep the kids entertained.
A couple of Cannondale bikes are on sale at REI Outlet, including th