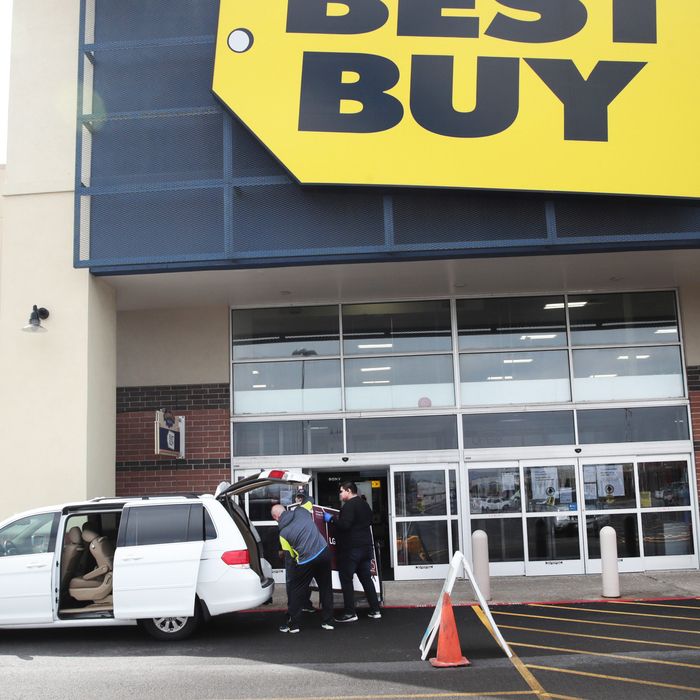 Photo: Scott Olson/Getty Images/2020 Getty Images
If you've been shopping for essentials (and other stuff) online ever since most of the country implemented strict stay-at-home measures, you've probably witnessed that many retailers, faced with a surge in orders, are struggling to fulfill them, leading to delays. Presumably to ease the stress on their delivery systems, many — both big and small — now offer the option of curbside pickup (in some cases as quickly as two hours). While every store has slightly different protocols, the curbside-pickup service at most places works like this: Fill your cart online, then go pick up your order without entering the actual store (an employee will bring your order out to your car to limit all parties' exposure). Below, we've listed the national and New York City–based retailers we know of (and trust) utilizing curbside pickup, along with what sorts of stuff you can get at each.
But first: a note about groceries.
A number of grocery stores, both national and local, are offering curbside pickup. However, we've noticed that some have said this option won't result in faster service. For instance, in New York City, Wegmans is offering curbside pickup (in addition to delivery) via Instacart but notes that "curbside-pickup times with Instacart are limited, and, in many cases, orders are taking longer to be shopped." Elsewhere, Aldi and Publix stores also offer curbside pickup at select locations by way of Instacart. And a Long Island location of Whole Foods (select stores are offering pickup through Amazon Prime Now) told us that there's a lead time of about a week. Still, it's an option, and other stores — like Safeway, Kroger, and Walmart Grocery — offer forms of curbside pickup without an intermediary service like Instacart.
For
pretty
much
everything
else
(including
shelf-stable
groceries)
Target, via its Drive Up service, offers curbside pickup of mostly anything you might need — from underwear to kids' toys to video games to workout gear to shelf-stable groceries like beans and pasta to Rio's favorite inexpensive hand cream for constantly washed hands. (Notably, perishable food, flowers, and alcohol are not available for curbside pickup.) The service is available at select stores, pending product availability. To determine whether your store offers Drive Up, locate the item you wish to purchase in the app. If it is available for Drive Up, it will indicate that under "Pick it up," according to the company. To order, shop on the website or the app and select Drive Up as your delivery method. Once you receive a notification that your order is ready (through email and the app), open the app and select "I'm on my way" under the "Discover" tab. When you're there, park in the designated area, select "I'm here" in the app, and someone will bring your order out to your car and scan a barcode from your app to confirm pickup.
Big Lots! offers curbside pickup of in-stock products from its inventory of clothing, shelf-stable pantry goods, and household items including décor, personal care, and cleaning products (like this OxiClean stain remover that we've written about before). Shop online, wait for a confirmation email, then head to the store. Call the store and describe your vehicle to a team member, who will bring out your order.
For
household
basics
and
small
appliances