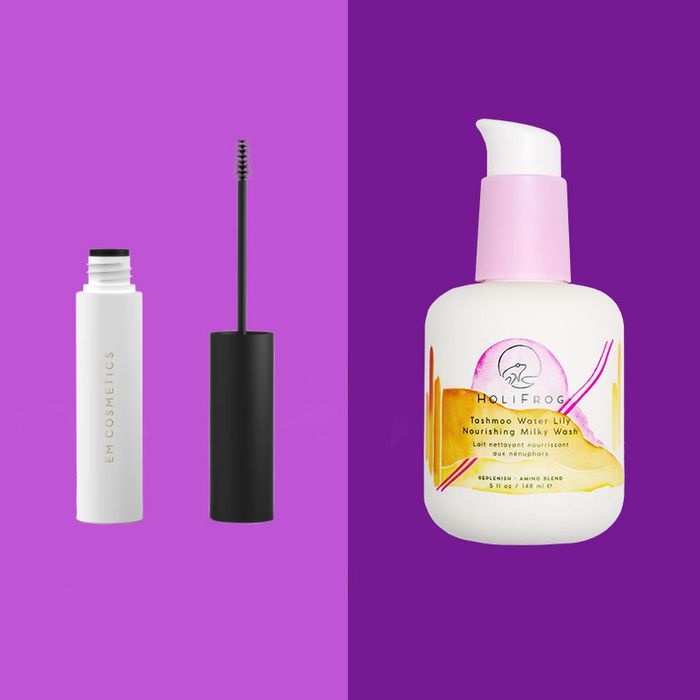 Sorting through Memorial Day weekend sales can be overwhelming, but if it's beauty you have your eye on, I have you covered. Until Monday, Dermstore, the normally exceedingly pricey Violet Grey, and influencer-approved Em Cosmetics (amongst others — we'll be updating accordingly) are offering slashed prices on some of their best, cult-iest products. I have scoured all of these sites and compiled a list of the best deals this Memorial Day, including my all-time favorite brow gel and a perfect-for-these-salonless-times hair mask.
Dermstore
For anyone with dry or sensitive skin types, this soothing and nourishing, fragrance-free moisturizer is a must-try. The formula of this moisturizer (recommended also by aesthetician Sofie Pavitt) contains a blend of strengthening and moisturizing ceramides, moisture-rich shea butter, and oatmeal, which helps relieve itching and rashes, meaning it's excellent for anyone who is eczema-prone.
This mask from Briogeo is one of my favorites for conditioning and repairing my damaged, post-bleach locks (a very, very solid dupe for my beloved Christophe Robin mask). It's repairative and moisturizing without being so thick that it weighs my hair down. I buy it over and over.
Photo: Courtesy of vendor
I love all the cleansers from this cleanser-specific brand Holifrog, but my easy favorite is this milk, which uses antioxidant-rich blue-green algae, strengthening amino acids, and panthenol to moisturize, protect, and repair the skin. My skin always feels velvety smooth after I use it.
This is one of celebrity dermatologist Dr. Shereene Idriss's favorite retinols; she says it's a "perfect starter retinol" due to its low-level concentration of actives and gentle yet effective formula.
Lovely Skin
I've never tried this cleanser before! But there are hundreds of reviews on the site saying that this is one of the best, most gentle cleansers, suitable for even the most sensitive, breakout, or rosacea-prone skin types. The formula uses calming ingredients such as apricot oil, oats, and sage to help clean the skin without stripping it of its natural oils. I'm planning on ordering this.
These cult-favorite Alpha Beta peels, beloved by Selena Gomez, Kim Kardashian, and Chrissy Teigen, are a great way to polish and smooth your skin. The two-step peels use a blend of AHAs and BHAs to clarify and brighten up any pigmentation issues or stubborn breakouts.
Em Cosmetics
If you're a daily liquid-liner person, this is an absolute must-try. This smooth, no-tug, jet-black liner has a lot of flexibility, so it's easy to create a small cat-eye flick. I'm absolutely useless with liquid liner and have found this incredibly easy to use.
(Note: Em Cosmetics is offering 10% off of purchases of $50, 15% off of $75, and 20% off of purchases of $100 until May 25.)
This brow gel from Em Cosmetics is one of my very favorites. The spoolie is quite petite, so it really gets into each individual baby brow hair and brushes it up for the perfect messy, unkempt brow look. Also, it never leaves behind that crunchy film that many brow gels do. I use this in the shade clear when I want a more and taupe when I want to subtly fill in some sparse areas.
I really love a clear lip gloss — I think it adds a subtle, dewy, youthful effect to any makeup look. This one from Em Cosmetics is one of my very favorites — not only is it high-shine with minimal stickiness, the formula also incorporates vitamin E to hydrate and moisturize the lips.
Violet Grey