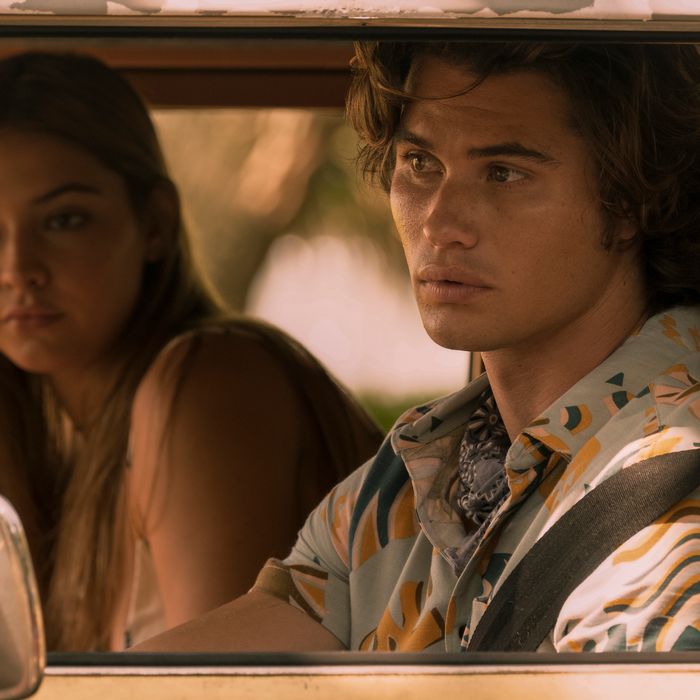 Photo: Jackson Davis/Netflix
As Vulture put it, Netflix's Outer Banks is "the perfect escapist show should you be looking for drama and speargun fights in the middle of the ocean." But should you need further escapism still — and in this moment, don't we all — you could take a cue from stars Chase Stokes and Madelyn Cline: After all the onscreen bonding infiltrated real life, they decided to jump into a month of co-sheltering-in-place with a couple other cast mates, and found certain things to be integral to the experience.
For one: a communal sleep fort. "I have a weird obsession with bedsheets," explains Madelyn, whose L.A. apartment became the bunker for her quarantine with Chase (and co-stars Drew Starkey and Rudy Pankow). "I own a lot of them." (To those wondering, her favorites include linen sheets by Brooklinen as well as the "good old jersey knit" kind from Target.) "Some really great pillows" also came in handy for the cozy living-room setup, according to Chase. But beyond the nightly slumber parties, he and Madelyn had a whole list of comforts and distractions they relied on — from beachy loungewear to earthy candles to some excellent drinking games — that helped them, in Chase's words, "get your head out of a rut." Whether you're sheltering alone or together, maybe they can do the same for you, too.
Chase: I'm one of those guys that, in the morning, I usually don't touch my phone. I'll put on a little playlist and I'll keep the lights low, turn on this candle, make a pot of coffee, and just give myself a minute and allow my brain to rest. This scent is a little bit sweet, but it's also got tartness to it — it's tropical. It brings your brain to a different place. I'm a big outdoors guy; I love the beach. This kind of brings me back to a time before all this, when we were able to get out and do things.
Madelyn: Chase's candle has more of a feminine smell than my candle. That's not to say I don't like it; it's just that the Volcano has a very lively, present smell. Whereas the Voyage candle, it's there, but it's in the background; calming and light. And it's earthy, but not in the way that it smells like dirt. It kind of brings you back down. I'll burn it after I clean up or whatever.
Madelyn: There wasn't a day that I didn't use my aromatherapy diffuser. This one is cheap, but the sound of it is so soothing, like a very small stream. I love falling asleep to water sounds. The summer rainstorms you hear growing up on the East Coast, that's something I really miss being out in L.A. You can also set this diffuser to any color you want; I really like blues or purples and night. And my favorite scents right now are lemon, eucalyptus, and lavender.
Chase: My buddy Austin founded this brand, and their sweats feel like something you would take from your parents. Like when you're in middle school and you're laying around the house and you're cold and you grab your dad's sweatshirt. It's a thicker fabric that feels like it's been worn a hundred times.
Madelyn: Everybody's stuff can become a little bit communal when you're quarantined together. Chase has gotten some really cool care packages from Duvin; I've worn a couple of their things just because they were lying on the floor somewhere. And now I have some of my own. They're like the heavy, super-worn-out Old Navy sweatpants that I still live in because I'm really picky about the sweats I wear and I like them to feel like that. They're also cute — that beachy vibe. And I prefer oversized clothing; I'll put on a medium, which is slightly big on me, and be perfectly happy.
Madelyn: I love them. They're so comfortable. If I could wear these everywhere …
Chase: It started out as a little bit of just a boredom thing: "We're going to waste an hour playing video games." But now it's become another form of communication and connection for the cast — myself, Maddie, Rudy, Drew, JD [Jonathan Daviss]. None of us are really great at it. But it's a fun way to have a platform to connect with our friends.
Chase: It's basically the game of telephone, but you draw out the pictures on these little dry-erase tablets. You get a phrase, and they're usually pretty raunchy — like "threesome." And then you have to somehow draw out a threesome. Then you pass the drawing to the next person, and they write down what they think it is. Let's just say that person thinks it's three people at a party: They write down that phrase, and the next person has to do a drawing of three people at a party. And then by the time it gets back to the person who started it, it's usually something completely different from the initial phrase. It gets really funny, especially over some drinks.
Chase: A few years back I bought this drinking version of Jenga called Tipsy Tower. Some of the blocks are blanks, some have different drinking responsibilities on them. So, for example, you could pull a block that says, "Finish your drink." Or one would be like, "Throw this block at somebody playing the game. And if they don't catch it, they have to take a drink." And then if you knock over the tower, you have to finish your drink. So it's … I'm usually a whiskey guy, but for this game it's definitely beer, because you're drinking quite a bit.