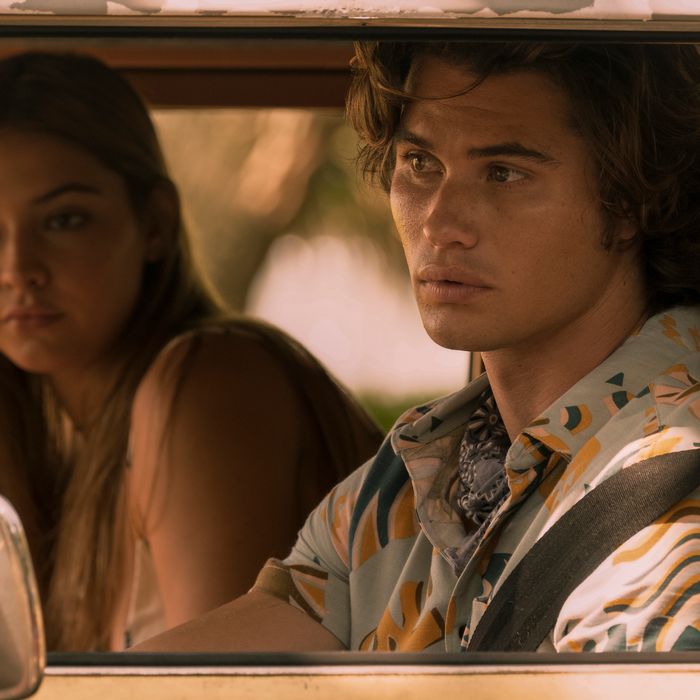 Photo: Jackson Davis/Netflix
As Vulture put it, Netflix's Outer Banks is "the perfect escapist show should you be looking for drama and speargun fights in the middle of the ocean." But should you need further escapism still — and in this moment, don't we all — you could take a cue from stars Chase Stokes and Madelyn Cline: After all the onscreen bonding infiltrated real life, they decided to jump into a month of co-sheltering-in-place with a couple other cast mates, and found certain things to be integral to the experience.
For one: a communal sleep fort. "I have a weird obsession with bedsheets," explains Madelyn, whose L.A. apartment became the bunker for her quarantine with Chase (and co-stars Drew Starkey and Rudy Pankow). "I own a lot of them." (To those wondering, her favorites include linen sheets by Brooklinen as well as the "good old jersey knit" kind from Target.) "Some really great pillows" also came in handy for the cozy living-room setup, according to Chase. But beyond the nightly slumber parties, he and Madelyn had a whole list of comforts and distractions they relied on — from beachy loungewear to earthy candles to some excellent drinking games — that helped them, in Chase's words, "get your head out of a rut." Whether you're sheltering alone or together, maybe they can do the same for you, too.