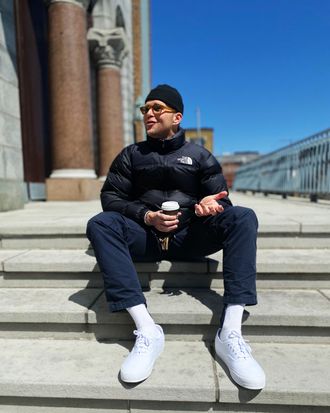 If you're looking for the most powerful hair dryer or the handiest chef's knife, those things can be easy enough to find. Other objects of desire are a little more taste-based. What's the next status water bottle or hand wash, for instance? If you have a burning question about the next fanny pack or Noah rugby shirt, Chris Black is here to answer it in a regular column.
I've started keeping flowers around my apartment for a little something bright and alive. I've been using a big glass jar as a vase, but would like something more design-y, maybe ceramic, to put them in. Any recommendations?
I swear by fresh flowers, and they are more necessary than ever right now. I will put them in an empty San Pellegrino bottle (#sustainable), but a lovely vase always looks better.
Photo: retailer
It's not ceramic, but this medium-sized pink glass vase designed by Scholten & Baijings for Hay will hold your stems and brighten a room, even when empty.
Photo: retailer
The large Strøm jug from Raawii is an excellent shape. I like it in gray (which almost looks like white). It can serve a few purposes: Put your fresh tulips in it, or use it to keep your spa water out on the table.
Photo: retailer
This white hand-cast vase from popular British furniture designer Max Lamb is a very chic, almost sculptural option, thanks to its raw, textured finish.
Photo: retailer
Workaday Handmade is one of my favorite ceramic brands, and this spool vase is another excellently — and unusually — shaped vessel. If you don't like the red on red, there's also a yellow-orange combo that looks like a real mood lifter!
I purchased a pair of denim overalls to try something new during this strange time. I want to dress them up a bit and avoid looking like I'm in OshKosh B'gosh. Any ideas for shirts and footwear?
It's genuinely getting crazy out here, and I appreciate your appetite for experimentation. The denim overall is a classic piece of American workwear that, if done right, can look pretty cool. The fit should be relaxed but not baggy, and the key is to keep the rest of the look modern and straightforward — never go full ranch hand, '90s Tupac, or Dax Shepard on Robertson Boulevard.
Since it's heating up outside, I would go with a plain, short-sleeve white T-shirt. When it comes to tees, I've said before on this website that I like Gildan's because they're simple and priced low enough that I don't need to be precious with them. But if you want something fancier, I suggest the Athens tee from L.A.–based Lady White Co., which is made from breathable cotton jersey, prewashed, and has a minor drop shoulder. Any T-shirt is better than a Henley or button-down.
Photo: retailer
If you are chilly, you can throw on a hooded sweatshirt like this gray one from House of Blanks, the same Canadians responsible for Roopa, the company that makes the blank clothes that brands like Supreme slap their logos on.
On the feet, we can go a few ways. If you want something classic, Converse's Chuck '70 high-t