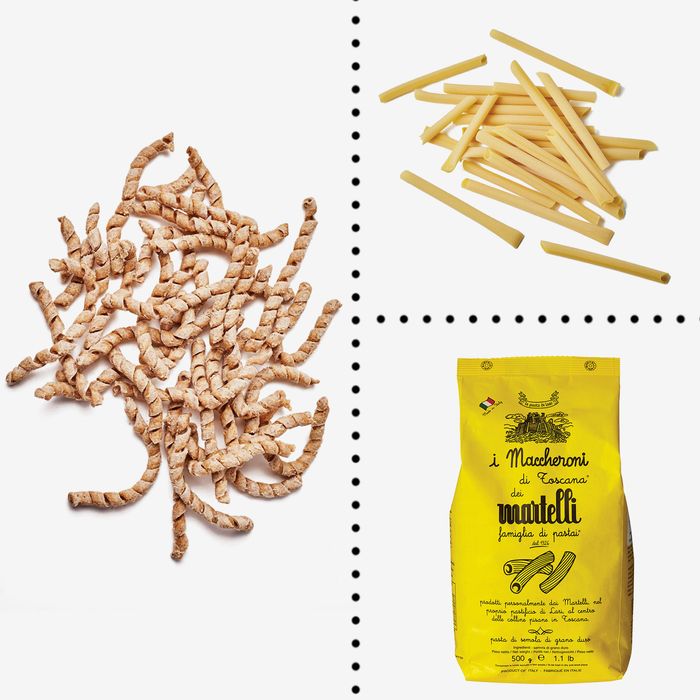 This article originally appeared on Grub Street.
Way back in March, after a swarm of Greenwich Village pastavores wiped out the De Cecco supply at our neighborhood Gristedes and all that remained on the shelves at nearby LifeThyme Natural Market was one sad little bag of farfalle, we're not ashamed to admit we panicked. Yes, we went online and stocked up on pricey, imported, often whimsically shaped pasta. Here, our completely subjective, minimally sauced, perfectly al dente ranking.
Photo: Retailer
Springy Sicilian pasta coils that dangle like your grandma's old landline cord. In a pinch, they could fill in for fusilli in a Charles Barsotti cartoon caption: "Busiate, you crazy bastard! How are you?" The traditional thing to do with busiate is to get out the mortar and pestle and make pesto Trapanese. But Molini del Ponte's Filippo Drago says forget about sauce. In order to preserve the integrity of his unique busiate, made from an ancient-grain variety of durum wheat that's stone-milled and meticulously dried, just drizzle them with EVOO, he says. Dubious marketing shtick, we thought, but we tried it anyway, and damned if the unsauced little Twizzlers didn't taste great: more like freshly baked bread than anything else. We've ordered our mortar and pestle to shelter in place in the back of the cupboard until further notice.
Photo: Retailer
Translation: "sailor's knots." A shape presumably invented by Neapolitan producer Setaro that, as far as we know, nobody else does. In addition to knots, they look like little spaceships, or a Frenchwoman's advanced scarf-tying technique, and trap sauce with wild abandon.
Photo: Retailer
By now, the fat spaghetti with the hole down the middle is fairly common. Abruzzo producer Rustichella's version is the sauce-gripping best. Hard durum semolina, mountain-spring water, old-fashioned bronze dies, and the type of leisurely, practically spalike drying session that makes all the difference are the reasons why.
Photo: Retailer
Wonderfully chewy, remarkably flavorful ridged tubes of short-cut pasta that make you feel sorry for all other ridged tubes of short-cut pasta.
Photo: Retailer
Not gnocchi as you know it, but puffy Pac-Man-like shells made from heirloom Italian wheat in the pasta-mecca town of Gragnano, outside Naples. We boiled a bunch, then baked them with tomato and mozzarella, rendering ziti forever irrelevant.
Photo: Retailer
Super-long, hollow candles that deflate like balloons when you cook them. Ignacio Mattos uses them unconventionally for his cacio e pepe at Altro Paradiso. If you can't fit candele into your pasta pot, you're not alone. Starchy-food aficionados do not consider it a crime to break candele into manageable pieces the way they do with other long pastas.
Photo: Retailer
Linguinelike but rustic and curvy with more character and much better mouthfeel. Scialatielli go well with fresh seafood. But we made scialatielli alla puttanesca with a bonus can of tuna and it did not suck. If you can get your hands on some littlenecks, make scialatielli and clams.
Photo: Retailer
A coarse and porous pasta secca fettuccine that rivals any fresca version we've tried. We whipped up a batch of no-cream fettuccine Alfredo al doppio burro that was more like a triplo, and that was worth the hour — okay, five minutes — we spent climbing stairs in our apartment building trying to burn it off.
Photo: Retailer
Casarecci means "homemade" in Italian, but these twisty little things seem to be much more common in their industrially produced dried-pasta form. They look a little like straight-edged cavatelli, and have a similar dense and chewy mouthfeel. As such, they go well with sausage and broccoli rabe.
Photo: Retailer
We hadn't been able to get our hands on any pasta from one of our all-time favorite makers, Benedetto Cavalieri, from Puglia. Then we noticed that Rick Easton at Bread & Salt bakery in Jersey City, like many restaurant folk these days, is moonlighting as a gourmet grocer. What distinguishes Easton from the starch-starved competition is that along with Rancho Gordo garbanzos and Filippone oregano, he carries a line of the seldom-seen Cavalieri. Get some tubettini and some of those R.Gordo garbanzos and make pasta e ceci.
For Saturday no-contact pickup only.
*A version of this article appears in the May 11, 2020, issue of New York Magazine. Subscribe Now!