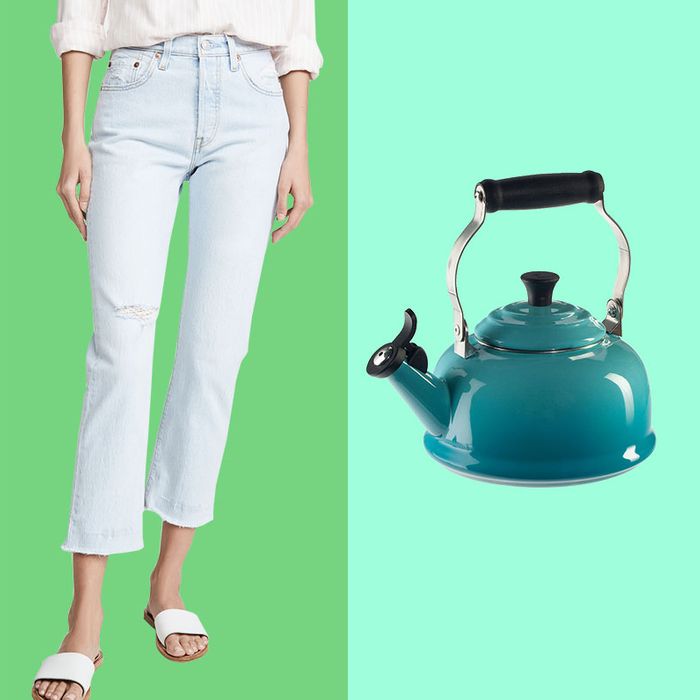 Photo-Illustration: retailers
This week's Friday sales roundup is a true hodgepodge: from child-sized office furniture and a subscription to National Geographic Kids to half-off Gucci sunglasses and lightweight Lululemon leggings, even an in-stock exercise bike (and lots of things that would make thoughtful Father's Day gifts).
This weekend, Wayfair is having a sale on thousands of office essentials, like this Herman Miller–esque desk chair (that also comes in gray, red, white, even magenta).
If your kid needs their own workspace, here's a colorful table with a matching bench. A roll of paper is included, so you can run it across the tabletop and let them go wild with crayons or markers or even finger paint, if you dare.
Take an extra 25 percent off already-on-sale items at Anthropologie, including this lightweight, tie-dyed top with embroidery that's as easy to throw on as a T-shirt.
The extra discount applies to furniture and home décor too, like this colorful pillow.
There's still some discounted picks from Zappos' massive Memorial Day sale, like these all-white Crocs for men or women …
… and these all-white Supergas that we've said "tend to add an air of Just hopping on my bike to pedal down a dirt road somewhere in the South of France to any outfit, even if that outfit includes sweatpants."
Given that most exercise equipment has been out of stock for weeks, it is a thrill for those who miss the gym to find an in-stock and on-sale recumbent exercise bike.
Used by professional athletes, the Theragun is a high-powered massager that's specifically designed to reach hard-to-reach areas — like in between your shoulders — without a second set of hands.
Photo: 20-01-21 katedemianova AM1 B4 jo/4730
As a treat, Shopbop put hundreds of new styles up to 40 percent off, including these summery 501s for when you want to give your sweatpants a break. (And as a bonus: They'd look great with those Supergas.)
Photo: 4799
A leopard-print bum bag with fringe to throw around your shoulder during your next curbside shopping trip.
Meanwhile, Shopbop's sibling site East Dane is having a sale that includes lots of potential Father's Day gifts, like this three-pack of Polo socks.
A five-pound bag of pine sticks — which make excellent fire starters — would be a great Father's Day gift for the right kind of dad.