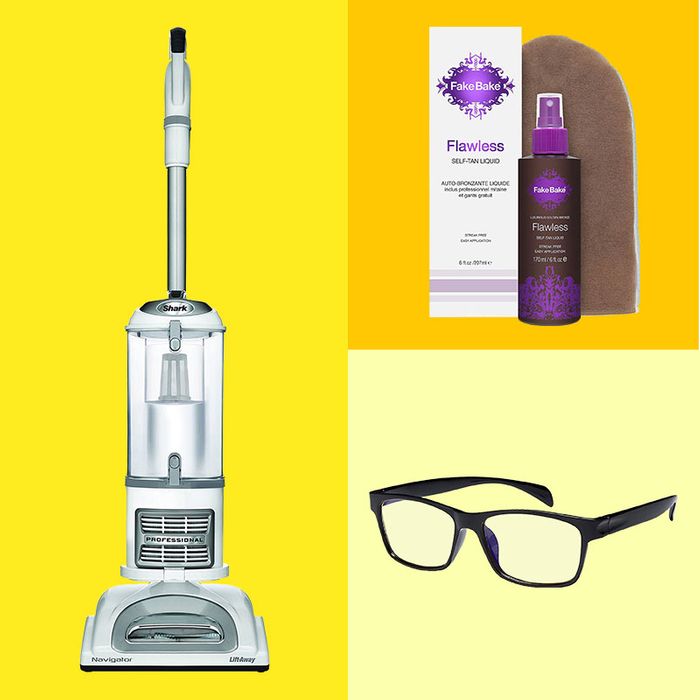 Photo-Illustration: Retailers
Welcome back to Your Shopping Cart, where we break out the top-ten products that you, devoted Strategist readers, all bought in droves. Think of this as the tl;dr of the Strategist. If your like-minded brethren are buying these items, maybe you'd like to, too.
Given these unprecedented times, it's little surprise that our readers' shopping habits are a little different than usual, and there are seven first-timers on this month's list of best sellers. Taking the first, second, and third spots are different types of fabric face masks, all making an appearance for the first time. A less expected, but still valid, quarantine buy, is a hair-loss pill for men, and when you consider that some people are going on two months of sheltering in place — read: no sunlight — it's a no-brainer why our No. 9 pick is self-tanner. But even in the midst of so much change some things stay the same, like a very popular side-sleeper pillow making the list yet again for a total of 31 times, along with a very familiar, do-all moisturizer and a back massager that's more than a justifiable purchase during these stressful times.
The CDC recommends everyone wear a face mask in public, but now, some states are requiring them, making them just as hot of a quarantine commodity as toilet paper. Many fashion and apparel companies have shifted their efforts to create face masks to help keep up with the demand, Buck Mason being one of them. Its face masks, making the list for the first time in the top spot, are made from the same heavyweight cotton as their t-shirts. You can wash and rewear them, and the antimicrobial coating on the inside should last for 30 washes. Plus, for every mask purchased, Buck Mason is donating one, with the goal or reaching 1 million donations. If you want to help it reach its goal, preorder your set now for a ship date of May 18.
Writer Liza Corsillo also found that Etsy is a great place to get affordable cotton face masks. You bought many from the artisan marketplace this month, but these were your favorite, available in a variety of patterns and colors, with a pleated pattern for a better fit.
Caraa, which typically makes sports bags, is another company shifting its efforts to make face masks by repurposing its leftover scraps to make these five-mask packs. Just like at Buck Mason, it is also donating a pack for every one sold, but its donations go directly to New York State's COVID-19 Response Fund.
Since its debut back in October 2019, this moisturizer has appeared on our list of best sellers eight times. No matter the season, the moisturizer is a favorite among our readers, probably because it's recommended for many different skin needs — everything from dry skin, to mature skin, to sunburned skin, and oily skin. Not to mention that it also made our list of best-rated drugstore moisturizers, making it an accessible and affordable pick too.
This pillow is the most recurring item on this list with 31 entries, confirming that our readers are serious about sleep, and that most of you are probably side sleepers. It's at the top of our list of expert-recommended pillows for side sleepers as it has a supportive "firm, satisfying spring" that former Strategist deputy editor Jason Chen appreciated, too. And this month, you bought it up in both the standard and king sizes.
We can't fully chalk this massager making the list up to the global pandemic, as it has appeared on the list in less trying times, but its reappearance might have a little something to do with the need for at-home relaxation. Not only is it our best-rated back massager on Amazon, it's also appeared in our gift guide for nurses, who could definitely use a big dose relaxation these days. It uses heat and kneading to deliver a massage that one reviewer says makes them "feel like a noodle when I get done."