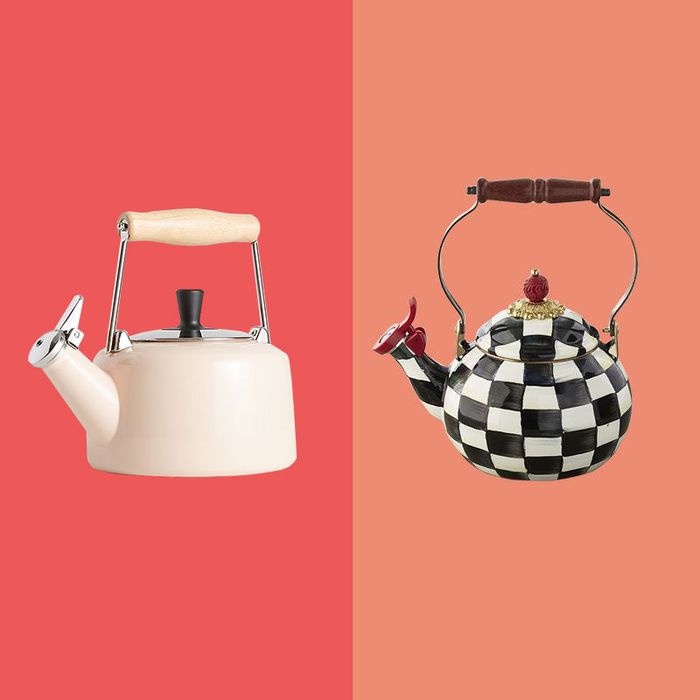 Sometime in the last decade, public preference swung from a whistling kettle on every stove to an electric kettle on every countertop. And it makes sense: The latter never rusts; heats water quickly, in some cases to a precise temperature; and turns off automatically. And yet, I still believe old-fashioned kettles are where it's at. (In fact, I recently found myself in the middle of an argument on Twitter with electric-kettle enthusiasts after I expressed my dismay at their proliferation.) As long as I've thought about the kind of home I'd have as an adult, I've had a singular vision for my perfect kitchen, and it's always had a stove-top kettle in it. Are they the most practical? Perhaps not, but nothing beats the calming routine and sweet whistling of heating water in a kettle. So for the design-minded and slow going among us, I found 15 kettles that'll look great on your stove top and make brewing your next cup of tea a little more poetic.
For satisfying the urge to buy all things millennial pink
My primary argument against electric kettles: this incredibly handsome, vintage-inspired enamel kettle made exclusively for Crate and Barrel and purchased by me within minutes of coming across it.
For the bachelor who wants a kettle to go with his Crock-Pot
For all the single men who make every meal in a Crock-Pot, here's a kettle that is just as simple and utilitarian in design.
For the kitchen straight out of the MoMA Design Shop catalogue
Photo: retailer
This isn't your mother's teakettle — unless she's really into modern design, in which case, you should buy this for her next birthday.
For handling roommate wear and tear
Photo: retailer
If you're not ready to pay an arm and a leg for a really nice kettle (especially one you're sharing with roommates), consider this affordable option from Mr. Coffee, which will do the job until you can be sure your kettle will be treated well.
For heating up water for your Chemex
As coffee expert Erika Vonie recently pointed out in our guide to making coffee at home like a barista, when making pour-over coffee, you need a kettle that can pour a concentrated stream of piping hot water. Gooseneck kettles are the best tool for doing just that.
For impatient tea lovers looking to add color to their kitchen
Photo: retailer
Not only is this sunflower-yellow kettle a beautiful addition to the stove top, but a high-grade stainless-steel base means it's designed to heat up faster if you're the type who hates waiting for that telltale whistle of boiling water.
For steampunk enthusiasts
Photo: retailer
A black-and-gold kettle that's as sturdy as, well, a steam engine. It also comes in white or red with the same golden hardware.
For matching your Mauviel saucepan with your kettle
Photo: retailer
A kettle to go with the French-countryside kitchen aesthetic you've been working toward ever since you visited Provence the summer before last.