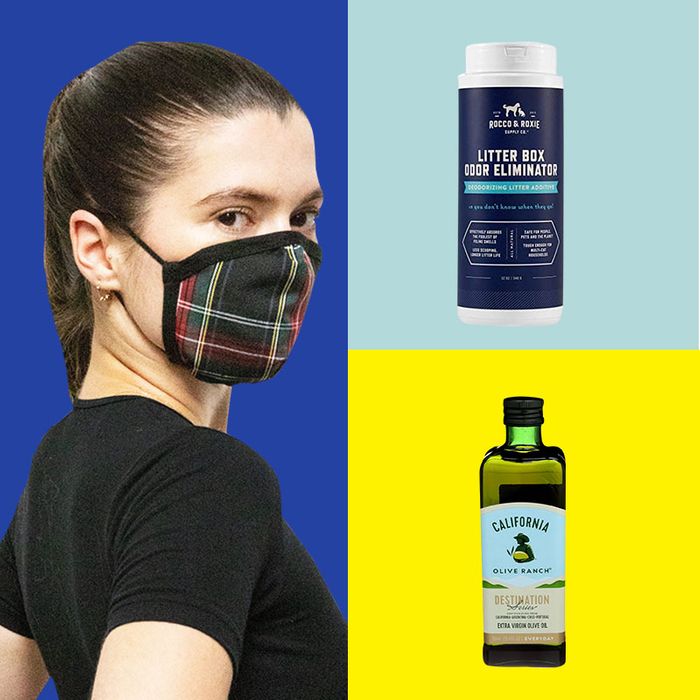 Photo-Illustration: Retailers
Now that we're entering month three of quarantine, our readers seem to be keeping up with their shelter-in-place shopping habits. In first and second place are non-medical fabric masks for the second time in a row. But since we're cooped up for an indefinite amount of time, it seems like readers still want to make their homes as pleasant as possible, with purchases of vacuums and odor-eliminating litter box pellets that actually neutralize the scent, not just mask it. People also want a better night's sleep, so they're buying up our best-selling side-sleeper pillow and top-rated blue-light glasses to use. And speaking of justifiable purchases, people need some way to reduce stress, so it's no surprise that our favorite heated back and neck massager (which also makes an excellent gift) is back again. We're also cooking much more, which is why we're seeing a beginner-friendly olive oil on the list for the first time. Then, closing out the list, we have a dermatologist-recommended sunscreen, and an "idiot-proof" self-tanner, just in case you're sick of your quarantine paleness.
Even as certain areas start to open up again, many states and cities require that people wear masks when leaving their house. We've been keeping a running list of a few dozen (actually stylish) masks from different brands, but readers seem to really love these Buck Mason masks, since this is the second month in a row they've hit our number one spot. The cotton masks feature an anti-microbial coating on the inner layer that will last up to 30 washes, and the thick material passes the light test, which means you can't see sunlight through it and is a good indicator that they're safe to wear. You get five masks for only $20 — and while you don't get to pick your color, they're all pretty neutral, so they can easily blend into just about everyone's style.
And in second place, another mask. Not only does this appear on our big list of cloth masks to buy, our resident cool guy Chris Black even recommends them because "They're no frills, do the job, and come in lots of different colors and prints so you can express yourself while going to the grocery store." They're not as luxe as the St. John or Collina Strada masks he recommends, but they're certainly much cheaper and look just as nice, available in 40 different colors and patterns for every taste. Plus, they feature an adjustable nose, so they can fit snugly to your face.
Sure, you could probably have the family member or roommate or romantic partner who's been quarantining with you give you a massage, but nothing really compares to an on-demand Shiatsu massage. This Zyllion heated massager showed up on our best-sellers list last month at number six, even more people seem to be craving a good back rub this month because it's back in our number three spot. The massager ranks as our best-rated electric back massager on Amazon, because it's apparently just as good as "a professional massage therapist," according to one reviewer, and it has appeared on a couple of our gift guides, including our gift guide for nurses.