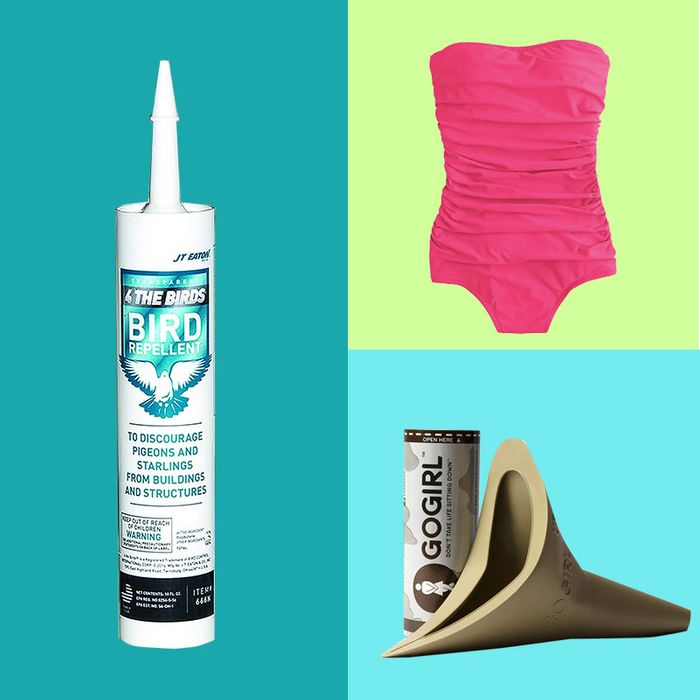 Photo-Illustration: retailers
We write about hundreds of products a week. Here, in our version of the Sunday circular, we've plucked out some of our favorites — expert-recommended essentials, life-changing stuff you didn't know you needed, newly-launched gizmos, and the very good deals we uncovered while trolling through the vast online-shopping universe this past week, including a doodad for peeing safely in public restrooms, a kettle to complete your Nancy Meyers kitchen, and Serena Williams's favorite headphones.
An affordable alternative to inflatable baby pools
"Think of it as the world's shallowest blow-up pool, but instead of air filling the low wall, it's water," writer Lauren Ro says of this so-called splash mat she bought for her 16-month-old son, Augie. "To set it up, all we had to do was stick a garden hose into the nozzle (it also comes with an optional adapter) and turn the water on. Within minutes, the perimeter filled with water, and the tiny punctures lining it became a sprinkler, shooting out gentle, arcing sprays that reminded me of a fountain at a fancy outdoor shopping mall." Augie, she writes, took to it right away: "He splashed and stomped to his heart's content. We had to pull him out when it was time for dinner; otherwise, he would have stayed all evening." At 60 inches in diameter, Ro adds that the mat is "also big enough for adults to join in."
An expert-approved Lego set (for all ages)
Photo-Illustration: retailer
"They have been a lovely way to just sit, focus, and chat, away from screens and other distractions," Canadian government analyst Stephen J. MacDonald says of Legos, one of his favorite pastimes and one he's taken up even more amid the pandemic. Writer Louis Cheslaw asked him and 12 other Lego fans to recommend the best sets for kids and adults, and heard about styles of all sorts, from replicas of Frank Lloyd Wright's Fallingwater to replicas of the Central Perk coffee shop from Friends. This set (for ages 4–99+, according to the brand) bridges the gap between beginner and advanced builder, says the anonymous creator of popular Twitter account Lego Grad Student. "You cannot go wrong with a Creative Brick Box," they say. "The pieces offer endless possibilities and the widest variety of colors and shapes to build some version of any small item that comes to mind."
A 'classic, practical' plus-size women's swimsuit
Photo: retailer
Stylist Ansley Morgan told writer Dominique Pariso that while plus-size women and people "have a lot more choices today," shopping for swimsuits in all sizes "can still be a daunting task." But with the help of Morgan and eight other cool people, Pariso rounded up some of the best plus-size women's swimwear (from one-pieces to bikinis to swim dresses) to make the process less of a drag. "I think every woman should have a classic, practical one-piece in a solid color, and this J.Crew suit fits that bill," Morgan says of this strapless swimsuit that goes up to a size 24 and comes with an optional strap for those who need extra support. For 26 more options, click here.
A doodad for peeing safely in public restrooms
"The gadget allows you to pee in a standing position, neatly avoiding touching dirty toilet seats or accidentally dragging your clothes along an unclean bathroom floor," contributor Alison Freer writes of the GoGirl, a silicone funnel of sorts that she first received "years ago from a fellow costume designer." While she once only whipped it out in the most disgusting of restrooms, now she's "taking it everywhere I go: on hikes, to the grocery store, on a plane when I had to make an emergency trip to my family in Texas, and even to friends' houses for porch hangs. Not having to worry about touching a toilet with any part of my body (or hovering over the seat while my thighs burn) has been a huge relief as I start to head out into the world."
Serena Williams's favorite headphones
"These are the best headphones I have ever used" and one of seven things that the legendary athlete told us she can't live without. "They have true noise cancellation, which gives me the silence I need to focus and train. I use them on business calls, and I'm always listening to music. Music absolutely changes my mood and helps me get in the zone — it really puts me in another world. I'm sure a lot of people can relate to that."
A book to buy now and read later
Photo-Illustration: retailer
Perhaps the only thing better than ordering a book by a Black author from a Black-owned bookstore is preordering a book by a Black author from a Black-owned bookstore. Or any bookstore, for that matter: "When shoppers preorder a book, it suggests that the new release will sell well — meaning bookstores will often order additional copies for their displays or website, in turn helping the book reach a larger audience. Having a large number of pre-sold copies on Amazon can also help give a book a 'best new release' badge on its product page." We rounded up 11 forthcoming releases by Black authors we're excited for, including Alaya Dawn Johnson's latest work of fiction, Trouble the Saints. "Johnson is known for her speculative fiction, and in this, she creates a story that's part New York crime and part alternate history, featuring an assassin who falls in love," we wrote.
Editor's note: The price shown is for hardcover editions.
The preferred portable picnic table of RVers
Whether you're inside an RV traveling across the country or just making weekend trips to your local park, we don't have to remind you that the right gear can turn an otherwise ordinary day outside into a slightly more-luxurious experience. To find such gear, contributor Ashlea Halpern spoke to RVers about the stuff they bring on trips short and long — one piece being this table that RVBlogger's Mike Scarpignato calls "light, compact, and easy to set up and store." It holds four drinks and even has a shelf for stashing a speaker or other essentials. Amazon sells it in red, while QVC has the table in blue and black.
A kettle to complete your Nancy Meyers kitchen
"As long as I've thought about the kind of home I'd have as an adult, I've had a singular vision for my perfect kitchen, and it's always had a stove-top kettle in it," says Strategist writer Nikita Richardson. "Are they the most practical? Perhaps not," but according to her, "nothing beats the calming routine and sweet whistling of heating water in a kettle," which is why Richardson went and rounded up her favorite 15 nice-looking stove-top kettles for every type of kitchen. One of them is this eye-catching copper-plated number, which Richardson says will "go with the French-countryside kitchen aesthetic you've been working toward ever since you visited Provence the summer before last."
A 'meditative' one-player card game (that isn't Solitaire)
As strategist junior writer Jenna Milliner-Waddell puts it, after what seems like a lifetime of social distancing and sheltering indoors, "those of us who are going it alone right now might be starting to run out of ideas" to pass the time. She spoke to experts about the one-player games they'd recommend for a new diversion, and Onirim stood out as one that feels particularly relevant to the moment. One of the experts calls it "a really meditative card game that is about being trapped in a labyrinth of dreams. You're trying to find the doors to get out, but some cards are nightmare cards that force you to give things up that you found and you're trying to reach your goals before you run out of cards."
And a humane way to keep pigeons (or other birds) at bay