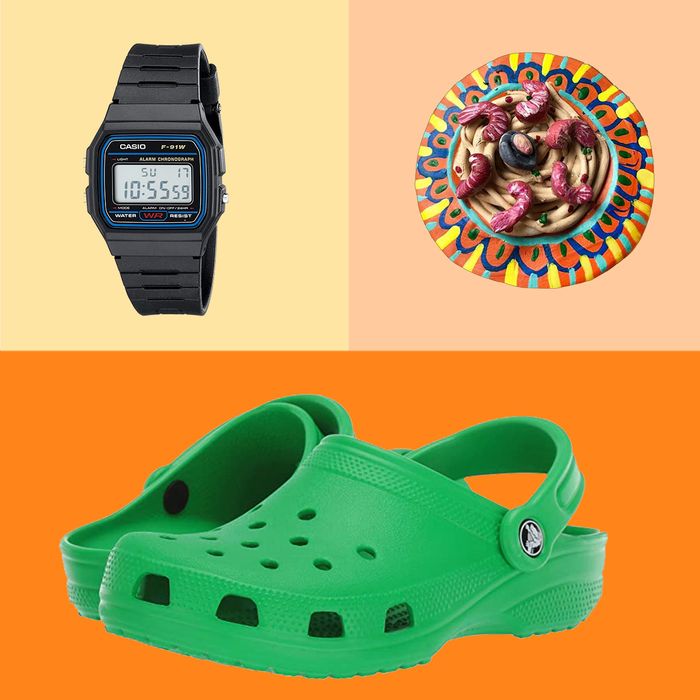 If you follow our monthly feature Your Shopping Cart, you know that we have some eerily good intel on what you all are buying. Which led us to think that, as Strategist editors, we could turn the tables and highlight all the things we've been buying for ourselves. As you'll notice, it's both a blessing and a curse to be a Strategist editor; we're picky, but sometimes we just have to get on with it. (It's online-shopping expertise meets IRL needs.) Below, what we all bought in May.
Karen Iorio Adelson, senior writer
I already own a Furminator at home, but now that I'm staying with my in-laws during the pandemic, I ordered another one, because my long-ish hair cat has been shedding all over their house. The Furminator (which we've written about before, here) is a fine-toothed metal comb with a little button you push that releases all the hair that collects on the comb. Fortunately, my cat enjoys being brushed so we've already had a few sessions, and it's truly shocking how much hair comes off each time. Her hair is looking glossy, and we're hopefully keeping the house a little cleaner.
Nikita Richardson, writer
During quarantine, I rediscovered my love of baked potatoes, and after using a wet paper towel to clean the many, many Russets I've recently baked, I decided it was time to get a real-deal vegetable brush. I love this little guy's ergonomic design and because it has that French country kitchen vibe I love.
I am celebrating unleashing my very thick head of natural hair by babying it completely. That includes finally investing in a good detangling brush, so I don't rip out my hair every time I manipulate it, and a leave-in conditioning cream to bring it back to sweet, sweet softness.
Casey Lewis, senior editor
I've admired this fanny pack, part of Madewell's collaboration with Topo Designs, for months but I waited to buy it on sale because I wasn't sure how much I'd actually use it. I should have done it sooner, because it's been so useful for dog walks, weekly grocery runs, and socially distanced hikes. It's nice to have a bag that isn't a purse-purse, and it makes me feel sporty and hip, even though I'm neither of those things.
[Editor's Note: The black fannypack Casey ordered is out of stock, but this colorful one is still available.]
Photo: retailer
Once it became clear that we would not be returning to an office anytime soon, I decided I needed some Levi's jean shorts for this WFH summer. Although I was tempted by the Ribcage and Wedgie fits, I ultimately went with the classic (and less constricting) 501s. I sized up so they'd be extra comfy and actually bought the knee-length version so I could cut them to my length of preference (a 1-inch inseam is not my thing).
Chole Anello, junior writer
I have a really nasty habit of picking the breakouts I sometimes get on my chin, but if I put a pimple patch on it, I don't pick it, and the zit goes away faster. Basically, it's a win-win situation. I've tried a lot of the pimple patches out there, and have favorites (including the Peach and Lily ones) but I've heard great things about Starface. I gave them a shot, and I definitely would rebuy. They're much more expensive than say, Peach and Lily, but they worked very quickly. The only downside is that they're kind of small, and I wish they came in larger sizes for when you get those really monstrous zits.
Photo: retailer
I honestly never fully understood the purpose of a bralette. If I want something supportive, I'll wear a bra, and if I don't want to wear a bra, I won't wear one. Seems simple, right? But after being in quarantine, I finally understood. I feel like it's extremely weird to technically be "at work" without a bra on. I've been wearing the one I previously owned from Lively every day, so I decided it might be a good idea to get more. They're soft and comfortable, and as someone with a larger cup size but small band size, bralettes never fit very well, yet somehow, these are perfect. And I even saved about $10 buying their bundle.
Maxine Builder, managing editor
I lost it a little bit this month (as people who follow me on Twitter might have been able to tell). I bought a couple of things on sale, including an Alex Mill cardigan that was 60 percent off and an A.P.C. Demi-Lune purse in a gorgeous hazelnut for an unheard-of, all-time-low price of $225. I also bought a lot of things that were not on sale, like a 60-pack of toilet paper from Office Depot because I haven't been able to find any rolls in the grocery stores around me for weeks, three cloth face masks from Food52 (one in toile, one in block print, and one from Steele Canvas), a subscription to the language-learning service Pimsleur so I can brush up on my French conversation skills for my next (hypothetical) trip to Paris in 2021 or 2022 or 2023 or whenever international travel is safe again, a Kindle edition of Michael Hyatt's Your Best Year Ever: A 5-Step Plan for Achieving Your Most Important Goals, and a beautiful paint-by-numbers kit that features a mountain and a placid lake (and reminds me a bit of Lake Louise in Banff) that's been helping me quiet my mind at night even though I'm pretty sure I'm painting everything outside of the lines.
Peter Martin, senior editor
My sister has a big birthday coming up, and hopefully she'll forgive us for buying her a Fitbit to help her celebrate. Although it doesn't have the ability to store music or count laps (should she take up swimming) like the Versa 2, the Lite is the least expensive smartwatch that does everything most people need, like tracking steps and heart rate, and telling you what time it is. I'm also hoping that the option of getting calendar alerts on her wrist will be what finally helps me get her to give up her paper schedule.
We try to limit the toys we buy our 2-year-old daughter, which is turning out to be much harder for me than it is for her. Even though she's happy wrestling her shadow in the sunlight at the bottom of the stairs most mornings, I couldn't help myself and bought her a scooter. In my defense, she's always pointing and saying "me, me, me, me" when she sees her cousin riding his Razor scooter, so I'm pretty sure she's interested. Plus, I was working on a story on the best scooters for kids, and this one was recommended and surprisingly cheap, so I almost consider it a professional expense.
Tembe Denton-Hurst, writer
Photo: retailer
Unsurprisingly, I bought even more books this month. One title I'm really excited about is Catherine House, a suspense-filled debut by Elisabeth Thomas. Set in rural Pennsylvania, this story about students of an elite school requires that those lucky enough to attend to be cordoned off from the outside world. Then, obviously, chaos ensues. It's definitely different from what I usually read — I'm a big fan of literary fiction with a character-driven plot — but this feels like perfect remedy to an impending quaran-summer, where the only place I'll be going is to my couch and back again.
Buying a little desk situation has been at the top of my to-do list, and as someone who doesn't mind getting work done from the comfort of my bed, I opted for a lap desk that also doubles as a tray. I picked this one up at the recommendation of my friend who previously purchased two, and it's become one of my favorite purchases of quarantine thus far. It comes fully assembled (an underrated luxury in my opinion), is big enough to fit a 17-inch laptop, and has a convenient shelf that makes FaceTiming much easier, especially if I'd like to multi-task in the process. This has been a dream for creating a setup that feels a little more official, and I believe it will serve me well in the (likely) many days to come.
Louis Cheslaw, writer