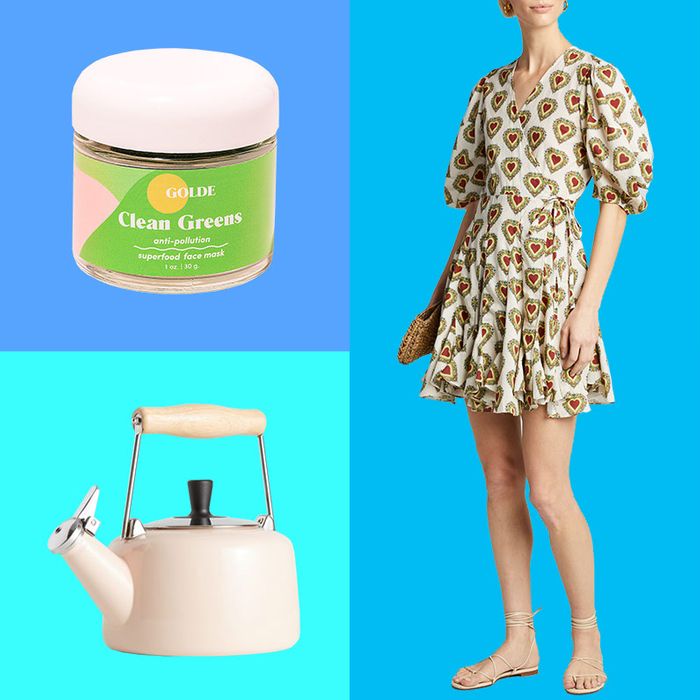 If you follow our monthly feature Your Shopping Cart, you know that we have some eerily good intel on what you all are buying. Which led us to think that, as Strategist editors, we could turn the tables and highlight all the things we've been buying for ourselves. As you'll notice, it's both a blessing and a curse to be a Strategist editor; we're picky, but sometimes we just have to get on with it. (It's online-shopping expertise meets IRL needs.) Below, what we all bought in June.
Nikita Richardson, writer
Since May, I've been telling anyone who will listen to subscribe to the podcast You're Wrong About. Hosts Sarah Marshall and Michael Hobbes do incredibly deep dives into events of the 20th century, like the D.C. sniper shootings (four episodes), the O.J. Simpson case (ten episodes), and the murder of Kitty Genovese through the lens of today. It's at times sad, thoughtful, and astoundingly funny. Over the two years the podcast has been around, they've developed a few catchphrases, including Sarah Marshall's iconic line: "It was capitalism all along."
After years of using a dented but perfectly functional tea kettle I got in the Ikea sales section five or six years ago (and a small argument with electric-tea-kettle lovers on Twitter), I finally invested in a shiny new enamel kettle for my stovetop. Yes, every indication is that electric kettles are superior. But can electric kettles whistle? I think not!
Tembe Denton-Hurst, writer
Another month, another slew of books. I very rarely read YA — but when this book popped up on my radar, I couldn't resist. It's rare that I get to see Black lesbian love on the page and even rarer when that includes characters of Caribbean descent. (When it does happen, it's likely the work of Nicole Dennis-Benn.) For me, books are a window into myself, so I'm excited to dig into the dreamy world that Junauda Petrus has created here. I have a feeling it's going to give me major flashbacks to my own early experiences, so I'm really excited to revisit that part of myself while also falling in love with her characters.
Chloe Anello, junior writer
Due to all the uncertainty with the coronavirus, it became unclear if my sister would be able to keep her wedding date in February 2021. Neither she nor her fiancée were interested in postponing, so they decided to just get married in my grandparents' backyard in July (and figure out the reception later). It'll be an intimate, summer-themed event overlooking the Hudson River, with a homemade chuppah and BBQ, and their friends attending over Zoom. I had already bought a navy silk dress for their formal wedding, but because this is more casual and summery, I needed a different type of outfit. The first one I bought got lost in the mail for a while, and when it did arrive, it didn't fit. So I bought this one from Rhode. I have only two weeks for it to get here, so I hope it goes on less of a shipping adventure (and actually fits).
I truly never thought I'd see the day, because I never loved the trend, but I've been buying so many pairs of bike shorts. (I guess wilder things have happened in the past few months, and it's really, really hot out now.) I bought some athletic-looking ones with mesh panels from Target, but I wanted some with a look that was a bit more Princess Di-running-errands. And though I highly doubt Princess Di would have worn these sparkly knit shorts from Free People, they seemed so fun, light, and reasonably priced, I bought two pairs.
Casey Lewis, senior editor
I'm somewhat ashamed to admit that I succumbed to Everlane's marketing email about the launch of their new "selfie tee," which, they claim, looks great on camera. That's not why I bought it, though. I'm not much for selfies, but I can confirm that it looks good IRL, with its fine rib and dainty trim. It's also, blessedly, not see-through.
I also bought Everlane's "selfie tank." Again, I am not proud, but I am really pleased with it. It reminds me of a sleeveless version of the Agnès B's snap cardigan, a much-beloved classic that can be found in the closets of at least half of the Strategist team. I bought one in black, which is currently sold out, but this white version is just as nice. The last thing I needed was another black T-shirt, but a black button-front tank, on the other hand …
Maxine Builder, managing editor
It's no secret that I love a jumpsuit, and ever since the weather started to heat up, I've been on the hunt for a not-too-expensive, not-too-thick, white option. I love the white Alex Mill jumpsuit, but I really wanted something with short sleeves (and it's a little more money than I really want to spend). The off-white option from Big Bud Press is the right style, but it's sold out. Even if it were available, it's still a little too pricey. The unlined Five Rock jumpsuit that I've written about before is the right price and weight, but it's a bit too sheer in white. So when I saw the new Everlane supersoft summer coverall, I felt like I hit the jackpot: It's got short sleeves, it's lightweight denim so I won't have any wardrobe malfunctions, and it's under $100.
My boyfriend and I have decided to go on an overnight sea kayak trip over the Fourth of July, so I picked up this 20-liter, roll-top dry bag. So far, I've packed it with my sleeping bag, a sleeping pad, a microfiber towel, a first-aid kid, and a change of clothes — and I'm praying it keeps it all dry when I inevitably accidentally flip over in my kayak.
Karen Iorio Adelson, senior writer
When I left the city in March, I wrongly assumed we'd be back to normal in a couple of weeks, and I only packed clothes for the then-chilly weather. I can still wear the T-shirts I was layering under my sweaters, but since it's now too hot for sweatpants and leggings, I needed a new pair of shorts. I picked these up for well under $30 during one of Madewell's frequent sales, and they've been helping me get through the summer. The burnt-sienna color I bought is sold out in most sizes, but I'm also intrigued by the olive and yellow-green "crisp pear" shades.
Alexis Swerdloff, Strategist editor
I wanted to get a little something for a close friend of mine who was feeling particularly blue recently, so I consulted our guide to 138 Black-owned businesses to support and got her this lovely pouch from Bole Road Textiles, a Brooklyn-based shop that sells wares all handwoven by artisans in Ethiopia. I always think that you can never have too many pouches; this one makes a nice tote organizer.
Meanwhile, it was a beloved colleague's birthday recently, so back to the 138 Black-owned businesses story I went. She loves anything bright and colorful, so I got her this festive tea towel from Jungalow, a blog turned home-décor shop, where with each purchase, two trees are planted. The pattern (the site's best-selling print) is an original watercolor courtesy of the store's owner, Justina Blakeney. One thing: I clicked checkout too soon without being able to include a note, so, beloved colleague, if you see this — that tea towel is from me!
Hilary Reid, writer
I didn't do a ton of shopping this month, because I'm moving into a new apartment and am saving for household goods (stay tuned for those next month). But I did buy Brit Bennett's new novel, The Vanishing Half, which we're reading for the first installment of the new Strategist staff book club. I just started the other night, and so far am really enjoying it and finding it easy to get into — which seems like a good sign after having a difficult time reading most things during quarantine.
Editor's Note: This book is backordered for one to two months at Amazon, but available now at Abe Books.
Peter Martin, senior editor
What better way to celebrate Tony's inspiring performance on Amazon's live sale this month than by impulse-buying the pair of pants that were promoted next to his video feed? Plus, it was time to replace a favorite, well-worn pair that recently developed a six-inch, underwear-revealing tear across what I believe tailors refer to as the left underbutt area.
Now that summer's here and we've introduced our 2-year-old to the joys of running through a sprinkler (even if she prefers just to sit on it), we're going through so much sunscreen. ThinkBaby is a baby-safe, mineral-based, great-smelling option that was suggested by my friend Maura, who always has incredible product recs for kids. Our daughter has actually started requesting it, which is a nice shift from the first 22 months of her life.
Dominique Pariso, writer
I typically don't gravitate toward face masks, but lately I've been feeling a little bored with my skin-care routine. This powder-to-gel face mask only has four ingredients — mango juice, marshmallow root extract, spirulina, and chlorella — so I don't have to worry about it breaking me out, while still giving my skin an extra boost of nourishment after a day out in the sun.
Nicole Byer hosts two of my favorite podcasts, so when her book came out, I knew I'd have to buy it. After flipping through it, I also decided it would make the perfect going-away gift to my friend who is about to leave New York.
Rio Viera-Newton, writer
I repurchased one of my all-time-favorite beauty staples: Fenty Gloss Bomb. If you're at all partial to lip glosses, these are without a doubt worth trying. They're shiny and dewy without any stickiness and are so nourishing on the lips, I've actually found them to be a legitimate substitute for ChapStick. Although I wear slim to no makeup these days, I'll almost always throw on some Gloss Bomb just to add a little shine to my bare face. I bought one in the shade Fenty Glow, which is a pearlescent, rosey nude, and Glass Slipper, which is a clear formula with no sheen to it. I adore them both!
I have never in my life devoured a book as quickly as I did this YA fantasy novel by Tomi Adeyemi. Children of Blood and Bone is a fast-paced hero's quest that explores magic in a stunning fantasy world inspired by West African mythology. Adeyemi's writing is exceptional — there are twists and turns that will keep you at the edge of your seat throughout the entire book. I just purchased the sequel and truly cannot wait for it to arrive.
Katy Schneider, senior editor
Photo: Courtesy of the publisher
As I continue to spend a majority of my time at home, most of my shopping is for food and books — for myself, and for my friends and family as gifts. This month, I bought Deacon King Kong, by James McBride, and They Said It Couldn't Be Done, by Wayne Coffey, for my dad for Father's Day, and The City and the House, by Natalia Ginzburg, and Invisible Man, by Ralph Ellison, for my friend's birthday. I also ordered The Vanishing Half, by Brit Bennett, and (preordered) Luster, by Raven Leilani for myself.
Louis Cheslaw, writer
After months of noticing this gigantic water bottle all over Instagram, I eventually bought it as motivation before ramping up my fitness schedule. It's working. I'm now easily drinking two liters of water a day, and it's nothing to do with the phrases on one side of the bottle. Instead, it's everything to do with the well-made container and its strong, comfortable handle. Plus, the internal straw means I can drink while furiously typing.
I ordered this book after five experts told me it was essential reading on the history of American policing. Hinton argues that America's deep-rooted carceral problems began not, as many think, with Reagan's War on Drugs but instead with the social-welfare programs of Lyndon Johnson's administration. As author and professor Angela J. Davis told me, the book reveals that "both Democratic and Republican administrations [have] implemented punitive policies and practices that have resulted in the mass incarceration of millions of Americans."
Kayla Levy, junior writer
Lauren Ro, writer
My son Augie needed a new sun hat, and for whatever reason, I wanted it to be yellow. I bought one of these for him last summer when he was a baby, but they didn't have the exact color I wanted, so I turned to Etsy, where I happened upon the perfect one. Made of a structured, bright yellow linen fabric, it has a wide brim (that you can also turn up) for ample sun protection, and a buttoned chin strap to keep it on. It's also the most adorable thing and makes him look like Paddington Bear. Every time he goes out with the hat on, he gets tons of compliments.
I also got Augie a pair of Crocs for the summer. (Now we both have a pair.) They're super-easy to slip on and don't require socks and are perfect for playing in the water and quick walks around the block. Tiny Crocs are also (again) the cutest things.
Jenna Milliner-Waddell, junior writer
Even before there was a big push to shop Black-owned, I've been trying to get my hands on Honey Pot products but have often found them to be sold out. That's why I was so excited to see both the tampons and wipes in stock at Target this month. I've also been searching everywhere for the Sensitive Intimate Wash with no luck, so when I bought the last one on the shelf in Walgreens, I felt like a kid in a candy store.
Liza Corsillo, writer
Most of the money I spent in June went to mutual-aid donations and bail funds to support protestors in Brooklyn and other cities across the country. But I also bought three new books from Mahogany Books, a Black-owned bookstore based in Washington, D.C. The books I ordered haven't arrived yet, but when they do, I'm going to start with All About Love, which Strategist writer Tembe Denton-Hurst listed at the top of her extensive Black feminist reading list.
I also bought a Pilea plant from a local nursery in Connecticut as a Father's Day gift for my dad. Pilea plants are pretty low-maintenance and do well with indirect sunlight, which is why I thought it would be a cheery office mate for my dad while he works. The nursery in Connecticut isn't set up for online shopping, but you can find the same plant to buy online on Natty Garden's website.
Anthony Rotunno, senior editor
After my dad and mom surprised me with a pair of AirPods for my birthday in early June, my siblings and I and our partners chipped in to surprise my dad with a pair of his very own for Father's Day. In talking to him after we each started to use our own pairs, we shared similar sentiments about how life-changing they are. Neither of us are big audio consumers or music people, and this general proclivity, coupled with the ho-hum experience of other headphones we'd used over the years, meant we just kind of stopped listening to anything, period. But the AirPods, we told each other, are so easy and fun that we find ourselves looking for things to listen to again, whether favorite songs or new podcasts.
Another gift, this time for a dear friend who recently celebrated her birthday. I wanted to get her the viral strawberry Crocs but didn't act fast enough. So I settled on this almost-as-delightful lavender pair, which I must say look even more delightful in person. (Their hue is brighter and lighter and less muddied than it appears in this image.)
Leah Muncy, intern
I never (and I mean never) wore glasses instead of my contacts — until I bought these. I have a really high prescription, so glasses either feel too heavy or my eyes end up overmagnified and I look like a bug. But everyone needs a pair of backup glasses, and when I found these on Warby Parker, I knew I had to give them a try. Most wire frames are too round or aviatorlike, but these are slightly squared off, making them more flattering and just plain cool. I got the high-index lenses, which help minimize magnification for higher prescriptions, and I've been wearing them almost daily ever since. They're incredibly lightweight, they don't slide down my nose, and while my eyes are still slightly magnified (though much less than with my other pair), the frames are stylish enough to offset how buglike I might look.
Written during the fifth and sixth weeks of quarantine, New York Magazine's very own literary critic Molly Young put together this collection of short essays on the "frivolous habits of the moneyed class spanning several periods of history," covering everything from 16th-century pornography to $11,000 pineapples to domesticated squirrels. The zine itself is beautifully designed down to the back cover, and I found each bite-size essay to be a wildly entertaining (and much-needed) respite from the grim state of the world.
The Strategist is designed to surface the most useful, expert recommendations for things to buy across the vast e-commerce landscape. Some of our latest conquests include the best acne treatments, rolling luggage, pillows for side sleepers, natural anxiety remedies, and bath towels. We update links when possible, but note that deals can expire and all prices are subject to change.