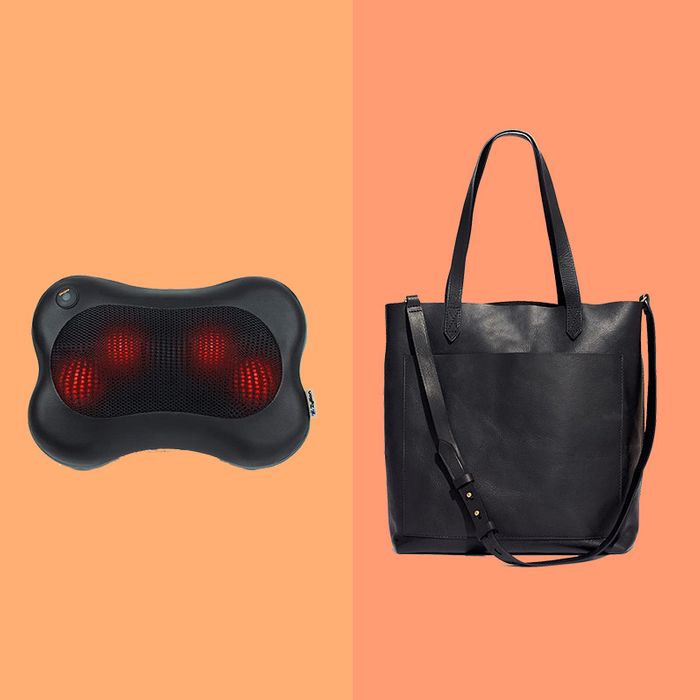 Photo-Illustration: retailers
Earlier this week, we launched our first-ever Two-Day (Actually Good) Sale, where instead of finding the internet's best deals, we went ahead and made them. And though the deal-making has come to an end, and our event is officially over, some of the deals are still live for our readers. That includes a Strategist-ordained perfect work bag (the cheapest it's been this year), a wear-everywhere hair bonnet, and a vet-recommended, easy-to-clean dog bed. But act fast: These deals are too good to stick around for long.
A couple of years ago, New York Magazine managing editor Ann Clarke — known for buying and rebuying $20 pairs of reading glasses from Duane Reade — gave these new readers from Look Optic a shot — and confirmed that they lived up to the hype. "They're not too light, they are not too heavy, they just fit me well, and they never tip to one side," Ann told us. The entire Look Optic glasses collection, including the Sullivan above, are still on sale for less than $60 (the lowest price they've ever been) for Strategist readers — and the code STRATDEAL25 will be automatically applied at checkout.
Everyone from DJs to tech workers to editors all agree that when it comes to backpacks, Haerfest's are both fashionable and functional. (They "just look and feel nice, are sturdy yet sleek, and always comfortable to carry," says Strategist editor Maxine Builder.) With our 25 percent off deal, using the code STRATDEAL25, the brand's travel backpack is the cheapest it's been this year, making it a great time to invest in a hands-free bag that can fit your laptop, hand sanitizer, masks, phone, and other can't-leave-home-withouts.
This Zyllion back massager — the best-rated electric back massager on Amazon with over 14,000 reviews — has appeared on our best-seller list six times and lately become a pandemic staple in our reader's shopping carts. It's cheaper than seeing a massage therapist, makes sitting in WFH desk chairs a lot more comfortable, and is still on sale for a limited time when you use code STRATEGIST20.
Nice-looking but not boring, sturdy, and spacious enough to hold all your essentials, the Madewell Transport Tote, our favorite work tote, is the type of thing you can run errands with, pack for a day at the park, or, of course, carry back and forth to the office (whenever you might return). It's still on sale for the cheapest we've ever seen with code STRATDEAL20, in either all-black or all-tan.
We call Spek's magnetic balls "fidget spinners for adults," as they provide a tactile, anxiety-soothing outlet for fidgeters, pickers, and tappers alike. Senior editor Katy Schneider says of her Speks: "I'm speaking directly to my fellow nail-biters and split-end pickers, and all you other odd ducks with unspeakably strange and fidgety compulsions when I say: You're going to want to buy these." The Speks are still 40 percent off with the code STRATBESTDEAL, the cheapest we've ever seen, and are available in both single and multicolored varieties.
This satin-lined cap is incredibly versatile, according to frequent wearer Tembe Denton-Hurst, who wears it on everything from bodega runs to Zoom calls. It stays on all night long, doesn't make hair frizzy or fuzzy, and since it's still 50 percent off, now's as good a time as ever to buy one (or several), in either gray or black.
Yena Kim, the owner of dog-influencer Bodhi (who's more commonly known as the "Menswear Dog"), recommends this handsome dog carrier because it's a "dog bag that doesn't scream 'DOG BAG' and can be integrated seamlessly into your everyday commute" (even if that commute is just to the park or the beach, rather than the office). You can still snag it in either navy or tan for 20 percent off with the code STRATEGIST20, making it the cheapest it's been this year.
One Strategist writer described this jumpsuit as "blank slate for getting dressed," which she's worn to go on bike rides, run errands, out to happy hour, and layers with dresses, trackpants, and cardigans. It's still the lowest price it's ever been — a rather reasonable $65, with the code STRATEGIST.
The Calamari Ultra is kind of like the Swiss Army knife of cables, according to Strategist contributor Matt Goule. For those who are constantly toting and untangling a variety of wires, this gadget has "your standard male USB plug on one end. At the other are Lightning (for anything Apple), Micro USB (for most Android phones and other accessories like tablets and point-and-shoot cameras) and USB-C (used by the latest MacBooks and quickly becoming the new standard)." It's still on sale at 41 percent off, no code required, and the discount will apply at checkout.
This antioxidant serum, which was created by MIT scientists and a favorite of dermatologists and Strategist readers alike, contains the same skin brightening, dark-spot erasing L-ascorbic and ferulic acids as Skinceuticals CE Ferulic (which is often cited as the gold standard of vitamin C serums) — but costs one fifth the price, and is still an extra 15 percent off for Strategist readers using the code STRATDEAL15.
Photo: Bobby Doherty/New York Magazine
Snoo's pediatrician-designed "smart bassinet" is a favorite of new moms we've talked to: It can detect when a newborn cries, and responds by soothing infants back to sleep using movement and white noise. According to Contributor Christina Ladd it provides "extra, precious minutes of sleep for myself," and while it doesn't come cheap, it's still more than $300 off with the code STRATDEAL22.
The white-cast-free, pill-free formula of this SPF 40 sunscreen-slash-moisturizer — which has taken the place of our beauty writer Rio Viera-Newton's everyday moisturizer — is perfect for daily wear, as the last step of your morning routine or as a hydrating base for your makeup, and it's still 15 percent off with the code SUPERSTRAT15.