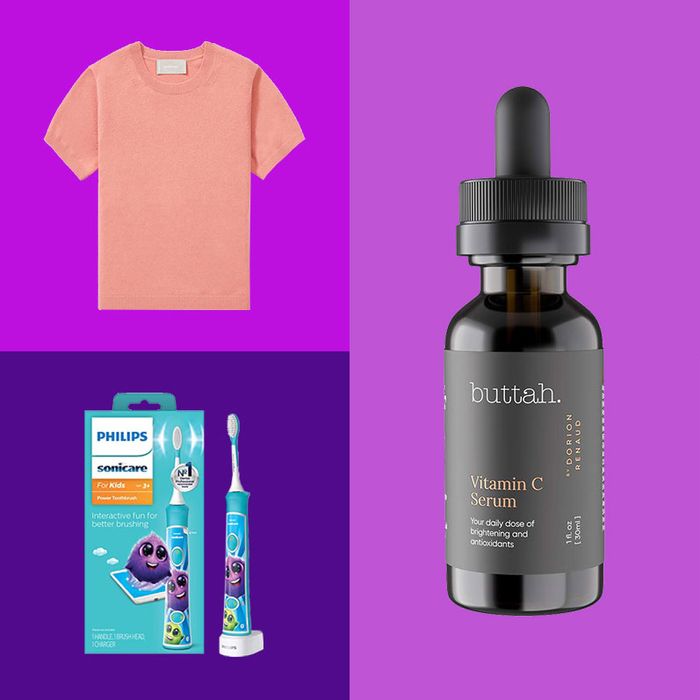 We write about hundreds of products a week. Here, in our version of the Sunday circular, we've plucked out some of our favorites — expert-recommended essentials, life-changing stuff you didn't know you needed, newly launched gizmos, and the very good deals we uncovered while trolling through the vast online-shopping universe this past week, including a vitamin-C serum made for melanated skin, a do-it-all garment for the leggings averse, and a toothbrush made for tweens.
A vitamin-C serum made for melanated skin
In her guide to the clothing, skin care, makeup, and home décor you can buy if you want to "shop melanated," contributor Elisa Johnson told us about this vitamin-C serum formulated for melanin-rich skin that she uses to help brighten and prevent hyperpigmentation and dark spots. "Buttah Skin was created by Dorion Renaud, whose flawless skin I have long admired," Johnson writes. "I apply this to my face, and any other areas with dark spots, every morning before topping the skin with moisturizer. In addition to its namesake brightening ingredient, this serum's formula includes collagen-boosting vitamin A, oil-balancing ferulic acid, and hydrating glycerin and hyaluronic acid. It not only helps to give me a smoother, more even complexion, but also hydrates and revitalizes, leaving my skin feeling softer and looking more nourished."
The most ingeniously designed health tracker on the market
As part of our recent Ingenious Design Week (dedicated to products that are well designed and do what they're designed for well), Strategist writer Louis Cheslaw took a deep dive into the Oura ring — the health-tracking device presented to all NBA players before they returned to the court this summer as a way to monitor their temperature and other vital signs amid the ongoing pandemic. In talking to a group of experts including doctors, scientists, and Oura users, the general consensus, according to them, is that while "most say the device wouldn't be more helpful in identifying cases of the often symptomless COVID-19, it can provide your doctors with far more details about your recent health than they would normally access during a visit, which can, in turn, help better determine if that high heart rate they've just measured is due to a new condition, the anxiety that comes with living through a historic pandemic, or your rushing to get to the appointment," Cheslaw writes. One thing all the experts agreed on, though: "The Oura — the only expert-vetted, ring-shaped tracker on the market — represents one of the most impressive, least-intrusive health trackers in terms of its design," because it can gather all of its data from just a finger.
A do-it-all garment for the leggings averse
Photo: retailer
If, like Strategist writer Dominique Pariso, you are not a Leggings Person, then you might be looking for a similar type of versatile garment that could be worn while "working from home, breaking a sweat, cooking, lounging, or just staring at the wall," as she puts it. For a leggings alternative that's just as "utilitarian, functional, and comfortable," Pariso recently embraced the unitard: "I bought my first one when I started to cycle through boutique fitness subscriptions to pass the time. When I wore it for three days in a row, my mom gently suggested I buy another. And I did. Then I bought a third and then a fourth." She says that this style from Girlfriend Collective, which is made with a "compressive material," supports her "during aerobic exercises like burpees, jumping jacks, and squats," adding that it has "stitching along the back that subtly contours my derrière, which honestly just makes it look great."
Gavin Rossdale's favorite toothpaste …
"I'm obsessed with mouth hygiene," the Bush front man told us when we spoke with him about the things he can't live without. Among them is this toothpaste: "It's French, with a real menthol flavor. I liked the packaging when I first saw it because it reminded me of one of my favorite wines, Promis by Gaja. Whenever I find it, I buy 12 at a time because it's hard to find. I was once at Bikram Yoga, and a naked dentist saw me brushing in the changing room afterward and told me not to forget soft tissue — so remember to flip the brush around and brush your cheeks, too. That's a free tip!"
… and a toothbrush made for tweens