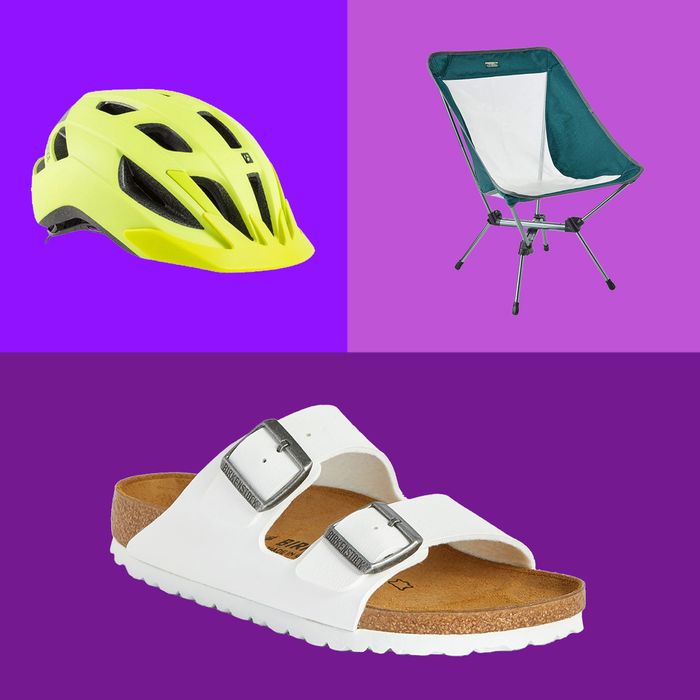 If you follow our monthly feature Your Shopping Cart, you know that we have some eerily good intel on what you all are buying. Which led us to think that, as Strategist editors, we could turn the tables and highlight all the things we've been buying for ourselves. As you'll notice, it's both a blessing and a curse to be a Strategist editor; we're picky, but sometimes we just have to get on with it. (It's online-shopping expertise meets IRL needs.) Below, what we all bought in July.
Maxine Builder, managing editor
If you're a regular reader of this column, you likely won't be surprised to hear that I went a little wild at REI's Fourth of July sale. I picked up three pairs of Smartwool socks, a quick-drying Mountain Hardware tank top, and a half-off ski helmet from the rarely on-sale brand POC. But I was most excited about the Aeropress travel kit I bought (even though it wasn't on sale). It's a little smaller than the original Aeropress, able to make eight ounces of coffee instead of ten, but the whole thing packs away into a neat travel mug and makes coffee that tastes far better than the instant coffee I usually bring on overnight camping trips.
The best thing I bought this month, however, was this camping chair from L.L. Bean. It's super-lightweight — just over 2.5 pounds — and it packs up in a little bag, to about the size of an extra-long Nalgene bottle. That means it's compact enough to throw in a tote bag or backpack. And though it looks like it might be uncomfortable, I swear that sitting in it is like being swaddled in a hammock. It's so comfortable and supportive that I've even taken to setting it up inside my house.
Karen Irio-Adelson, senior writer
I was looking for face masks with string ties (the elastic ear loop ones are usually too big on me) and these, with their understated striped pattern, caught my eye. They fit nicely — long ties above and below the ears let me adjust the mask for the perfect fit — and they're thick and sturdy feeling without being too hot. I think they're actually pretty chic-looking, and now that I have five well-fitting masks, I can always have a clean one on hand.
Chloe Anello, junior writer
I bought a pair of sandals from Madewell not that long ago when they were on major sale, but I tried on my boyfriend's pair of these cushy foam Birkenstocks and decided I needed my own, especially since I threw out my very beat-up leather ones earlier in quarantine. So far, they're very comfortable — and there's been no break-in time, unlike traditional Birkenstocks, which I think is the biggest selling point.
I kept telling my boyfriend we would make popsicles this summer, but I had yet to get around to buying molds. I finally picked up this fun, plastic-free set. This one stood out to me because it came with a rack and a little cleaning tool for easy use, not just the molds. I also hate the feeling of wood popsicle sticks when eating a popsicle, so I liked that this one came with metal ones instead.
Casey Lewis, senior editor
As someone with curly hair, I often go weeks without using shampoo. But after a season of swimming and sweating, it was grimier than ever. So I splurged on Christophe Robin's much-praised salt scrub, which Strategist writer Dominique Pariso determined to be "the best all-around scalp scrub" in her research. It feels like you're scrubbing your head with a fistful of rock salt (which is to say, it feels awesome), and somehow manages to make my scalp squeaky clean and my hair soft and hydrated, not at all stripped of natural oils. I might never use shampoo again.
Anthony Rotunno, senior editor
In an effort to free space on subways for those who really need to ride them, my husband and I, like many New Yorkers, began cycling from point A to point B in earnest over the past couple of months. Our first few weeks of bike commuting were done without helmets, but when we started to take longer trips between boroughs, we realized we really needed to invest in some. In between doctor's appointments, my (mask-wearing) husband popped into REI's Soho location where a sales associate recommended this helmet as ideal for casual riders like us. He convinced us by assuring it is on the cheaper side for a quality helmet, and that it has the MIPS technology to better protect our heads — which is a crucial safety feature that experts have told the Strategist is worth paying for.
My sister surprised me with a pair of these low-to-the ground folding chairs as a belated birthday present. While I did not buy them, I felt they are Strategist Haul–worthy because I would buy another as a gift or to replace one of mine (should someone ever walk off with it). The chair folds up with more ease than any similar chair-in-a-bag I've tried and has subtle design details — like padding along bars where you naturally want to rest your arms — that make them even more comfortable. The low seat means you're still at eye level with anyone sitting on a blanket or the ground, and, while not exactly light, I can easily carry my two chairs over one shoulder using their included cases. (They also are easy to secure in the flat baskets of the Citi Bikes I've been riding from park to park.)
Lauren Ro, writer
My husband and I jumped on the Baggies bandwagon (all those convincing Strategist articles!) and we have zero regrets. I got a pair in a jaunty blue, while my husband got the "mango," a very bright orange only he could pull off. My favorite thing about them is their deep pockets that can hold my phone and more — something that's very hard to find in any other shorts for women. They're also structured and polished enough to wear out, unlike my Soffes, which are strictly inside-shorts. We love them so much that we found ourselves accidentally matching one Saturday morning (we were even wearing similar white sneakers), but neither of us wanted to change into something else, so we decided to risk public embarrassment instead.
I'm always looking to add more decorative pieces to our home without spending too much money, and this vase, which I love for its organic and off-kilter shape (it's fashioned after a handmade version by the artist), can stand on its own, with or without flowers. Right now, it's sitting on our dining table with a bouquet of dried lavender, but before that, it was sitting pretty on our dresser, empty. Grab it while it's still on sale.
Jenna Milliner-Waddell, junior writer
I got box braids and bought a Telfar bag this month, so I tried to keep my spending outside of those necessities to a minimum. I did however decide to start a skin-care routine that went beyond my face, which required a few purchases. I have what the internet calls strawberry legs, which, based on my very light research, are clogged hair follicles and pores that present as little dark spots (like strawberry seeds) on your legs. After going down a few rabbit holes on Pinterest and Instagram, I landed on these three products to help. I don't think I've used any of these products long enough, or consistently enough, to see any real progress so far, but using a physical exfoliator in addition to my scrubs has already made my skin much smoother.
Alexis Swerdloff, editor
For those who are interested in getting through this current disaster by reading about other disasters, my good friend Andy Horowitz's book, Katrina: A History, came out earlier this month, at which point I ordered it! The whole idea is that Katrina was not just a tragic singular event that happened in 2005, but the result of centuries of terrible — often intentional — political and business decisions that had been made over the course of the hundred years prior. It should be noted that while it's an academic book (Andy's a professor at Tulane), Andy is a super lively and engaging writer, so a snoozefest this is not!
In other news, I ordered my 22-month-old this hilarious hunk of plastic that he is completely delighted by. He can spend upward of ten minutes at a time (which in toddler years is the equivalent of a decade) dropping coins into his "piggy," each one making a very satisfying clunk.
Nikita Richardson, writer
Tired of watching TV, I poured myself a glass of wine, dusted off my record player, and started listening to my records. Then I started to feel like my collection was a bit stale, so I went on a shopping spree and bought six new records. My rule is that I have to like the entire album and/or it needs to be super cheap. 2011's Smother by British band Wild Beasts is one of my all-time favorites, so I purchased it as well as their sophomore album, Two Dancers.
While working on my story on how to start fermenting at home, one of my sources turned me onto Cultures For Health. I love kombucha and have been wanting to make my own for a while but couldn't track down a SCOBY (i.e., symbiotic colony of bacteria and yeast). Cultures For Health's comes very highly rated and ships dehydrated. I literally can't wait to start making my own "booch."
Dominique Pariso, writer
My kryptonite when it comes to shopping is anything lime, slime, or acid green. So when I saw this Girlfriend Collective limited release, I bought the set immediately. There aren't a lot of sizes left, so if you want one of these pieces, I'd suggest snatching them up quick.
When Hilary wrote about Everlane's Air Blouse last July, I bought the shirt in black. Little did I know it would be the shirt I reached for all summer long. As someone who typically can't even look at a shirt that's longer than short-sleeved between the months of May and October, the Air Blouse was a revelation that saved me on countless sweaty days. When I noticed it was (and still is) on sale for just $30, I bought two more colors: one in olive and one in white.
Jordan Bowman, writer
Leaving the house in 2020 has officially turned into an Olympic sport. Wallet, check. Keys, check. Mask, check. And that doesn't include all the other things I might need while trying to pick up groceries or carrying things over to a socially distant stay at the park. I picked up this extra-large L.L. Bean Boat and Tote and I just thought it would be perfect for all my future 2020 departures from the house, because you really never know what you might need at this point.
I was on the hunt for a custom Nalgene made by Online Ceramics, but they were all sold out, so I found myself searching for a less cool but still practical option. I got the smaller 16-ounce bottle because I already know myself, and I would hate lugging around those large 32-ounce bottles. The smaller version is perfect for working from home, and it's easy to throw into my L.L. Bean tote.
Kayla Levy, junior writer
As of this month, I am the proud (plant) parent to an anthurium, and like any parent, I want her to be full of macronutrients, which is why I bought some fertilizer. After perusing anthurium help forums, and cross-referencing my findings with our article about the best fertilizer, I chose this blossom-boosting option, which has high phosphorus to promote healthy flowering.
I, too, was seeking a nutrient boost of sorts this month, so I opted for generic gummy vitamins. Just like Kesha, I eat them "like candy."
Rio Viera-Newton, writer
I've been living in my black Birkenstocks throughout all of quarantine. They're comfortable enough to wear around the house, but smart and stylish enough to throw on when I leave. Because of how often I wore mine, I recently decided to invest in a second white pair. I haven't taken them off since they arrived. They pair perfectly with just about everything in my closet — dresses, overalls, sweats, you name it! If you happen to bump into me at the grocery store or on my daily walk around my neighborhood, you can pretty much count on me wearing these.
I have long coveted an iPad, but only decided to buy one until a few weeks ago when my old laptop finally kicked the bucket. I thought it might not be an apt replacement for a full-on laptop, but frankly I haven't had any qualms. I use it for Zoom calls, editing articles, Photoshop, reading articles — not to mention the big, crisp screen makes watching Netflix and YouTube really enjoyable. I also love how light and easy it is to throw in tote bags for travel.
Hilary Reid, writer
Speaking as a former jelly skeptic, these shoes — which are the summer cousins of the chunky, waterproof hemp-rubber Plasticana Garden Clogs that Katy and I both own — are fantastic. I'd started eyeing them after loving the clogs (full disclosure, both were sent to me) and now that I've worn them for a few weeks can say they've totally obliterated my jelly anxieties: no blisters, no squeaking while walking, and, thanks to the muted translucent brown color, no confusion that they were stolen from an 8-year-old.
I'd been thinking about these place mats ever since I first saw them at ABC Home last winter, so when they showed up in the store's big summer sale, I bought them immediately. They fit my platonic ideal of table linens — something that could be equally at home in a New England lobster shack, a mid-century Viennese café, or a somewhere-in-Northern-Italy-style outdoor dining spread — and make me feel optimistic about hosting dinner parties again someday.
Liza Corsillo, writer
Need Supply has always been one of my favorite places to shop online. I spent a long time on their site this month trying to get in one last shopping hurrah before they close for good. I bought a lot of great stuff including a sexy jumpsuit and a prairie dress with tons of buttons. But the best of my purchases there by far has been this pair of pearl drop earrings from Farrow. They're both casual enough for quarantine and dressy enough for pretending like I'm going out when I'm actually just ordering out.
I also went blueberry picking this month, which may have actually just been an excuse to buy this beautiful ceramic berry strainer. I love that it has an attached lower lip to catch water as it strains out so you can rinse your fruit and plop it down on the counter without creating a puddle.
Louis Cheslaw, writer
These are the lightest, most breathable, moisture-wicking tees I've ever owned. Which, for that price, makes them extra special. I found them browsing idly in Target, and they've been a godsend in the Brooklyn heat — so much that I now look upon all the other tees in my home as "thick" tees, when they are … very normal, in reality. I also love that despite their lightness, they're still structured enough not to be unflattering. (So many thinner tees just expose your belly and chest if you aren't ripped.) One warning: You really need to look out for "X Temp" and "Cool Comfort" on the label. Other Hanes shirts I've bought are far scratchier and sweatier.
Moving from the affordable to the indulgent, I have another "best" to go with the Hanes. Yes, it's a lot of money for a cap — but vintage men's store Wooden Sleepers is a small business that's truly obsessed with tailoring and doing things right, something you feel as soon as you put it on. I bought it in navy (though there's a lovely olive color, too) and it's the first hat I've ever owned that combines a classic six-panel shape and soft, brushed-twill cotton fabric with just the tiniest amount of stretch, meaning it fits and feels better than all the others I own. Buying it is a way to do two things at once: support a small business in a difficult moment and get complimented in the street by people who also know the brand, and recognize its handsome stitched logo. (I swear, it happened to me on Elizabeth Street in Soho last week.)
Tembe Denton-Hurst, writer
After buying a bookshelf and shelves to house my (always growing) collection of books, I noticed one of the shelves had started sagging in the middle thanks to me stacking book after book (after book) vertically on top. In an attempt to lighten the load (and replace the random stool currently sitting in my bedroom), I purchased this side table from Stockholm-based, Swedish brand Hem, which comes in lots of great colors and fulfills my main need: storage. I like that it has wheels and can be twisted and turned at will, so I can choose whether I want to display my collection or just have a cool-looking side table. I opted for the rust-red color from the brand's Winter Edit, but orange and blue were a (very) close second choice.
I also leaned heavy into loungewear, scooping up pretty much every new arrival that Aerie had to offer. My most notable purchase was definitely this bodysuit, which might just be the softest piece of loungewear I own. Aside from the feel, I was most impressed with the length. At five-foot-six-and-a-half-inches, things either bunch at the knee or do a weird thing around the ankle, and thankfully, this did neither. I also liked the strappy open back, which feels like an unexpected touch.
Peter Martin, senior editor
After using just my laptop and an old Dell keyboard and mouse I found in my parents' garage for the last few months, I've been looking for a good budget monitor to make my WFH setup a little less slapdash and painful. Best Buy had this 24-inch HP on sale for the Fourth of July, and it's changed the way I feel about working from home. It's only 1080p, not 4K, and there are no speakers, so it's not for gamers, but it's been great for me. (The few sounds I actually need, like the incessant ding of Slack notifications, play from my closed laptop speakers.) There's barely any bezel — just big, beautiful screen.
My younger sister works at Wegmans, and she's been struggling to find a mask that's both comfortable enough to wear all day and sealed well enough at the top that her glasses don't fog up. That search continues, but in the meantime, I stumbled across this Nashville small business in a friend's Instagram stories that offers a perfect solution: a microfiber cloth with a special coating that you rub on your glasses to keep them from fogging up. It's simple, and, based on her experience, supereffective. They're currently sold out, but orders placed now should be filled August 15.
Leah Muncy, intern
Every morning I wake up and think, I hope Bryan Washington has a good day today. I just love him, and I just finished Lot, his debut collection of short stories, after reading some of his work in The New Yorker. Lot is like a novel split up into bite-size pieces: the characters recur and certain themes — queerness, masculinity, and race, to name a few — repeat throughout. But it's the writing that makes Lot so special; Washington's quick-witted, tell-it-like-it-is prose so carefully and quietly devastates. It'll make you want to lie down, put your feet up on the wall, stare at the ceiling fan for a while — that kind of thing. I'm excited to read his forthcoming novel, Memorial, next.
Instagram accosted me with a very beautiful ad for this watch, and I was immediately like, "Oh no, I want it." It's made by Breda, a somewhat-affordable, highly Instagrammable company that was founded in 2009. This style is from their latest '80s-Swatch-watch-inspired campaign, designed for "playful practice" (sports?) and made from recycled polyurethane plastic. It's comfortable, water-resistant, unisex, and comes in sky blue, clear, tangerine, and lemon. It looks to me like something Princess Diana might have worn with bike shorts and sneakers, if she were on a budget. If you want my (un)professional opinion, I'd go with either sky blue or tangerine (the color I bought), as polyurethane has a tendency to yellow with age.
Aisha Rickford, intern
I first discovered these L.L. Bean jeans at my local consignment store. As someone who swore off jeans after owning many, many different pairs, all of which have torn within several months of purchasing, I was pleasantly surprised to find these thrifted jeans have held up. They're incredibly soft, comfortable, and have this lovely broken-in feeling. After they made it well beyond the one-year mark, I bought another (new) pair from L.L. Bean.
The Strategist is designed to surface the most useful, expert recommendations for things to buy across the vast e-commerce landscape. Some of our latest conquests include the best acne treatments, rolling luggage, pillows for side sleepers, natural anxiety remedies, and bath towels. We update links when possible, but note that deals can expire and all prices are subject to change.