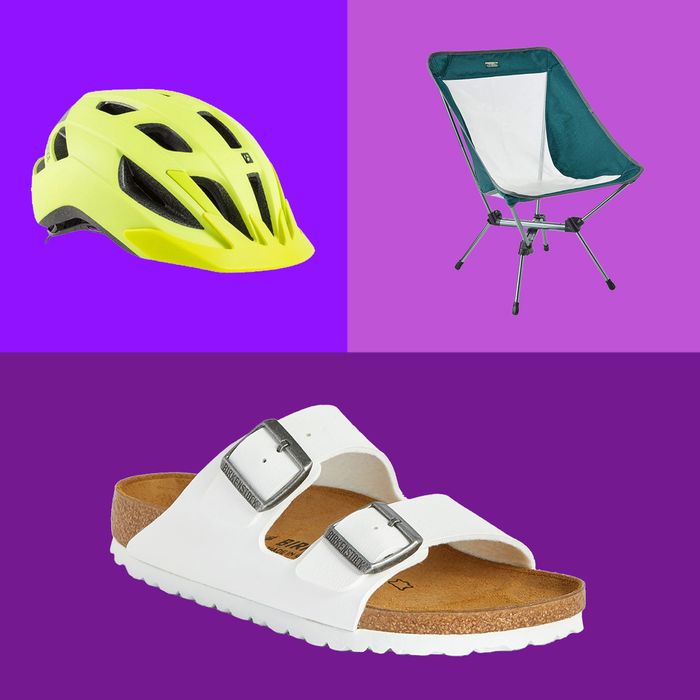 If you follow our monthly feature Your Shopping Cart, you know that we have some eerily good intel on what you all are buying. Which led us to think that, as Strategist editors, we could turn the tables and highlight all the things we've been buying for ourselves. As you'll notice, it's both a blessing and a curse to be a Strategist editor; we're picky, but sometimes we just have to get on with it. (It's online-shopping expertise meets IRL needs.) Below, what we all bought in July.
Maxine Builder, managing editor
If you're a regular reader of this column, you likely won't be surprised to hear that I went a little wild at REI's Fourth of July sale. I picked up three pairs of Smartwool socks, a quick-drying Mountain Hardware tank top, and a half-off ski helmet from the rarely on-sale brand POC. But I was most excited about the Aeropress travel kit I bought (even though it wasn't on sale). It's a little smaller than the original Aeropress, able to make eight ounces of coffee instead of ten, but the whole thing packs away into a neat travel mug and makes coffee that tastes far better than the instant coffee I usually bring on overnight camping trips.
The best thing I bought this month, however, was this camping chair from L.L. Bean. It's super-lightweight — just over 2.5 pounds — and it packs up in a little bag, to about the size of an extra-long Nalgene bottle. That means it's compact enough to throw in a tote bag or backpack. And though it looks like it might be uncomfortable, I swear that sitting in it is like being swaddled in a hammock. It's so comfortable and supportive that I've even taken to setting it up inside my house.
Karen Irio-Adelson, senior writer
I was looking for face masks with string ties (the elastic ear loop ones are usually too big on me) and these, with their understated striped pattern, caught my eye. They fit nicely — long ties above and below the ears let me adjust the mask for the perfect fit — and they're thick and sturdy feeling without being too hot. I think they're actually pretty chic-looking, and now that I have five well-fitting masks, I can always have a clean one on hand.
Chloe Anello, junior writer
I bought a pair of sandals from Madewell not that long ago when they were on major sale, but I tried on my boyfriend's pair of these cushy foam Birkenstocks and decided I needed my own, especially since I threw out my very beat-up leather ones earlier in quarantine. So far, they're very comfortable — and there's been no break-in time, unlike traditional Birkenstocks, which I think is the biggest selling point.
I kept telling my boyfriend we would make popsicles this summer, but I had yet to get around to buying molds. I finally picked up this fun, plastic-free set. This one stood out to me because it came with a rack and a little cleaning tool for easy use, not just the molds. I also hate the feeling of wood popsicle sticks when eating a popsicle, so I liked that this one came with metal ones instead.
Casey Lewis, senior editor
As someone with curly hair, I often go weeks without using shampoo. But after a season of swimming and sweating, it was grimier than ever. So I splurged on Christophe Robin's much-praised salt scrub, which Strategist writer Dominique Pariso determined to be "the best all-around scalp scrub" in her research. It feels like you're scrubbing your head with a fistful of rock salt (which is to say, it feels awesome), and somehow manages to make my scalp squeaky clean and my hair soft and hydrated, not at all stripped of natural oils. I might never use shampoo again.
Anthony Rotunno, senior editor
In an effort to free space on subways for those who really need to ride them, my husband and I, like many New Yorkers, began cycling from point A to point B in earnest over the past couple of months. Our first few weeks of bike commuting were done without helmets, but when we started to take longer trips between boroughs, we realized we really needed to invest in some. In between doctor's appointments, my (mask-wearing) husband popped into REI's Soho location where a sales associate recommended this helmet as ideal for casual riders like us. He convinced us by assuring it is on the cheaper side for a quality helmet, and that it has the MIPS technology to better protect our heads — which is a crucial safety feature that experts have told the Strategist is worth paying for.
My sister surprised me with a pair of these low-to-the ground folding chairs as a belated birthday present. While I did not buy them, I felt they are Strategist Haul–worthy because I would buy another as a gift or to replace one of mine (should someone ever walk off with it). The chair folds up with more ease than any similar chair-in-a-bag I've tried and has subtle design details — like padding along bars where you naturally want to rest your arms — that make them even more comfortable. The low seat means you're still at eye level with anyone sitting on a blanket or the ground, and, while not exactly light, I can easily carry my two chairs over one shoulder using their included cases. (They also are easy to secure in the flat baskets of the Citi Bikes I've been riding from park to park.)
Lauren Ro, writer
My husband and I jumped on the Baggies bandwagon (all those convincing Strategist articles!) and we have zero regrets. I got a pair in a jaunty blue, while my husband got the "mango," a very bright orange only he could pull off. My favorite thing about them is their deep pockets that can hold my phone and more — something that's very hard to find in any other shorts for women. They're also structured and polished enough to wear out, unlike my Soffes, which are strictly inside-shorts. We love them so much that we found ourselves accidentally matching one Saturday morning (we were even wearing similar white sneakers), but neither of us wanted to change into something else, so we decided to risk public embarrassment instead.
I'm always looking to add more decorative pieces to our home without spending too much money, and this vase, which I love for its organic and off-kilter shape (it's fashioned after a handmade version by the artist), can stand on its own, with or without flowers. Right now, it's sitting on our dining table with a bouquet of dried lavender, but before that, it was sitting pretty on our dresser, empty. Grab it while it's still on sale.
Jenna Milliner-Waddell, junior writer
I got box braids and bought a Telfar bag this month, so I tried to keep my spending outside of those necessities to a minimum. I did however decide to start a skin-care routine that went beyond my face, which required a few purchases. I have what the internet calls strawberry legs, which, based on my very light research, are clogged hair follicles and pores that present as little dark spots (like strawberry seeds) on your legs. After going down a few rabbit holes on Pinterest and Instagram, I landed on these three products to help. I don't think I've used any of these products long enough, or consistently enough, to see any real progress so far, but using a physical exfoliator in addition to my scrubs has already made my skin much smoother.
Alexis Swerdloff, editor
For those who are interested in getting through this current disaster by reading about other disasters, my good friend Andy Horowitz's book, Katrina: A History, came out earlier this month, at which point I ordered it! The whole idea is that Katrina was not just a tragic singular event that happened in 2005, but the result of centuries of terrible — often intentional — political and business decisions that had been made over the course of the hundred years prior. It should be noted that while it's an academic book (Andy's a professor at Tulane), Andy is a super lively and engaging writer, so a snoozefest this is not!
In other news, I ordered my 22-month-old this hilarious hunk of plastic that he is completely delighted by. He can spend upward of ten minutes at a time (which in toddler years is the equivalent of a decade) dropping coins into his "piggy," each one making a very satisfying clunk.