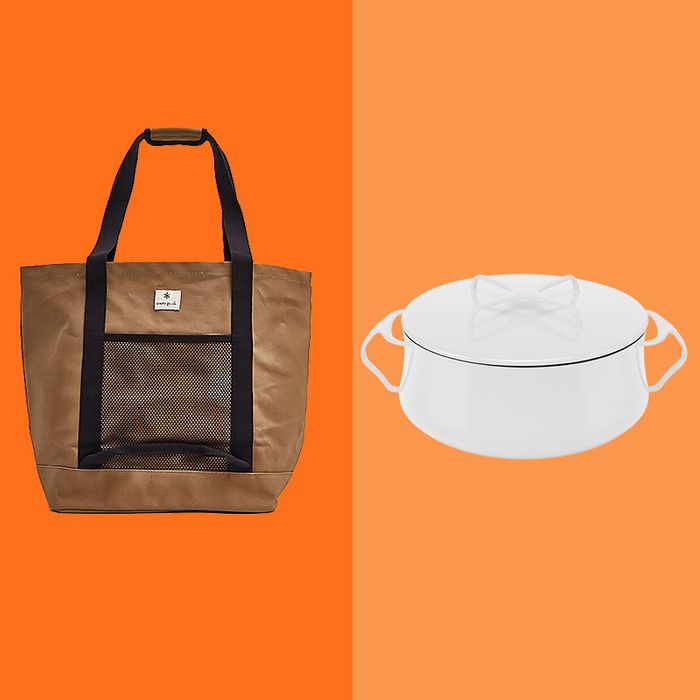 Photo-Illustration: retailers
This week's sweep of the internet's sales bins is a true grab bag, with lots of things we've written about before, including our favorite boxer-briefs for men, a Danish Dutch oven, and some beloved packing cubes that we first wrote about in 2016. (And, as always, if you want even more deals, sign up for our email newsletter.)
Coach Outlet is having an end-of-season sale, with lots of basic bags and accessories up to 70 percent off — like this handsome, leather fanny pack.
Yesterday, we were charmed by a banana-covered wallet at Coach, but if that was a little too big for your taste, here's a slimmed down, watermelon-covered card case.
If you order this hammock today, it should arrive before Labor Day — and who's to say that you can't bring it inside once the weather gets cooler.
Take an extra 40 percent off these colorful, comfortable, and already-on-sale Kate Spade slides with the code HEATINGUP.
This canvas tote bag from Japanese outdoor brand Snow Peak is a subtle flex to bring on your next beach trip or picnic.
If you're finally ready to put on hard pants after months of shorts and sweatpants, we think these — with a high-waist and wide bell-bottoms — will be a bit more comfortable than skinny jeans.
Some chunky, yet comfortable-looking, Oxfords that would be fun to pair with a floral dress or a pair of jeans and white T-shirt.
Here's an ultramarine, Yves Klein-y blue tote bag that's so vibrant, you'll never lose track of it (and would make a very cool-yet-functional work bag when it's finally time to go back to the office).
Anthropologie is having a sitewide sale this weekend, with an extra 50 percent off already-on-sale items, like these fun, fish-patterned joggers. (The discount is taken at checkout, so don't be alarmed if it doesn't show up at first.)
A mood-lifting dress that's easy to throw on and feel put together, even if you're basically wearing a nightgown.
This three-foot-long pillow also comes in white, gray, and a neon green, but in any color, it'll be nice to snuggle with on the couch