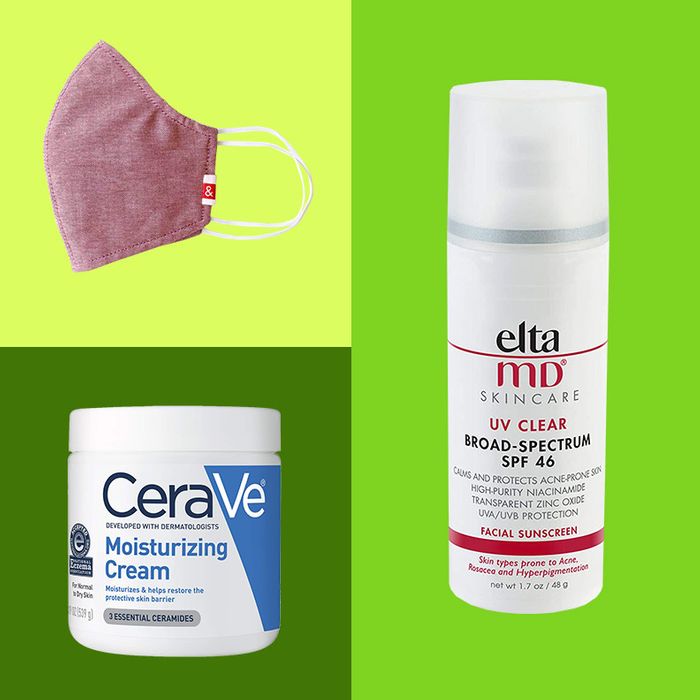 After all this time indoors, we can finally venture out to restaurants and stores, and it's clear our readers are (cautiously) embracing that. Our top three products this month yet again are all fabric face masks. And since readers are outside more, it's no surprise they're buying up lots of dermatologist-recommended sunscreen, too. But even though we can go to more places than just the grocery store, it seems readers still want their homes to be as comfy as possible, since we're still spending a decent amount of time there — lots purchased one of our most beloved (but inexpensive) pillows and an expert-recommended floor fan. We also saw a top-rated self-tanner come back this month, perhaps because readers still want that summer glow without actually having to leave the house to get it. Plus, everyone is still very focused on self-care, especially after the past few weeks we've had, so a luxuriously thick but cheap moisturizer hit our list as well as one of our all-time favorite back and neck massagers. Lastly, thanks to the pools and beaches once again being open, readers bought an effective pair of goggles for all their underwater (socially distant) adventures.
Readers seem to love this mask as much as we do, since it's been our best seller two months in a row. Strategist writer Liza Corsillo tested it out — along with dozens of other nonmedical face masks — and gave it her stamp of approval because, as she puts it, "adjustable ear loops, a bendable wire nose strip, stretchy fabric, and an added lower section that hugs your chin make this mask fit several different face shapes securely and comfortably." Even though the fabric is synthetic, she reports that it's actually moisture-wicking and didn't make her sweat, which is a common problem among other fabric face masks.
This Vida cotton mask also appeared on our best-sellers list last month in our No. 2 spot. Corsillo dubs it one of the most breathable options out there. Thanks to the adjustable ear straps, you can still get a tight fit without "fumbling to tie the mask straps behind your head," and it won't mess up your hair. There's even a metal nose piece to ensure a snug fit, and Camilla Cho, our senior V-P of e-commerce, says that feature "helps keep her glasses from fogging up."
Although they're known for their functional but stylish aprons, Hedley & Bennett transitioned into making masks, much like many other companies. Because this is the first time this mask has appeared on our best-sellers list, this newcomer quickly became a favorite. Strategist writer Nikita Richardson credits the metal nose strip for its snug fit that doesn't ride up, and it passes the light test, so it gives you as much protection as possible.
With summer in full swing (and things somewhat opened), it's no surprise that our best facial sunscreen hit our list for the third time in a row. It's a fragrance-free, noncomedogenic option suitable for all skin types, and more than five dermatologists recommend it.
We've mentioned this budget-friendly moisturizing cream many times before, and it's appeared on our best-sellers list six times since the fall of last year. Dermatologists recommended it to us as a particularly great option for those who suffer from dry skin, and Strategist writers Tembe Denton-Hurst and Rio Viera-Newton suggest it for any frontline worker whose N95 mask is wreaking havoc on their skin. Because it contains both humectants and emollients, it excels at locking in moisture, which will repair damaged, dry skin.
With all this time spent at home, readers apparently decided it was time for some new pillows. We've seen this Coop pillow on our best-sellers list before (even in our No. 1 spot), and it continues to be a reader-favorite this month. It's our best-rated pillow, according to Amazon reviewers, thanks to its versatility for back, stomach, and side sleepers, and former Strategist writer Lori Keong describes it as like "a warm hug for your head." If you think you may be overdue for an upgrade, Strategist writer Hilary Reid discovered you should replace your pillows as soon as they're limp and no longer holding their shape, because they'll no longer be able to properly hold your head up.
Between the pandemic, protests, and countrywide economic distress, it's no surprise our readers are looking for ways to relax. Many seem to have turned to our best-rated electric back massager on Amazon to help. This shiatsu massager has appeared on our best-sellers list seven times — and it's actually one of our best-selling products overall. Reviewers like it because it's cheaper and more convenient than getting regular massages, plus it can reach all areas of your back, depending on how you position it.