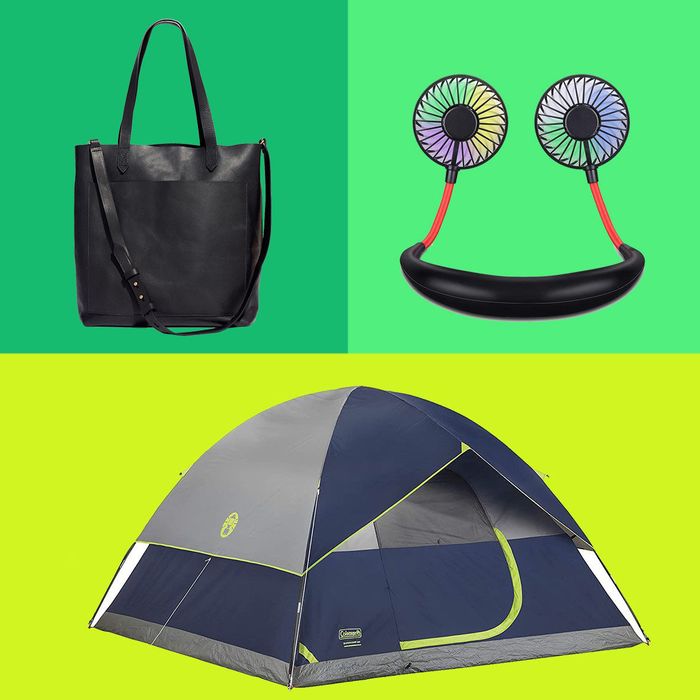 We write about hundreds of products a week. Here, in our version of the Sunday circular, we've plucked out some of our favorites — expert-recommended essentials, life-changing stuff you didn't know you needed, newly launched gizmos, and the very good deals we uncovered while trolling through the vast online-shopping universe this past week, including our favorite work bag (for the cheapest we've ever seen), a water bottle to match your Balm Dotcom, and an expert-recommended tent for beginner campers.
The spice labels taking over TikTok
"Lest you think TikTok is just dancing teens, the #diy hashtag has nearly 40 billion views," contributor Ella Cerón reminds us in writing about one home-improvement trend that's gone viral thanks to the platform. That trend? Reorganizing kitchen cupboards with the help of these aesthetically pleasing spice labels by Kim Negaard, a Minnesota-based graphic designer and blogger. Cerón first saw the labels in a TikTok video by Brooklyn-based blogger Teresa Caruso (which she notes has been viewed more than 3 million times) that "details how she turned her 'hot mess' of a spice cabinet into a pristine display." But, she writes, "the labels have experienced notoriety on other social-media platforms. Earlier this year, Domino highlighted organizer Shira Gill's overhaul of a kitchen belonging to Identité Collective founder Anastasia Casey, and the resulting spice cabinet — featuring Negaard's signature labels — has been re-grammed and pinned hundreds of times."
Our favorite work bag, for the cheapest we've ever seen
Last week, for the first time ever, we did some deal-making of our own, reaching out to the brands behind some of our most-stood-behind products to get exclusive discounts for Strategist readers. While some of the offers in Strategist's Two-Day (Actually Good) Sale have come and gone, those who missed out can still take advantage of others, like this 20 percent discount on a cool-women-approved work bag that, we note, "is pretty much a perfect bag — period. Nice-looking but not boring, sturdy, and spacious enough to hold all your essentials, it's the type of thing you can run errands with, pack for a day at the park, or, of course, carry back and forth to the office every day whenever you might return."
Odor-eating vinegar (that doesn't smell like vinegar)
When looking for a way to rid her clothes of a set-in stench caused by a fire in her apartment building, writer Liza Corsillo "knew from my mother's sage advice and a lot of Googling that regular white vinegar could remove the smell, but I wasn't interested in also making all my stuff smell like Easter eggs and sauerkraut." With "the fresh aroma of clean laundry," just one whiff of this scented vinegar from the Laundress convinced Corsillo that it was the solution she so desperately sought. It rid her clothes of their "cigarette and mold smell" and has now become the first thing she uses to eliminate just about any other funk. "I use it to remove the aroma of sweat from sports bras and leggings I accidentally left sitting in my gym bag and anything else that's too delicate for the machine. I have also used it to clean the tub, freshen up the toilet, and clean the throw pillow my dog puked on. This stuff even saved me when I spilled fish juice on my fancy napkins."
An expert-recommended tent for beginner campers
Whether you're headed to the backyard or the backcountry, frequent campers say that even spending just one night outside will require some supplies if you want to be truly comfortable. One of them, not surprisingly, is a tent — but, according to the experts that writer Lauren Ro spoke with to put together our beginners' guide to camping, you do not have to spend more than $100 to get a good one. Three regular campers told us the Sundome is perfect for newbies, and not just because of its price. "It's the best for beginner campers because it's covered and completely dark on the inside," says one pro. "You can sleep in longer because it blocks everything out. Plus it keeps everything cool, and doesn't cook you inside of it," thanks to its large windows and ground vent, which provide ventilation. It comes in several sizes, too (the experts say to choose a size up from the number in your party — so if you're two campers, choose a four-person tent — to ensure there's plenty of space).
The stickers that saved Chris Black's summer workouts
"Running is the most democratic, pure form of exercise. While there are clothes specifically designed for the activity, all it really requires is a good pair of shoes — or so I thought, until I started clocking double-digit miles multiple times per week outside in warm weather," Black writes, telling us those double-digit miles left him with "painful, bleeding nipples that began to interrupt my strict two-a-day schedule." After doing some research and talking to some runner friends, he learned his "nipple disaster" was due to "chafing from rubbing against clothing, sweat, and salt." Black says he "was ready to (literally) just put Band-Aids on my nipples — but then I discovered the cleverly named NipEaze stickers. They don't move at all once applied — they become one with the nipple, protecting it like a shield from sweat-soaked synthetic fabrics. They are also discreet: I wear them every day, and still will forget to take them off, sometimes even in the shower."