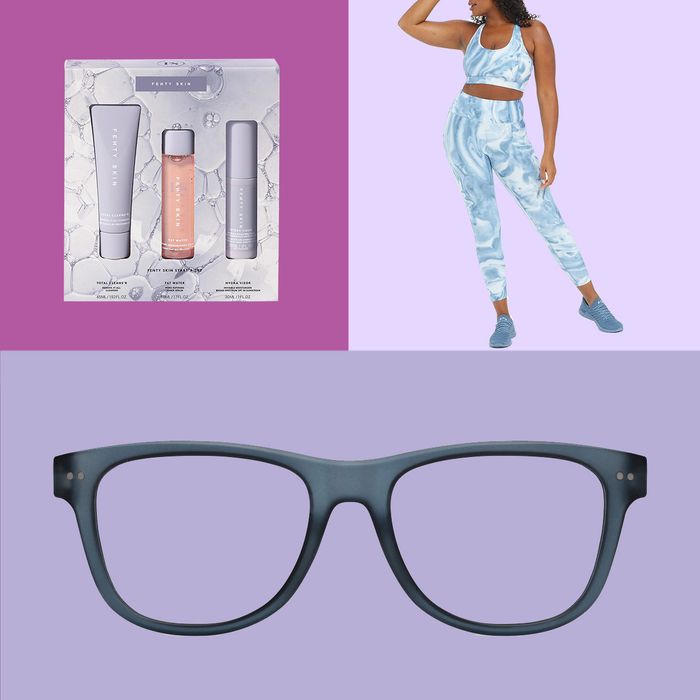 If you're hunkering down for fall, there are lots of picks for you in this week's edition of Don't Dillydally, including a stylish apron from La Ligne, a flannel button-up to channel early-1990s Seattle, and cozy, literally marshmallow-inspired onesies from Hanna Andersson. If you're looking for some gifts, we also found lots of limited-edition figurines, including more Baby Yoda merch and some Fisher-Price characters that are meant for kids but will please the right kind of adults.
Urban Outfitters + I Am a Voter "Ballot Box"
In an effort to increase voter turnout this November, UO Community Cares has teamed up with I Am a Voter for a limited-edition set of "Ballot Box" T-shirt kits. (Reminder: The last day to register to vote in New York State is October 9.) The kit includes a cotton tee printed with this year's election date, an oval template at the chest to place the included "I Voted" woven sticker, and a keepsake box. Each purchase of a Ballot Box will directly impact organizations that encourage voter registration and voting efforts in communities.
APL x Summersalt Activewear
From status sneaker brand APL and swimwear label Summersalt comes a new line of sweat-wicking activewear made from recycled plastic bottles. Pieces offer UPF50+ sun protection, feature four-way stretch, and are available in sizes XS to 2X. And when the marble print on these high-rise leggings takes over the tie-dye trend this fall, don't say we didn't warn you.
Uniqlo U Fall Collection
Uniqlo, our go-to for quality wardrobe basics, has just released its fall-ready, all-neutral Uniqlo U line for men and women. Styles range from cotton sweatpants to wool turtlenecks to cropped puffer jackets (all of which can be mixed and matched) and styles are already going fast. Uniqlo does restock its site often, so if you find that your size is out of stock, keep checking back.
La Ligne Apron
NYC-based label La Ligne has just released the ultimate Thanksgiving-dinner apron, aptly named Le Chef. It's machine washable, made from 100 percent cotton twill, and outfitted with four front pockets to hold all of your spoons, spatulas, and spices while cooking. It's available in khaki as well, but we find this pumpkin-pie colorway to be especially appropriate for the upcoming season.
Eddie Bauer x Sub Pop Flannel
The flannel shirt is just about synonymous with grunge, so this collaboration between Seattle-based outdoor brand Eddie Bauer and the Seattle-based record label Sub Pop — which was the first to sign Soundgarden and Nirvana — makes some amount of sense.
Hanna Andersson's "Cozy Shop"
From status baby brand Hanna Andersson comes the Cozy Collection, a line of fleecy, marshmallow-inspired jackets, onesies, and sweats for kids and babies that will almost certainly sell out. This plush onesie has an angled front zipper for easy diaper changes and features an all-over graphic flower print, and is on sale for a limited time.
Look Optic Kids
Just in time for back-to-school, Look Optic's blue-light-filtering Sullivan glasses — a Strategist favorite — are now available for kids in four colors: gray camo, clear, tortoise, and navy. Designed to help alleviate screen-time-related eye fatigue and headaches, we predict this pair will find their way into lots of students' virtual classrooms this fall.
Jenna Lyons's false-eyelashes line
The latest venture from former J.Crew style director Jenna Lyons (whose new HBO Max show, Stylish With Jenna Lyons, premieres this November) is LoveSeen, a line of everyday faux lashes designed for folks of all ages and ethnicities, and different eye shapes, including monolids and hooded eyelids. And if you really aren't sure where to start, you can take the "Find My Lash" quiz to find your perfect pair.