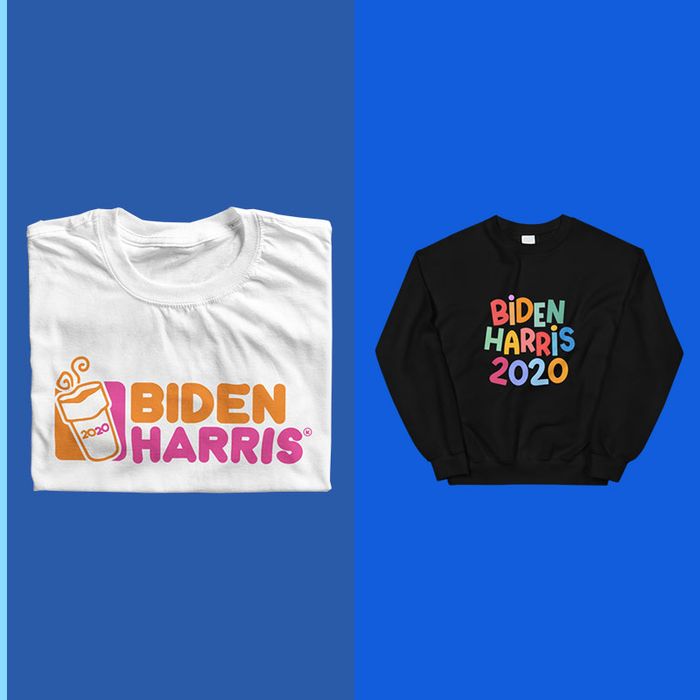 Despite the fact that we're 27 days out from the general election, and at this point in 2012 there was not a compact car to be found in New York City without an Obama-Biden sticker on its bumper, Biden-Harris campaign merchandise still just doesn't seem to be catching on in the same way.
But, again: We're a mere 27 days out. Though we're starting to see more merch now, lots of it isn't exactly thrilling. What does the best stuff look like, we wondered. Is it any of it good? To find out, we asked a few stylish people (and the entirety of the Strategist team) about the standout styles they've seen. Below, their suggestions.
Photo: retailer
Patricia Duncan, the national co-chair of Black Women for Biden, told us this tee (while Kamala-focused) is her favorite of the campaign season by far. "It reminds me of being a little girl. I'm a Black woman, and my school was all white then. My mom made sure I had perfect hair every morning, with pigtails — just like Kamala's in the photo. The only difference is I was never allowed pierced ears! The shirt just reminds me of my childhood."
Within minutes of the first presidential debate ending, the Biden campaign began selling a shirt with one of the night's most memorable quotes emblazoned across it. That limited-run shirt is no longer available, but other designers are still making their own spins on the phrase, including this aesthetically pleasing rainbow-on-black design.
Biden's line from the debate isn't the only recent event that his official campaign store jumped on. The design team also recently created this tee inspired by the late-September release of the president's tax returns, and it's still in stock at the moment.
After we shared an earlier version of this story on Instagram, Clay Taylor, a digital producer at MTV, told us to check out Hot Merch for Biden. We're glad we did: The site is full of different artists' campaign creations, including this cheery, summer-camp-style shirt made by Austin-based graphic designer Kat Schober.
Another Strategist reader who got in touch after we published this story told us about the SteezyVibes collection of Biden-Harris merch on Etsy. It includes this biker tee (with a plain front) that is sure to please the "Aviator Joe" contingent.
Strategist editor Casey Lewis is a fan of designer Chantal Strasburger's Read Receipts, which typically sells tongue-in-cheek custom embroidered shirts and sweaters. For the election, Lewis told us Strasburger has released a sweet line of new gear, with a portion of proceeds from each shirt going to the campaign.
Photo: retailer
Claire Hungerford and Whitney Lasker are two artists and designers who also made their own tee to support the campaign. "I had a really hard time finding Biden merch that wasn't sarcastic, like 'Any Sane Adult 2020' or 'Not Trump,'" Hungerford says. Sadly, their T-shirt is sold out, but Hungerford told us she also loves this one that's a play on the Goodyear logo. "It's optimistic, clever, subtle, affordable, and will make your mechanic smile," she says. A few Strategist editors are also fans of this shirt, which you can purchase in sticker form on eBay.
Goodyear's isn't the only logo that clever designers have reinterpreted for campaign merch. We appreciate this reworking of the iconic Dunkin' Donuts logo (and the fact that its creators resisted making a "cup of Joe" joke).
Photo: retailer
Several members of the Strategist team expressed delighted surprise over this unisex tank, an official piece of Biden Merchandise, featuring the politician as a young man.
Photo: retailer
We were less surprised to see the campaign store selling an Obama-Biden shirt. Still, there's no denying it's a great shot.
Photo: retailer
One Strategist writer says she's been "leaning in hard on tie-dye this summer, so it's not surprising that I'm drawn to this colorful long-sleeve."
Photo: retailer
A nice, simple ringer tee that two Strategist writers said they liked in the mustard-yellow option.