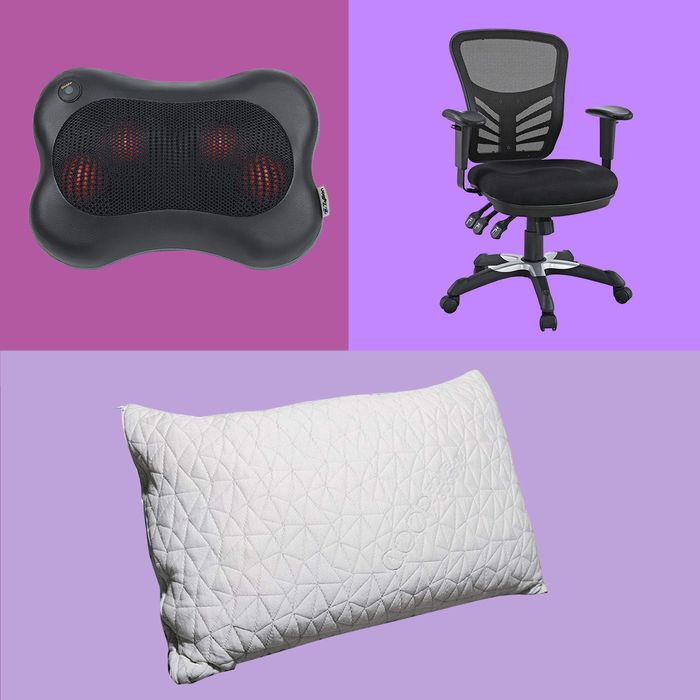 Photo-Illustration: retailer
Welcome back to Your Shopping Cart, where we break out the top ten products that you, devoted Strategist readers, all bought in droves. Think of this as the tl;dr of the Strategist. If your like-minded brethren are buying these items, maybe you'd like to, too.
If there's anything to be learned about the current state of the world from our readers' shopping carts this September, it's that you're really settling into our new normal — with picks like an office chair for a permanent work-from-home setup and a freezable hat for reducing stress-induced headaches — and maybe even getting bored enough to give the inside of your ears a thorough clean. But a vast majority of best-selling items are still repeats from months past, including an electric massager and adjustable pillow, each of which have been in readers' carts for several months in a row now. There are also some Strategist-favorites represented, like a pair of blue-light-blocking glasses and an affordable moisturizer that's good for basically every skin type. Although make no mistake: There are still three different types of face masks on this list.
Last month we posited that a fabric face mask might never not top this list for the foreseeable future, and while we weren't completely correct, we also weren't that far off, since the number-one most purchased item in readers' carts this past month was … a pack of disposable face masks from Sfavereak. These exact medical-grade face masks debuted on the list as the second-most purchased item last month, after a couple of essential workers told us they've been wearing them throughout the pandemic, and two doctors vouched for their efficacy in more crowded places, like the subway. Perhaps their jump to the top of the list correlates with (slightly) increased public transportation ridership — as students return to school and businesses continue to reopen — or it's the first sign that the fabric mask bubble is going to pop soon.
For the first time in five months, a face mask of any kind is not in the second spot on this list. Instead, the new silver medalist is this plastic earwax remover (of all things). In late August, Strategist contributor Ashlea Halpern wrote that this spiraling, reusable device keeps her "ears cleaner than ever and my vertigo under control" all without going too far into her ear canal (as is the fear with Q-tips). With basically nothing new to do at home other than clean your ears — and the harrowing image of Girls' Hannah Horvath with a cotton swab lodged in her ear at top of mind— we can sort of understand why this $9 device is a best seller.
After disappearing from the list last month, one of June and July's best-selling fabric face masks is back on the list. According to Strategist writer and resident mask expert, Liza Corsillo, this two-ply mask from Vida is one of the most "breathable" ones out there (even with the filter inserted), and senior VP of e-commerce Camilla Cho says the adjustable nosepiece keeps her glasses from fogging up. Plus, as climate-change induced wildfires continue to ravage the West Coast, the San Francisco–based brand is donating 10 percent of mask profits to the SF-Marin Food Bank (as well as a portion of profits to Food Bank NYC).
Though these blue-light-blocking glasses have been on the list before — three times since April, to be exact — this is the first time since their debut that we've seen them in the top five. But, as we've realized, moving into our seventh month of working from home, staring at screens all the livelong day can result in itchy eyes and headaches — both of which nearly 11,000 Amazon reviewers say these glasses help to relieve. Maybe next month we'll see some blue-light-specific skin-care products on the list, too.