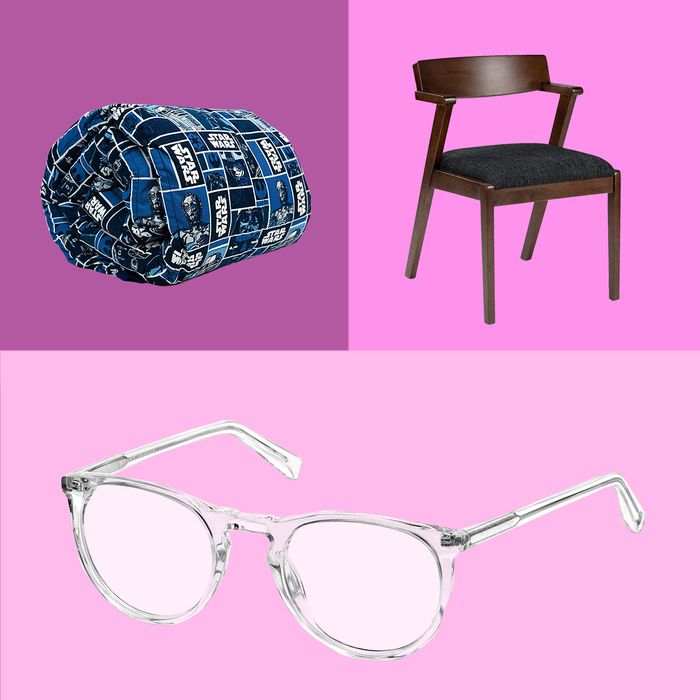 Photo-Illustration: retailers
We write about hundreds of products a week. Here, in our version of the Sunday circular, we've plucked out some of our favorites — expert-recommended essentials, life-changing stuff you didn't know you needed, newly-launched gizmos, and the very good deals we uncovered while trolling through the vast online-shopping universe this past week, including a (parent-approved) Star Wars weighted blanket for kids, PornHub's newest offering for self-stimulation, and the pigmented liner Rio uses to punch up her smize.
A (parent-approved) Star Wars weighted blanket for kids
While scientific studies have not (yet) shown weighted blankets have any tangible effects on little ones' sleep or behavioral habits, anecdotally, therapists who've used them with kids told Strategist senior writer Karen Iorio Adelson that the deep pressure the blankets provide has shown some benefits. "I have been working with kids for 20 years, and we've been using weighted blankets since I got out of college," says one occupational therapist, who explains a weighted blanket can create "a feel-good reaction of comfort and a sense of calm." Author Penny Williams, a parenting adviser and mom of a son with ADHD, uses this five-pound one from Mosaic with her kid. "Once he started sleeping under it, he didn't need all the extra stuff in his bed and he stayed asleep as long as he stayed under the blanket. He was finally getting quality, restful sleep," Williams says.
A cinematographer-approved way to look better on video calls
Photo: retailer
Says Strategist writer Lauren Ro: "Natural light, according to the filmmakers, videographers, and television producers we spoke to, is always going to be the best way to illuminate yourself on a video call. But fall and the shorter days it brings present a new challenge for our lives on Zoom: The loss of daylight." The pros she talked to say there are a handful of ways to make up for dimming (or non-existent) natural light in a home office, from LED light bulbs for your desk lamp, to swapping paper lanterns for whatever overhead fixture you may have, to this LED panel light that one cinematographer swears by. "This is a really cool little light," he says. "If you're near a blank wall, you can just bounce the light off the wall, and then you actually get quite nice, quite flattering soft light." The pro notes that the light's attached arm makes it "super easy to place on a desk," and because it's square-shaped, he says the light "can actually just stand on its own. You're guaranteed a nice light wherever you are," he promises. Adds Ro: "He actually showed me how it works on our FaceTime call, and I have to say that it was quite impressive."
'The perfect dining-room chair'
"I sit in it all day long now that I'm working from home — this is the perfect dining-room chair," says 99% Invisible podcast host and producer Roman Mars of this Article model that he can't live (and eat and work) without. "The brand is a 99% Invisible sponsor, but I'm not just showing blind support for it — there are versions of its furniture that I don't like. The chairs are simple and sturdy. When people used to come over, these were the furniture they'd marvel at."
The (stylish) blue-light glasses a Reno 911! star 'stocks up' on
Photo: retailer
"I spend more time on the computer than I care to admit," Reno 911! co-creator and star Kerri Kenney-Silver tells us. "My son is on the computer a lot more these days, too. It worries me. I'm a worrier. I'm also an obsessive researcher. So, when I wanted to research ways to mitigate too much time on the computer, I Googled them. On my computer. For two hours." This brought her to blue-light-filtering glasses, a product known for its purported ability to make eyes (and people) less tired after days spent staring at screens. "For my son, I overnighted a no-name pair from Amazon. They looked like something out of a cheap sci-fi movie." When it came to her own pair, "I knew I didn't want cheap sci-fi, but I wasn't opposed to keeping things cheap-ish," Kenney-Silver writes. "The first place I checked was Warby Parker. It offers blue-light lenses (with or without a prescription) in all of its frames; I wound up buying three. It has been about a month since I started wearing the glasses every time I've been in front of a screen (including late nights on my phone before bed). Whenever they're on, I don't squint as much; after a week or so of wearing them, I started to notice small changes in my sleep patterns, too. I've been conking out faster, sleeping more soundly, and waking more refreshed. This has all happened gradually, but my glasses do have one immediate benefit that less thoughtfully made blue-light glasses (like my son's) lack. In them, I've never looked cuter."
The
pigmented

liner Rio uses to punch up her smize

While our resident beauty obsessive admits that wearing most makeup is "utterly pointless" these days, the eyes — "the one area that isn't totally concealed by masks" — provide a canvas for her to "just have fun with makeup once again." While a bit of a splurge, she says "these liners are the easiest and best way to achieve a slightly-dramatic-but-still-wearable colorful cat-eye. The pencils from Fenty are rich in pigment, and super-creamy — they easily glide across your lids, imparting a beautiful high pigment. My favorites are the matte shades Lady Lagoon (an electric blue), Cute Ting (a bubblegum pink), and Cherry Punk (a bright red)."
The slouchy down jacket trend forecasters say will sell fast this season
Photo: retailer
Perhaps because of all the time we're likely to spend socializing outside in the coming colder months, trend forecasters told Strategist writer Hilary Reid that lots of this year's most sought after gifts for women will help keep you warm and cozy. That's why they predict the teddy-coat craze of last year will give way to a rush on puffer jackets, which are known for providing a bit more insulation. "This 'Seamless' style is new and a slightly softer version" of Uniqlo's typical parkas, Reid writes of one jacket the forecasters predict will be a big hit. "We're calling it a kind of 'soft puffer,'" explains a forecaster, "in that it's not the big chunky quilts, and it's a bit softened and less aggressive than some of the styles that are really inspired by outdoors-wear." (For men's gifts the forecasters say to buy before they sell out, head here.)
A $75 cashmere sweater (for guys) …
If this sweater looks familiar, that's because it is — the women's version made last week's installment of our Sunday Circular, after cool women told Strategist junior writer Chloe Anello it is one of the best (affordable) cashmere sweaters you can get. Guys, apparently, agree: The men's version of Naadam's $75 cashmere sweater made Anello's list of the best cashmere sweaters, according to cool men. The boys like it for the same reasons the girls do — "good quality," "super soft," and "go-to" are all words they used to describe the sweater, which comes in 14 colors that Steven Sharpe Jr., a New York City–based influencer, says are always true to their descriptions: ""If I want an olive-green sweater, I want it to be olive green. Not some pale version. You feel?"
… and an (on-sale) cashmere wrap for anyone
If you haven't noticed, fall sales are ramping up — Amazon has released its early Prime Day deals ahead of that two-day event (which begins on October 13), with mattress companies and lots of other retailers following suit. One is Macy's, where we noted "lots of very nice things are an extra 25 percent off when you use the code FALL at checkout." One of them is this fancy and functional "blanket-ish cashmere wrap that'll be good for staying warm at your (home) office desk."
Pornhub's newest offering for self-stimulation
"In inevitable news, Pornhub now makes sex toys," we write in the latest Don't Dillydally. "This rechargeable hitachi wand has a traditional smooth head along with three additional heads (a textured one for additional stimulation, a rabbit head for insertion, and anal beads), plus eight speeds and 20 vibration patterns."
And the USB microphone that made Sophia Amoruso like the sound of her voice