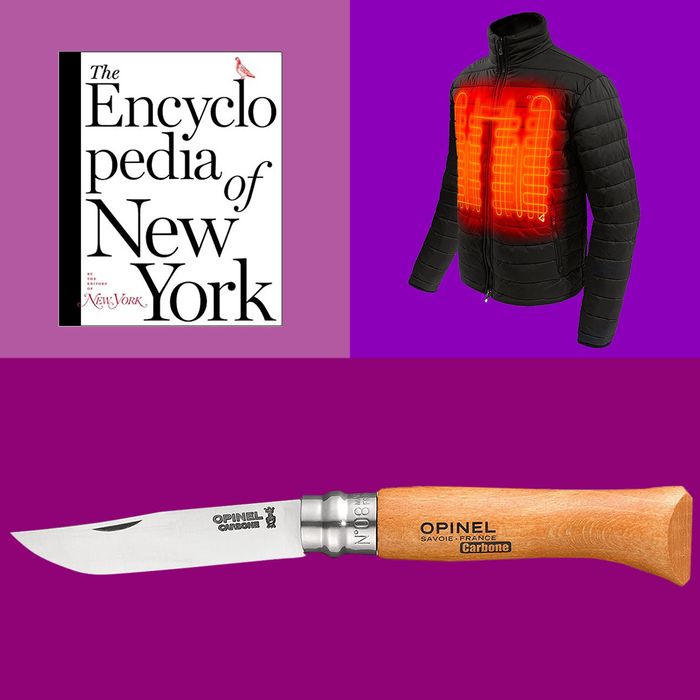 Photo-Illustration: retailers
We write about hundreds of products a week. Here, in our version of the Sunday circular, we've plucked out some of our favorites — expert-recommended essentials, life-changing stuff you didn't know you needed, newly-launched gizmos, and the very good deals we uncovered while trolling through the vast online-shopping universe this past week, including Mike Piazza's favorite olive oil, battery-powered jackets for him and her, and sweats for keeping cozy like the Kardashians.
A fourth-generation butcher's go-to pocket knife
Photo: Retailer
"The knives my grandpa and his father and brother used were about utility and utility only; I don't think I ever once heard them talk about the beauty of a knife," writes Cara Nicoletti, a fourth-generation butcher and the founder of Seemore Meats & Veggies (named after her grandpa, Seymour). In her decade plus of working in commercial kitchens, Nicoletti "amassed an arsenal of butchery knives," but says there are only eight she now relies on in her home kitchen. All are, "first and foremost, functional — they hold an edge for a long time and are easy to resharpen, clean, and hold. But — and don't tell Grandpa Seymour this — they're also beautiful to look at," she writes, describing this (rather giftable) pocket knife as the unexpected workhorse of the bunch. "I kept it in my work pants at all times and was always shocked at how often it came in handy for small everyday tasks. Nine years later, it's still sharp, and I still use it all the time for all kinds of little tasks in my kitchen, from breaking down boxes, to cutting twine for roasts, to opening annoying packaging, to digging into my drain to see why it's moving so slowly. It's also the cutest knife I own."
Sweats for keeping cozy like the Kardashians
Specifically, like the youngest sisters, who together recently released a new limited edition collection of their eponymous clothing line on Amazon. "There are lots of things to look through, some vegan leather trousers and asymmetrical dresses, to name two," we write in our latest Don't Dillydally, "but since many of us are still spending a lot of time at home, we're eyeing these tie-dye joggers, which are lightweight, stretchy, and come in two shades: camel and blue."
Mike Piazza's favorite olive oil
"As an Italian, olive oil is like water: I think Italians live equally on water and olive oil," says the hall-of-fame New York Met, who told us he can't live without this particular variety. "The olive oil is from the Lago di Garda, which is Garda Lake, and it's Garda DOP. Garda Lake is a cool region by Verona that a lot of Americans don't go to. The olive oil definitely has a unique floral flavor, you can tell it's from the North; in Italy, olive oil from the North and Tuscany traditionally has more of a rich, pine-y, green-forest taste. I put it on everything except my cereal." (For more olive oils recommended by people who consume a lot of it, head here.)
A DIY Warhol
In looking for the best gifts for 11-year-olds, The Toy Guy (née Chris Byrne) reminded us of an enduring favorite: "Lego, of course, has wide appeal at this age." To stay relevant among the ever-fickle tween set, the brand continues to diversify its offerings, and Byrne says this new pop-art-inspired kit that allows builders to make a Lego version of Andy Warhol's iconic Marilyn Monroe portrait would be a most-unexpected surprise. (And, as we note, "once complete, it can become décor for your kid's bedroom.")
A DIY Pollock
"The Springbok puzzle company billed this as the most difficult puzzle in the world when it was released in 1964," says artist Bernie Kaminski. "My wife managed to complete it, but it took a while." He told us it would make a very appealing gift for artists — or anyone looking for a new frameable puzzle to complete — whether you buy the latest, 1,000-piece edition of the puzzle (pictured above) or the original 340-piece set, which Kaminski says "you can always find on eBay, and comes in a much nicer box." (We've linked to both versions below.)
Battery-powered jackets for him and her…
"As a winter outdoorsman, bad weather is the only thing that can keep me out of the woods during bow season," writes acclaimed meat purveyor Pat LaFrieda. "Cold weather, however, is far more manageable, thanks to a little secret I have for making hours in the field more comfortable. That secret? Suiting up in 12-volt heated clothing designed for motorcyclists to wear on winter rides, which I plug into a 12-volt battery pack you'd use for power on a camping trip." While his 12-volt set up is preferable if you're going to spend half days (or more) outside, LaFrieda notes that Gerbing, his favorite brand of heated clothing, also makes 7-volt styles that "come with rechargeable (and much smaller) batteries attached, making them more portable." The simpler setup of these 7-volt jackets, he adds, "may be more convenient for some, especially anyone who only needs to warm up for a couple hours at a time." As for how LaFrieda feels when his battery-powered jackets are turned on: "When everyone starts to go inside because they're too cold, I'm just getting warmed up."
… and a cream that will also make you sweat
"It's kind of like a cream that you apply — I tried it out after seeing a lot of fitness influencers and trainers on Instagram using it. It helps me sweat more and makes me feel like I'm doing the most I can with my workouts. I equate working hard with the amount of sweat I release — the harder I work, the more I should be sweating," says choreographer JaQuel Knight, who can't live without the stuff. "Sweet Sweat also helps with muscle fatigue, so I use it on my back, my arms, and my thighs. With the work I do, my thighs and lower back are often engaged throughout the day, so this helps keep everything relaxed before and after a workout."
Some very wearable Hunter boots, for half off
And a (quite giftable) encyclopedia of our very own
Photo: New York Magazine
Last week, we wrote that "nearly three years after its first book — Highbrow, Lowbrow, Brilliant, Despicable: Fifty Years of New York — New York Magazine has published another one." The Encyclopedia of New York, we continue, is "part deep dive into hidden histories and part city field guide covering most anything one might want to know about the origins of things invented in New York City, including many you likely weren't aware were created here — for instance, the game of Scrabble was born in Jackson Heights in 1931. Some other topics: General Tso's chicken, the lap dance (in 1978, they apparently went for a $1 apiece in Times Square), double Dutch, and … Q-tips."
The Strategist is designed to surface the most useful, expert recommendations for things to buy across the vast e-commerce landscape. Some of our latest conquests include the best acne treatments, rolling luggage, pillows for side sleepers, natural anxiety remedies, and bath towels. We update links when possible, but note that deals can expire and all prices are subject to change.