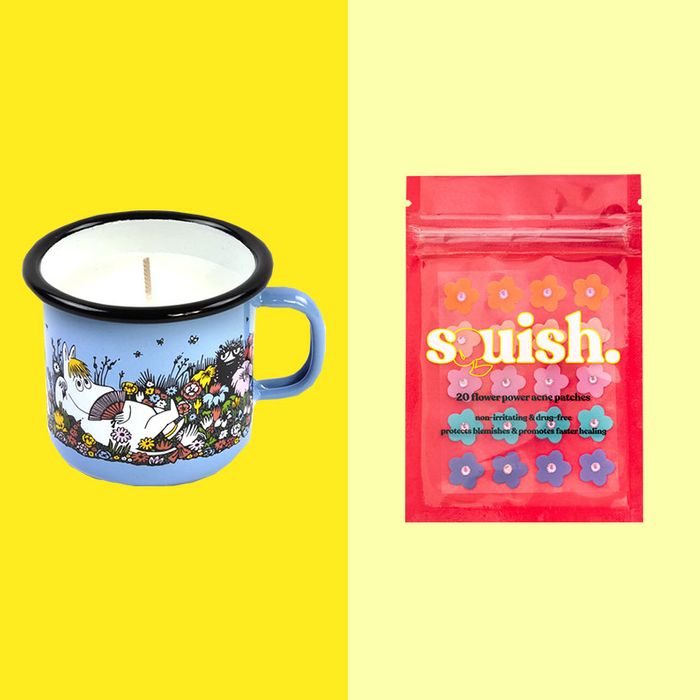 It's mid-November, which means frantic holiday shopping has officially commenced. And I'm going to let you in on a little secret: When it comes to filling up a stocking, there are few things more appropriate — in size and general delightfulness — than beauty products. Whether you're loading a stocking for your TikTok-obsessed niece or your partner with dry elbows, look no further. Below, a list of the best skin-care and hair-care stocking stuffers.
These absolutely adorable pimple patches aren't just cute little stickers: They're made of hydrocolloid material, which helps suck the gunk out of a whitehead, leaving flatter, less inflamed skin by morning. Consider these for anyone who loves pimple patches or who needs to stop picking at their skin.
I gasped when I saw this set! This adorable quartet of Cosrx's best sellers is an ideal stocking stuffer for just about any skin-care lover. It includes the brand's Good Morning Cleanser (great for purifying and balancing pH), AHA/BHA Clarifying Toner (excellent for clarifying the skin), Snail Mucin Essence (one of my all-time favorites for nourishing and repairing the skin), and Oil-Free Ultra-Moisturizing Lotion (a lightweight yet effective day or night cream).
This is not your average bar of soap! It's packed with a blend of calming CBD and hydrating manuka honey as well as sunflower, coconut, and grapefruit oils to moisturize and nourish your body as you cleanse.
If anyone you know or love has a diligent hair-care routine, this towel from Aquis is an absolute must. It's made with something called "aquiflex fiber," a fabric that not only dries hair in less than half the time it takes a standard cotton towel (I swear, less than half) but also is so gentle — it doesn't tug or weigh hair down, and it will leave your hair looking great and feeling soft.
I can't get over how adorable this candle is! It's fragrance free (especially good for people who love an ambience but hate an overpowering scent) and comes in an enamel mug with a Finnish Moomin character on it, so when you're done, you can use it for tea and coffee.
Anyone who loves skin-care gadgets will love this gold bar, which is a dead-on dupe for the $200 Jillian Dempsey one. It vibrates and gets into all the little nooks and crannies of your face to massage, lift, and invigorate. Apply it with a good old face oil in the morning to liven up your skin. Also, Tracee Ellis Ross is a fan!
Got a Gen-Z little sister? Perhaps the cultiest, most Instagram-friendly lip balm around is this one from Glossier. It comes in many flavors and tints, so there'll be one to match your stocking recipient's preference. My personal favorites are Blackberry (a berry, jammy shade), Coconut (which is clear but smells amazing), and Fig (the newest of the bunch, which has a coral-y tint).
These stainless-steel, freezer-friendly tools are a wonderful way to depuff your under eyes and knock down any kind of inflammation from stubborn breakouts. Be sure to place these on your skin for one minute, then take them off for one minute to be sure you don't burn your skin with the freezing cold. This is an excellent gift for anyone who has an early wake-up call — these freezing tools won't just de-puff, they'll wake you right up! — or anyone who has a little bit of a skin-picking problem, as they'll relieve the redness from a spot without poking and prodding.
This mask from Jessica Alba's line, Honest, is an adorable, selfie-appropriate purple-y color that happens to be jam-packed with good-for-your-skin ingredients like shea butter (for hydration), vitamin E (for repairing and protecting the skin), and super-fruits (which have antioxidant abilities). Reach for this whenever your skin needs a pick-me-up.
You can't go wrong with Skin Food! It's a deeply, deeply moisturizing multipurpose balm that can be used on elbows, hands, cuticles, or really anywhere you're feeling dry or dehydrated.
This peeling solution from the Ordinary went viral after one TikToker posted a video claiming it had dramatically improved her hormonal breakouts. After the video went up, 52,000 people purchased it! It's a blend of AHAs and BHAs, so it works to deeply, deeply exfoliate and resurface your complexion. This is a great stocking stuffer for anyone you know who's a little bit too obsessed with TikTok. It's strong, though — so be sure to tell them to use this once a week max!
For any French-drugstore obsessive, this neutral, non-fussy moisturizer gives your skin the perfect slip for makeup and is beloved by just about every major makeup artist, from Hung Vanngo to Pat McGrath.