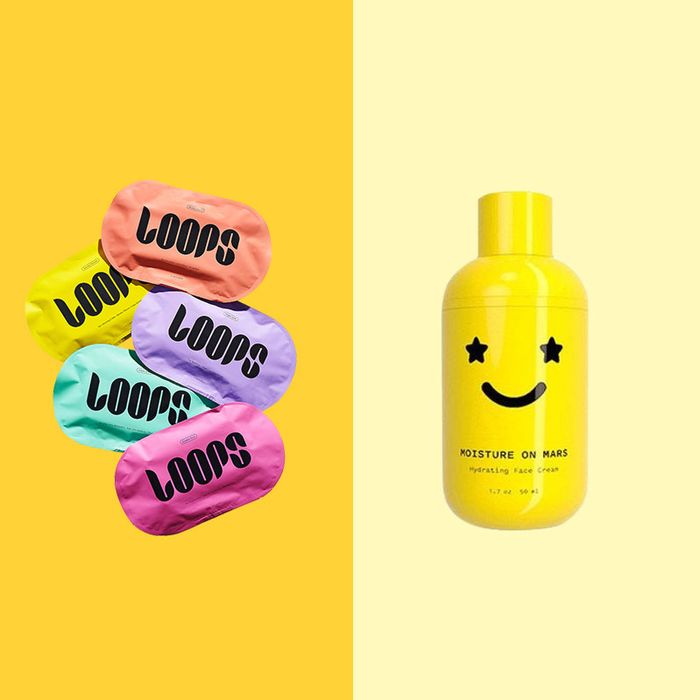 Photo-Illustration: retailers
As a millennial, there are few things more daunting than shopping for family members under age 20. Deciphering what Gen-Z youth actually like and assessing what they no longer deem cool can quickly leave you feeling one thousand years old. (Yesterday, attempting to keep up in a conversation with my little cousin, I Googled "Bryce Hall Addison Rae drama" and immediately shut my laptop in defeat.)
But thanks to the rise of skin-care and makeup tutorials on TikTok and YouTube, and the enthusiasm with which young Hollywood starlets dish their routines on social media, tracking the beauty brands and products that Gen Z is drawn to has never been easier.
So, to make your holiday shopping a little less stressful, I've rounded up a list of Gen-Z approved beauty products, including skin-care guru Hyram Yarbro's favorite repairing serum, actress Sabrina Carpenter's go-to sunscreen, and a selfie-ready eye mask.
In case you don't know, Popsockets are a smartphone attachment that allow for a much better grip on your phone, easier selfie-taking, and also function as a kickstand for your phone. They're a millennial and Gen-Z phenomenon and this one in particular comes with a built in strawberry lip balm, so you'll be able to moisturize, smooth, and give a soft pink tint your lips at all times.
Devon Lee Carlson and Selena Gomez, both millennials with massive Gen-Z followings, both happen to swear by this $10 rosewater spray from Heritage. Its ultraminimal formula includes two simple ingredients, rose oil and water, which can quickly hydrate your complexion with just a few spritzes. This is an excellent gift for anyone whose skin gets a little dehydrated in the winter (whose doesn't?) and might benefit from an easy boost of moisture throughout the day.
TikTok star Addison Rae recently launched her own makeup line, and one of the hero products, it seems, is this two-in-one sculpt and glow contour and bronzer. With this twofer powder, you can add a subtle bronze or define your cheekbones with a more intense chisel. The vegan powder formula uses tiger grass, hempseed, and sodium hyaluronate for a lightweight, moisturizing finish.
This 2 percent salicylic acid BHA exfoliating toner from Paula's Choice is beloved by skin-care TikTokers @skincarebyhyram and @whatsonvisface for its ability to help unclog pores and buff away dead skin cells for a clearer, more even-toned complexion. Apply this on clean, cleansed skin and follow up with a moisturizer.
Founders Olamide Olowe and Claudia Teng created Topicals with the hopes of normalizing real, unretouched skin — with all its acne, scars, texture — and providing shoppers with straightforward, effective-yet-gentle formulas. This "Like Butter" cream uses a blend of glycerin, ceramides, colloidal oatmeal, and green tea to soothe, calm, and replenish any kind of sensitive, irritated, or eczema prone skin.
This peeling solution from the Ordinary went viral after one TikToker posted a video claiming it had dramatically improved her hormonal breakouts (apparently 52,000 people purchased it after the video went live.) It's a blend of AHAs and BHAs, so it works to deeply exfoliate your complexion. It's strong, though — so be sure to tell them to use this once a week, max.
Starface is a brand beloved by many Gen-Z influencers (like Charli D'Amelio). This lightweight yet hydrating moisturizer is a gentle, calming, anti-inflammatory moisturizer that won't irritate your skin or break you out, but will lock in and deliver essential hydration to your complexion.
These five mini shiny holiday glosses from Kylie Cosmetics are a great stain-free alternative to the classic holiday red lip. They're high shine and last throughout the day with minimal touch-ups.
These cherry eye masks from Squish beauty are an excellent way to hydrate, soothe, and cool your dry cheeks and under eyes, while also looking supremely selfie-ready.
This reparative, nourishing serum from Krave is another favorite of TikTok and YouTube star Hyram Yarbro. The formula uses calming and soothing ingredients like propanediol and glycerin, as well as niacinamide, to help fade hyperpigmentation and dark spots in a gentle-yet-effective way. This is excellent for anyone who struggles with skin sensitivity and breakouts.
Accentuating or exaggerating your freckles has become a popular trend among TikTokers (here's a video of Addison Rae doing it in a Vogue beauty tutorial). This pen from Freck is just about the easiest way to get the freckle trend down — make little spots with this pen and blend them out with your finger.
This is actress and singer Sabrina Carpenter's go-to SPF 30. It's a blend of chemical- and mineral-ingredient sunscreens, as well as ginseng, licorice root, and vitamins C and E to nourish, protect, and soothe the skin.