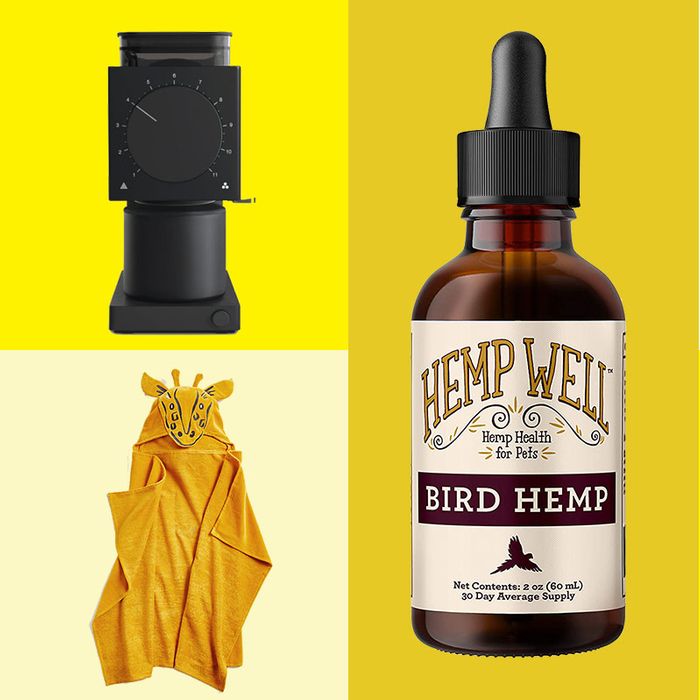 We write about hundreds of products a week. Here, in our version of the Sunday circular, we've plucked out some of our favorites — expert-recommended essentials, life-changing stuff you didn't know you needed, newly launched gizmos, and the very good deals we uncovered while trolling through the vast online-shopping universe this past week, including a hoodie for budget hypebeasts, a handy gift for spendthrift dads, and a (hand-warming) mug made for lefties.
A hoodie for budget hypebeasts
Photo: retailer
"While Patagonia is not under the radar, the brand still confers some unspoken style cred," writes contributor Eric Margulies, which is why this was the first hoodie he recommended to "my friend's son Logan when he asked for a cool logo hoodie that doesn't look like the Nike or Champion ones all his classmates wear." Of this hoodie — one of ten Margulies recommends to most anyone he knows — he adds, "Anyone who has worn its clothes knows the company doesn't compromise on materials the way others can (especially for a product as mass-produced as hoodies). Should Logan take decent care of it, this hoodie is the type of garment he could pass on to his high-school-age kid one day, when he or she or they face a similar conundrum."
A TikTok-famous tool for taming flyaways (and brows)
According to contributor Natasha Bazika, "years of heat damage, hair dye, and styling products filled with unpronounceable chemicals" led her to "resign myself to a lifetime of flyaways." Then she opened TikTok. "A fateful scroll through its 'For You' page led me to a video of a woman taming her wisps with what appeared to be mascara. It was like a magic wand: One moment, she had a halo of flyways; the next, a flawless slicked-back do." The product, Bazika learned, is the Slick Stick, which, she notes, "somewhat famously made $10,000 in 12 hours after it first went viral on TikTok. Two days (and $17) later, my own Slick Stick arrived. My hair is naturally wavy and thick, so I wasn't sure if this could handle my particular kind of frizz. But it worked, slicking down my tufts without hardening my hair or making it look oily. I've now worn it to the gym and tested it at a boxing class, where my flyaways stayed secure. I've even started applying it to my eyebrows to keep them in place."
A digital picture frame so user friendly, you can update it while skiing
"We can literally be skiing, taking selfies, and emailing pictures from the top of the ski slopes, and the images will be loaded on the frame before we even hit the bottom of the hill," says one reviewer of this digital frame from our list of the best-reviewed ones on Amazon. Another adds that "anybody you share the frame-specific email address with can email pics directly to the frame — kids, grandkids, friends, etc.," which is why many of the almost 4,000 folks who gave it five stars say it makes a particularly great gift for Grandma (or Grandpa).
A one-two punch for ridding brown hair of brassiness
"My light-brown hair naturally turns golden blonde in the summertime, but after a series of failed dye jobs, lately it has skewed more neon orange. Normally, I would go see a professional about this, but this year has been … different," says Strategist writer Liza Corsillo. She took advantage of all her time stuck at home to research and try several products that promised to make her hair look less like "Milla Jovovich's in the The Fifth Element," and she deemed this duo (which is actually formulated for gray hair) the absolute best. After using it for three months — her full story has tips for making the products most effective — Corsillo writes, "My highlights look like blonde highlights again, and my hair looks healthier overall. It's not a permanent fix and requires consistent use to keep my hair in check, but the more I use it, the more balanced and natural looking my hair color gets."
The buzzy (but not loud) new coffee grinder hyped by baristas
Photo: retailer
"Back in April, multiple baristas excitedly told me about a then-still-in-development flat-burr coffee grinder they believed would finally make the technology found in their $900 favorite a lot more accessible," writes Strategist writer Louis Cheslaw. "That grinder — the $299 Ode from Fellow — promised 'big, flat burrs that are the same as those in commercial grinders, but in a home machine,' as one barista put it." After the Ode hit shelves this fall, Cheslaw, who has been grinding beans at home for years, received one from Fellow and put it to the test. "It's satisfyingly easy to use," he writes. "All it takes to accurately adjust grind size is a turn of its pleasingly giant dial. There are thoughtful details that anyone will appreciate, including an automatic shut-off function and a small footprint. There are also thoughtful details that coffee nerds will appreciate, including a magnetic base in the grinds receptacle that makes it a cinch to remove and replace and a steel tab you can flick to ensure that all the grinds make it into that receptacle. Although it's not silent, the noise it makes isn't at all unpleasant. (I'd compare it to the sound of crumpling up a newspaper.)" He has used it to grind beans for French press, pour-over, and AeroPress coffee, and adds, "I have consistently been able to detect very specific notes from coffee ground by the Ode; the underside of its lid has a handy guide to the best dial settings for the seven brewing methods it accommodates (which do not include espresso). By following that guide, I can taste the apricot, baker's chocolate, and honey notes in my Oslo beans just as strongly in all the brewing styles I've tried."
A handy gift for spendthrift dads
If, like our writer Nikita Richardson's dad (and grandpa), yours "stores all his change in an enormous vase," you might consider upgrading that vase to a vessel that can not only hold coins but count them, too. "If you're saving toward something big, like a new TV, this practical jar features a digital counter that will keep track of your savings," Richardson writes of the hardworking vessel, which is one of almost two dozen she recommends to adults looking for something nice looking to stash loose change in.
A highbrow towel for kiddos