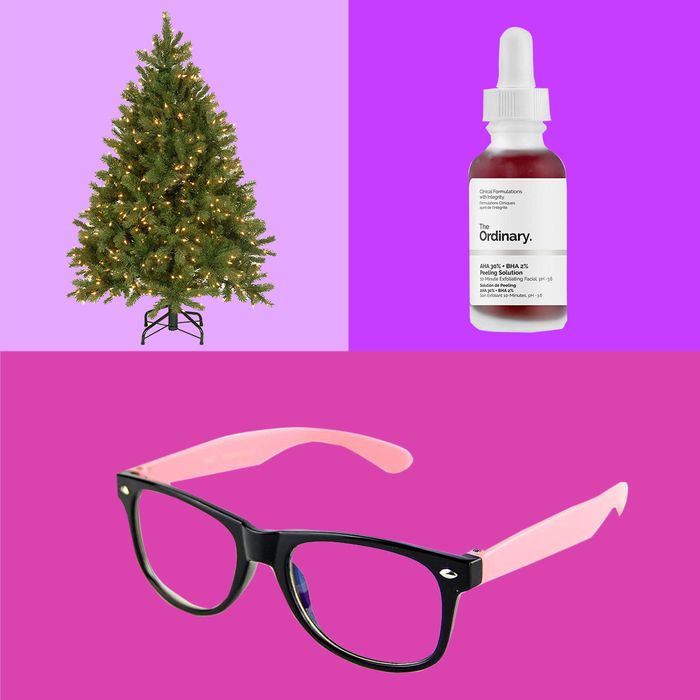 Photo-Illustration: retailers
We write about hundreds of products a week. Here, in our version of the Sunday circular, we've plucked out some of our favorites — expert-recommended essentials, life-changing stuff you didn't know you needed, newly launched gizmos, and the very good deals we uncovered while trolling through the vast online-shopping universe this past week — including sweatpants designed by Karla Welch, a Walter Isaacson-recommended book on Big Tech, and the towel Emma Chamberlain swears by.
Day-Glo-orange sweatpants designed by Karla Welch
Just as temperatures really start to drop, Eddie Bauer has debuted a new line of cold-weather wear in collaboration with celebrity stylist Karla Welch. The collection, we write in Don't Dillydally, infuses "the bright hues of the '80s" into beanies, layer-able knitwear, puffer jackets, fleeces, vests, and our favorite piece: these Day-Glo-orange knit sweatpants, which we note "have soft brushed insides and are made from a cotton-polyester blend."
A Walter Isaacson–recommended book on Big Tech
Photo: retailer
"If there's one thing popular culture can't seem to look away from, it's the over-funded antics of Silicon Valley CEOs," Strategist writer Louis Cheslaw says in his new guide to the best books about the Valley, according to people (like Isaacson) who report on it. Among the titles on the list is this history that Isaccson says connects "technology to politics to American culture." It was written by a former Clinton White House staffer with a front row seat to the growing influence that companies headquartered in Silicon Valley had in Washington during her tenure. Another fan of the book says it offers a "well-researched, thorough" explainer of how our country got to a place where the founders of Facebook and Twitter are frequently summoned to testify in Congress about their power in our elections.
Mom-recommended blue-light-blocking glasses for kids
In talking to experts (including parents and doctors) about the best blue-light-blocking glasses for kids, writer Lauren Ro was reminded that no pair will do much to mitigate eye strain ("If you're looking at a book for five hours a day, you're going to have a lot of eye strain and there's no blue light coming from that," explains one doctor.) But what the glasses can do, according to another pro, is mitigate the disruption of sleep patterns caused by looking at screens before bedtime. Dr. Brook Sheehan, a chiropractor and mom of a fourth-grader who has worn these blue-light glasses for three years, told us they have made a "huge difference in my daughter's sleep, but also in her focus and attention to the classwork she's doing." The brand, she adds, has "really cute kid colors to make it fun," like blue, green, and red, and all-black pairs in addition to the pink ones shown.
The 'As Seen on TV' towel a YouTuber swears by…
"I'm telling you, it is not like a regular towel," says YouTuber Emma Chamberlain of this "perfectly designed 'As Seen on TV' product" she's been using since the fifth grade. "It's super thin and light — you twist your hair in it then button it in the back. I hate the feeling of sopping wet hair on my neck after a shower. I'm a very chill person, but the minor inconveniences of wet hair or a heavy towel on my neck will send me over the edge."
… and a TikToker-approved, acne-fighting tincture
According to our beauty writer Rio Viera-Newton, "this peeling solution from the Ordinary went viral after one TikToker posted a video claiming it had dramatically improved her hormonal breakouts." Some 52,000 people allegedly purchased it after seeing that video, she adds, which is why the stuff made her list of the best beauty gifts for Gen-Zers. The formula's blend of AHAs and BHAs works to deeply exfoliate your complexion, but Rio has one note of caution: "It's strong, so be sure to only use this once a week, max."
An accident-proof soccer "ball"
Photo: retailer
"'Don't play ball in the house!' is a maxim as age-old as they come," writes Strategist contributor Daisy Prince. "But in this year of upending tradition, I've dropped the don't and actually encourage my boys, ages 6 and 9, to play ball (soccer, specifically) inside, thanks to a novel toy that makes doing so hazard-free." The battery-powered ball, she adds, "functions more like a giant air-hockey puck." When turned on, it hovers close to the ground with the help of an internal fan. "The design makes it difficult to send it too high above the ground, so they've managed to avoid inflicting damage to our couches, windows, light fixtures, or other breakable bric-a-brac," assures Prince. A ring of padding around the ball makes it "even more accident-proof," she says, and its LED lights "allow for my kids to even play with it outside (on pavement) after the sun sets." This set comes with the hover soccer ball, another traditional ball you can inflate with an included pump, and two goals.
A highly giftable (on-sale) karaoke microphone
As regular Strategist readers know, many Black Friday sales have already begun, including at Macy's, where we found this Bluetooth karaoke microphone that one writer previously told us is "the way through which you vocalize your inner truth." Its $18 price tag, we think, is a small sum to pay for something that'll let a karaoke-loving friend or family member belt out their favorite ballad at home. (For more early Black Friday deals, head here.)
A design blogger's favorite doormat
"A doormat does a whole lot more than block your door and serve as a place for you to wipe the soles of your shoes," junior writer Leah Muncy says in our new guide to the best cool-people-approved doormats. "It's a chance to make a statement or, at the very least, set an inviting tone when guests enter your home." Of the various styles she heard about, this windowpane-plaid one, according to one design blogger, "would only be enhanced by autumn leaves" that are falling right now. "It would be so beautiful on a front porch," the blogger adds (or rolled up in a stocking, we add).
The best (pre-lit) artificial Christmas tree for small spaces