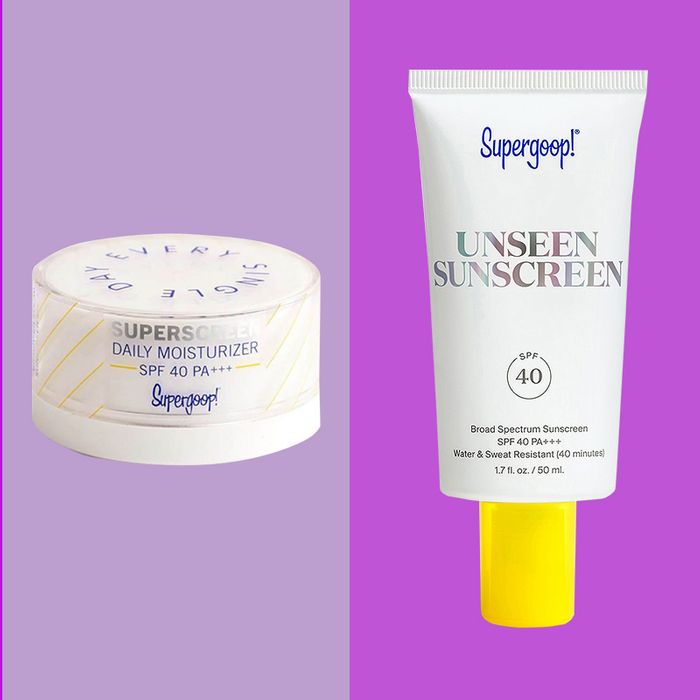 Look, I get it — these days, just brushing your teeth or changing out of pajamas can feel like a small miracle. But if you bring yourself to do any skin care in the morning, let it be applying sunscreen. Along with hats, protective clothing, and avoiding tanning beds at tall costs, sunscreen is one of the easiest ways to prevent UVs from damaging your skin. And it's not just for long walks or beach days — UVA can penetrate through our windows, reaching us while we work away at our desks.
As many licensed professionals will tell you, the best sunscreen is the one you're going to wear every day. And SPF-focused brand Supergoop offers a wide variety of different formulas, finishes, and textures, so you can find one that works for your routine and skin type.
Some good news: Through Monday, Supergoop is offering 20 percent off sitewide, which includes products like their dermatologist beloved Unseen Sunscreen, lightweight, physical-based Zincscreen, and their ultra dewy-inducing Glow Screen. Below, a list of the very best from the Supergoop sale.
This totally transparent, chemical sunscreen (no white cast!) is SPF 40 and has a weightless, velvety finish. It might feel kind of dimethicone-y and waxy at first, but it blends into skin beautifully and works really well as a primer — your makeup will glide on top of it without any pilling.
This face-and-body chemical sunscreen is a hydrating lotion with water- and sweat-resistant properties. This formula is great for anyone who loves a twofer (because buying different face and body sunscreens can be a drag) or a lightweight, non-fussy sunscreen for all over.
For those who prefer mineral protection, Supergoop has Zincscreen — a light, physical sunscreen with SPF 40 and pink-ish tint. Active ingredient zinc oxide is a great choice for anyone with acne or sensitive skin, so if chemical sunscreens have broken you out in the past, you might like this. According to reviewers, this doesn't leave the worst whitecast, but if you want something totally invisible, you might want to try a chemical SPF like Unseen Sunscreen.
If you have ultra-dry skin, you might like this deeply hydrating SPF moisturizer. The formula uses hydrating glycerin, antioxidant blue-green algae, as well as chemical actives to help protect and replenish the skin all at once. Since this should be applied as a sunscreen, not just a moisturizer, you need to make sure you're applying enough — half a teaspoon for your face, neck, and ears.