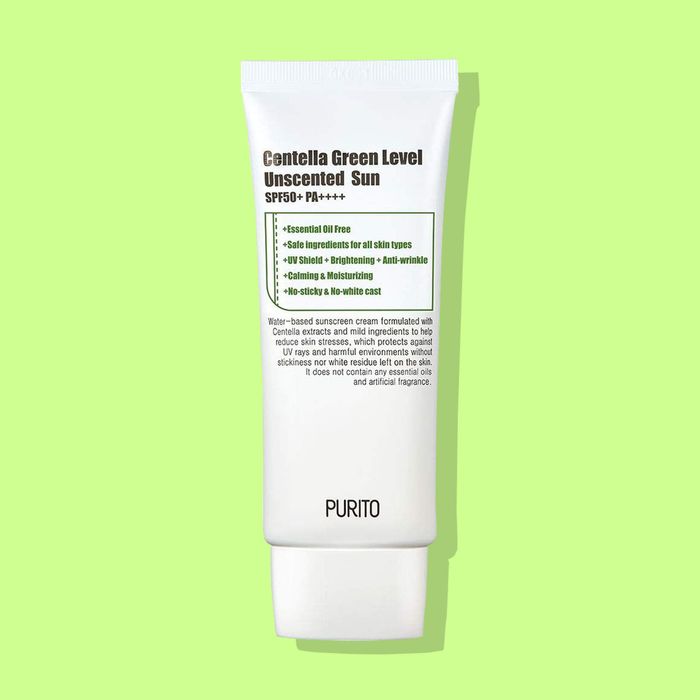 Purito Centella Green Level Unscented Sun, also known as the Internet's Favorite Sunscreen, became the target of social-media ire this month. The drama began when INCIDecoder, an ingredient database founded by a cosmetic chemist, shared lab results that showed Centella Green Level to be SPF 19 — less than half of its purported SPF 50+. The news spread quickly, pushing Purito to issue a conciliatory press release, shelve the sunscreen, and offer refunds. Centella Green Level had, the company said, been approved by the Korean Food and Drug Administration but not by its American counterpart. Which is not abnormal: International brands often get away with selling their sunscreens in the States by removing their SPF claims. (Purito did market Centella Green Level as a sunscreen … strike one.)
Like many, I was Purito sunscreen fan. I had gone through a few tubes of the stuff and even written about how much I loved it right here on the Strategist. As someone who makes a point of putting on sunscreen every day, I was thrilled to have found a formula that was equal parts hydrating, nonirritating, and protective — or so I thought. Disappointed by the scandal, I started digging. What did those lab reports really mean? How much of the error was Purito's fault? How do false label claims happen? And most important, if Purito is overstating its SPF levels, are other companies doing the same? If so, how can we shop with confidence for any sunscreen?
So I reached out to chemistry Ph.D. Michelle Wong (known to her followers as Lab Muffin Beauty Science), who teaches on Instagram and YouTube about the science behind skin-care products. She told me the Purito scandal is far from an isolated incident and pointed me to a Consumer Reports study that found 36 out of 53 sunscreens it tested were less protective than their packaging stated. Many brands have failed post-market consumer testing before, including cosmetic giants like La Roche-Posay and Neutrogena. Wong doesn't think these failures mean such brands can't be trusted. There are lots of reasons why lab results don't end up matching what's reported on labels: different testing standards between labs, variations in batch potency, improper storage, and counterfeiting. And yes, some straight-up lying. (Just last year, an American testing lab, AMA Laboratories, was found to be falsifying test results.) Wong explained that in most cases, however, companies aren't deliberately overstating their protection levels.
Okay, so, most brands aren't being deceitful, but what about Purito? The company never replied to my email about being interviewed for this piece, but there are some clues to the situation. First, it looks as though the active levels — the chemicals that protect you from the sun — in Centella Green are too low (Uvinul A is at 3 percent and Uvinul T at 2 percent) to provide SPF 50+. This incongruence had always bugged cosmetic chemist and sunscreen developer Kelly Dobos, who says she had long been skeptical of Centella Green Level.
After noticing that something seemed strange with the sunscreen's active levels, Dobos started digging and found that, in 2018, the U.S. Food and Drug Administration filed a warning letter against Nowcos Co., Ltd., the company that has been manufacturing Purito's Centella Green since at least last year. In the warning, the FDA said Nowcos had failed to ensure that the drugs it makes have "the identity, strength, quality, and purity they claim to possess," among other issues. There is no record of Nowcos ever fixing its compliance record, Dobos says.
It's impossible to say for sure if Centella Green's makers were deceitful or just negligent. But the important thing here is to ensure that we can all buy sunscreen that works the way we think it will — without digging through old FDA filings. Fortunately, there are easier ways to vet your sunscreen. Charlotte Palermino, the founder of transparency-driven beauty brand Dieux Skin, says looking up a product's name or NDC number (a ten-digit code that identifies a drug's labeler, product, and trade package size) on NDClist.com is a good place to start. It verifies that the product's manufacturer is registered with the FDA and has gone through the proper testing in the United States.
After you check the NDC List, see if you can find anything about your sunscreen at Consumer Reports. The independent nonprofit organization uses FDA guidelines to test sunscreen formulas; it also calculates a score that measures how a sunscreen's SPF performed on its test compared with what's on the label. A Consumer Report account costs about $10 a month (but: redditors are known to leak screenshots on skin-care forums).
And last, look at the drug box on the back of your sunscreen bottle. It lists "active ingredients" with some science-y words and percentages — those are the names and amounts of filters in the formula. The truth is, higher percentages of actives don't always make for better protection. But according to David Petrillo, a cosmetic chemist and the founder of Perfect Image Beauty, "If you are stuck between two sunscreens with the same SPF, opt for the one with higher active-ingredient percentages."
I'll admit that after I first read the INCIDecoder report, I was tempted to chuck my Centella Green Level Unscented Sun. But after doing some research (and taking a few deep breaths), I've decided I just may hang on to mine. The recommended everyday SPF is 30 to 50, which helps protect from about 97 to 98 percent of UVB rays. While SPF 19 may not be substantial enough as your daily face sunscreen, it isn't nothing. Dr. Ranella Hirsch, a board-certified dermatologist and co-founder of Atolla Skin Lab, says, "It can be used as a touch-up throughout the day (on top of your more protective sunscreen) or as an SPF for your hands."
The main takeaways from our Purito deep dive? Stay out of direct, intense sunlight — there are no guarantees with sunscreen. Also, finding reliable brands requires some legwork. The good news: We've done a little of that for you. Here are five Strat-vetted, FDA-approved sunscreens.
This totally transparent chemical sunscreen is one of Dr. Hirsch's favorites. Yes, it may feel a bit dimethicone-y and waxy at first, but it does blend beautifully into the skin. And it works as an excellent primer — makeup just glides on top of it. This is an excellent product if you're looking for an SPF with zero white cast.
This chemical sunscreen is excellent for anyone with dry or combination skin, as it's definitely more on the hydrating side. It leaves the skin with a really nice glow, similar to the finish of Centella Green Level.
This sunscreen is a blend of chemical and mineral actives. It's great for oily or combination skin types, as it leaves behind a soft, velvety finish.
Created by tennis star Venus Williams, this sunscreen uses a whopping 25 percent zinc oxide for protection. And apparently, despite the high concentration, it doesn't make you look totally ghoulish. "It goes on pretty white cast–y and then dries clear," said one reviewer.
This chemical sunscreen scored very well on its latest Consumer Reports test. The water-resistant formula can be used on both face and body, making it great for outdoor exercising. Reviews say it's a little on the thick side, and I should note that it isn't cruelty free. But given its very high Consumer Reports test results, I thought I should include it.
The Strategist is designed to surface the most useful, expert recommendations for things to buy across the vast e-commerce landscape. Some of our latest conquests include the best acne treatments, rolling luggage, pillows for side sleepers, natural anxiety remedies, and bath towels. We update links when possible, but note that deals can expire and all prices are subject to change.