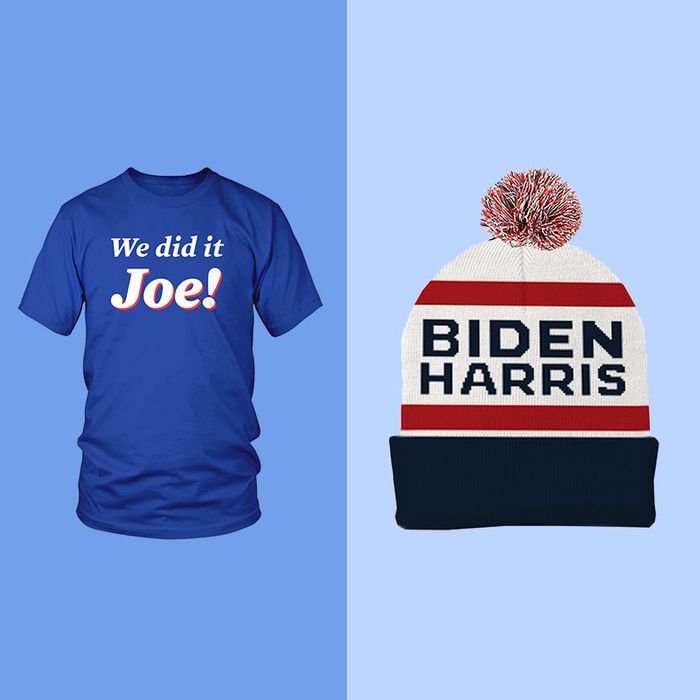 Well, we're officially a week away from Inauguration Day. If you were too nervous or uninspired to do so during the campaign, perhaps now you're looking for some merch to celebrate the Biden-Harris transition. Regular readers may remember we've been scouring the options for some time now, talking to our colleagues and other cool people we know throughout the campaign and transition period to find the best Biden-Harris shirts, hats, and accessories for telegraphing support on your sleeve, hat, or even feet. The 31 items we've gathered below range from creative to classic, with options for the most die-hard fans as well as for more recent converts.
This is the official (and only) Biden-Harris tee released by the Democratic Party to celebrate the ticket's historic victory. Like everything sold by the Democrats' official store, the tee is American-made and union-printed, with all profits going toward Democrats' election campaigns countrywide. Because it features the first woman on a winning presidential ticket, we think it could even become more valuable with time.
While doing a recent sweep of the Biden-Harris-merch landscape, we were sad to see that the Biden campaign has shut down its store, which included clothes from guest designers such as Thom Browne, Victor Glemaud, and Aurora James. But we were happy to discover the campaign store has been replaced with a new Biden inaugural store, which features a wide range of official inauguration merch, including this tee with a commemorative seal celebrating a day that feels more urgent with every passing hour.
There's plenty more playful stuff below, but first, for traditionalists, here's the official Biden-Harris tee.
After we shared an earlier version of this story on Instagram, Clay Taylor, a digital producer at MTV, told us to check out Hot Merch for Biden. We're glad we did: The site is full of different artists' campaign creations, including this cheery shirt made by Brooklyn-based illustrator Caroline Reedy.
Within minutes of the first presidential debate ending, the Biden campaign began selling a shirt with one of the night's most memorable quotes emblazoned across it. That limited-run shirt is no longer available, but other designers are still making their own spins on the phrase, including this aesthetically pleasing rainbow-on-black design.
This tee from the inaugural store features another (happier) viral quote: The "We did it, Joe!" that Vice-President–elect Harris proclaimed in her now-iconic (and many times memed) victory call with the president-elect.
Another Strategist reader who got in touch after we published an earlier version of this story told us about the collection of Biden-Harris merch from SteezyVibes, which you can buy on Etsy. It includes this biker-inspired tee that's sure to please the "Aviator Joe" contingent.
Photo: retailer
One Strategist writer who had been "leaning in hard on tie-dye this summer" says, "It's not surprising that I'm drawn to this colorful long-sleeve." (For a warmer tie-dye option, keep reading.)
Photo: retailer
A nice, simple ringer tee in mustard yellow that two Strategist writers approve of.
If you're more excited about the next vice president than the next president, Hot Merch for Biden is also making hot merch for Harris, like this groovy T-shirt (if you squint, you'll see it gives Biden some love too).