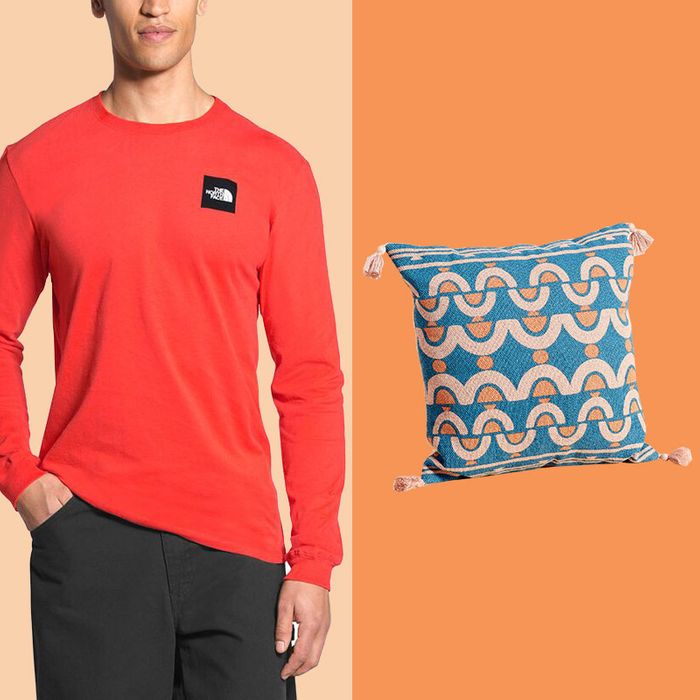 Photo-Illustration: retailers
As we head into the long weekend, the state of online sales is good. Several merchants, including Anthropologie, Macy's, and Urban Outfitters, are offering excellent discounts on already-on-sale items, and even more are having sales on still-in-season picks, whether you're looking for a new puffer jacket or scarf to stay warm outside, or a buttery cashmere sweater to stay cozy indoors. (And heads up: There's lots of on-sale cashmere today.)
This cute, cropped puffer jacket will actually keep you warm for under $40.
This boxy, cotton long-sleeve tee from the North Face comes in eight different colors, so you can match with your favorite Nuptse.
Madewell collaborated with Buffy, one of our favorite brands for cotton candy-soft comforters, on this puffy muffler, which we expect to be just as soft as their bedding.
For a scarf with a more traditional style and cut — or for someone who's been watching The Crown for fashion inspiration — here's an over-half-off Barbour scarf.
Some not-so-obvious white leather sneakers, complete with a baby pink swoosh. But don't dillydally: We've seen Blazers like these sell out quickly at Nordstrom in the past.
We can't quite tell if this patten is tiger striped or tie-dye, but we like it, either way (and you won't have to look at it when it's on your eyes at night).
If you've recommitted to making smoothies for breakfast in 2021, but you need to upgrade your blender, here's a powerful, chef-recommended option that's half-off.
This space heater from Honeywell looks surprisingly nice.
In yesterday's Deal of the Day, we called out a handful of deeply-discounted items at Urban Outfitters, and many are still in-stock — and on-sale — today, like this eight-pack of status-y toilet paper that we once recommended as a cheeky anniversary gift.
This particular candle from Fredericks & Mae smells like palo santo and rose, but two other scents — Lemon Balm, which smells like rain and wet earth, and Cedar Rose — are also on sale.
Anthropologie is also having a sale-on-sale, which includes these Prada-esque, chunky Chelsea boots for stomping through snow puddles.
Or, if you're planning on staying inside until spring, here are some luxe-looking velvet slippers from Brooklyn-based designer Ariana Bohling.