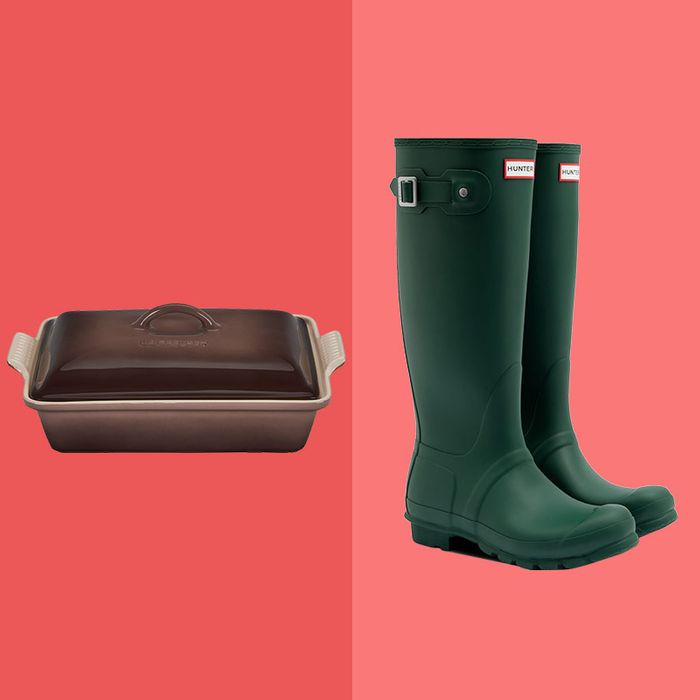 Photo-Illustration: retailers
The weather in New York — and across the country, it seems — is downright frigid. But lucky for us all, there are lots of deals on things that'll keep you cozy, comfortable, and even a little busy during this stretch of decidedly indoor weather — like a Le Creuset baking dish, a puzzle that doubles as a work of art, and a fuzzy bathrobe with a hood. (And for even more sales coverage, sign up for our email newsletter.)
One of our favorite winter coats under $100 is an even better deal today. It's also available in magenta, red, and light blue for the same low price, but sizes are limited.
Photo: retailer
As we pointed out in yesterday's sales roundup, there's a bunch of pieces on sale from Uniqlo's collaboration with Marimekko, like this charming cotton onesie, available for babies from 3 to 18 months old.
If you're looking for a pen that "has the feel and smooth, constant ink-flow of a fresh marker, and the precision of a ballpoint pen," give this six-pack of Sakura Pigma pens a shot.
If you've been wearing the same sweatpants since March, we don't blame you — but you can also refresh your WFH wardrobe with these tie-dye joggers. (There's a matching top, too.)
It's rare to find these classic, hunter-green Hunter rain boots (like what Princess Diana wore at Balmoral) at this deep of a discount.
Editor's note: These boots are sold out, but Hunter's Original Short Waterproof Rain Boots are still available for just $75.
Photo: retailer
If we've learned anything from Tiktok in 2021, it's that you can make just about anything in an air fryer, from cinnamon buns to kale chips. And for just $40, this one, with an easy-to-use touchscreen, is worth a shot.
Design Within Reach is having a clearance sale, with discounts up to 60 percent (though everything is final sale) — and we found lots of picks from Hay, one of our favorite brands for clever, stylish home décor, like this striped pillow that'll brighten your living room.
Not only do these reusable glass straws look really nice, they're dishwasher safe. Stock is running low, but if it runs out, you can still get the straws full price here.
These Adidas track pants with the three stripes down the side will "feel natural with any shirt you're Zooming in — business up top, working up the courage to exercise down below."
Though sunglasses are usually synonymous with summer, snow is also quite bright on the eyes — so now's a good time to re-up on some surprisingly sleek Wayfarers (with UV protection).
A friendly reminder that Valentine's Day is quickly approaching, and these simple-yet-trendy gold hoops would be a nice gift for her (that she never needs to know you got on sale).
This vacuum-insulated bottle will keep your hot drinks hot and cold drinks cold — and the slim construction means it's a little easier to slip into a car cupholder or purse than a Hydroflask.