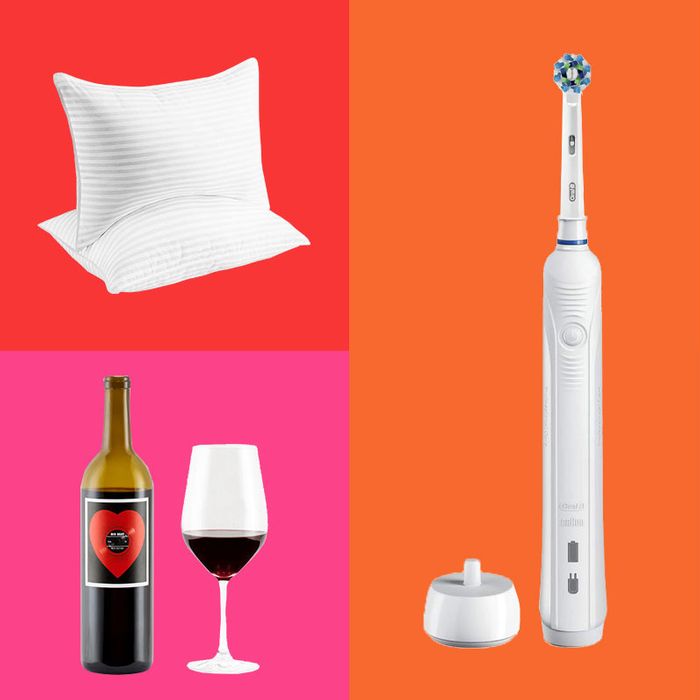 Welcome back to Your Shopping Cart, where we break out the top ten products that you, devoted Strategist readers, all bought in droves. Think of this as the tl;dr of the Strategist. If your like-minded brethren are buying these items, maybe you'd like to, too.
Though fabric and disposable masks have been top sellers among Strategist readers since March 2020, for the first time since the pandemic started, they took up five spots on our list — and three are first-time best sellers. Maybe that's because of the new variants of COVID, or maybe that's because readers are double-masking in earnest. In that context, the fact that our readers stocked up on wine subscriptions — the first-ever subscription service to become a top seller — seems more than justifiable right now. But some things never change: An electric toothbrush made the list for the 18th time, and a favorite moisturizer that's good for nearly any skin type appeared for the 12th time.
Though wearing a mask is serious business, there's something about a black disposable mask that offers an "insouciant approach to mask-wearing." That's according to Strategist writer Hilary Reid, who first saw these black surgical masks trending back in December. But we think it became a breakout best seller this month, taking the top spot for the first time, because it was also recently spotted in our round up of disposable masks for being "perfect for keeping in a bag or jacket pocket as a backup mask," and they're great for doubling up, too.
This Vistaprint mask has been a favorite among Strategist writers and readers alike, appearing in the top spot the last three months. It's got "adjustable ear loops, a bendable wire nose strip, stretchy fabric, and an added lower section that hugs your chin, [making] this mask fit several different face shapes securely and comfortably." When she tested them, Liza told us that they are "made to ensure proper filtration, breathability, and comfort," so it comes as no surprise that they were recommended as a top layer for double-masking, too.
The last time this Vida cotton mask made our best-sellers list was back in September, but with new suggestions by health experts, it's made its return. Liza also tested these and found that they're breathable even with the filter in, and "the adjustable ear straps mean there's no fumbling to tie the mask straps behind your head or mess up your hair." And our senior vice-president of e-commerce Camilla Cho appreciates its metal nose piece that "ensures a snug fit" and "helps keep her glasses from fogging up."
Making a debut on our best-sellers list are these Powecom KN95 masks that are also included on the FDA's list of approved emergency PPE and purportedly filter out 95 percent of small particles. They were featured in our roundup of the best disposable masks because they're "soft on the skin and create a tight seal all the way around from nose bridge to under the chin," and it's also why Liza reports that they're her "go-to mask for wearing alone or layering with a fabric mask on top."
Photo: kabir fernandez
Another first-time best-selling mask is this stylish set from Baggu. The first iteration of these with tie straps were recommended early on by Strategist editors and people with good taste, but when they released updated masks with adjustable ear loops, Liza called it a "true blessing." In addition to looking good, she says, "They stay in place just as well, are just as adjustable, feel just as substantial, and are just as fitted as the tied masks but are much easier to use." Plus, they now come in a number of fun patterns and colors that you can coordinate with your favorite tote.
These hotel-style pillows made their debut on our best-seller list back in June, when we were surprised to see them instead of the very popular Wamsutta Side Sleeper pillow. Most recently, we named them the best-rated pillow according to hyperenthusiastic Amazon reviewers — one of whom said, "this pillow works in every position," even though they "roll around about as much as a pig in mud."