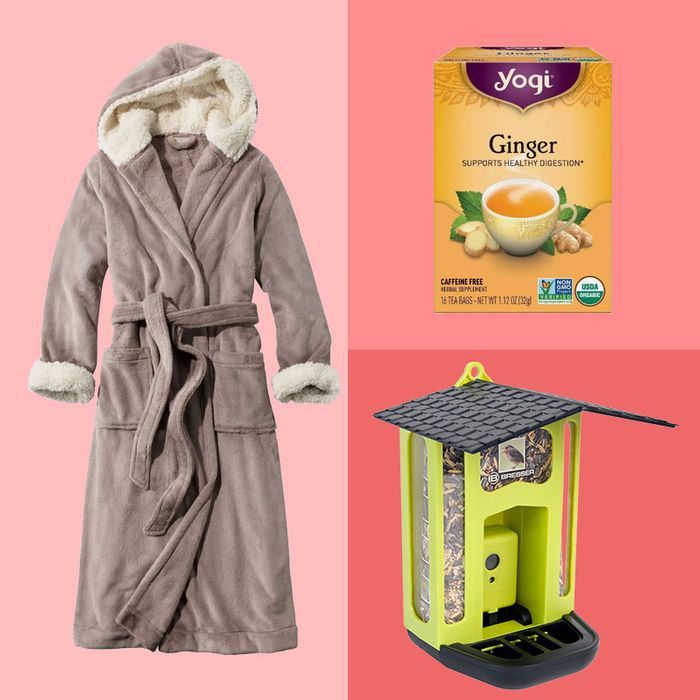 Photo-Illustration: retailers
We write about hundreds of products a week. Here, in our version of the Sunday circular, we've plucked out some of our favorites — expert-recommended essentials, life-changing stuff you didn't know you needed, newly launched gizmos, and the very good deals we uncovered while trolling through the vast online-shopping universe this past week, including a Vermont-made beanie for cross-country skiing, a seductive sculptural candle, and a better version of a beloved baby monitor.
A better version of a beloved baby monitor
"I've been using the Infant Optics DXR-8 baby monitor every day since my (almost) 2-year-old son was about 3 months old," says Strategist writer Lauren Ro. "But as with anything one uses day in and day out, there are definitely things about the DXR-8 monitor I would change." That's why, when the brand reached out to Ro about trying its new DXR-8 Pro — which only costs $35 more than the original — she was intrigued "not only because I probably have another year (at least) of monitoring my son's sleep, but also because, at just $35 more, I wondered how much different it could actually be?" Judged by looks alone, Ro says in her full review that the two closed-loop monitors are not that different (aside from the visibly larger screen on the Pro's parent unit). But when it comes to video display, "the difference between the two models is like going from — pardon the cliché — black-and-white to Technicolor," she says. "Or, quite literally, from low-def to hi-def: My husband and I can actually see my son's eyes at night (it's honestly a little creepy; he looks like a cyborg)." Other significant improvements include an increased range of up to 1,000 feet and a time display on the parent unit's screen — "a small detail that makes a huge difference," she says.
A cozy outer layer for inside the house
A house robe, as Strategist senior writer Karen Iorio Adelson puts it, should be "cozy enough to wear for hours and decent-looking enough to step out to fetch the mail." If you're looking for a cozy outer layer to loaf around (or work from home) in, Adelson spoke to a bunch of cool women about their favorite house robes, which include this plush L.L. Bean option that Caraa co-founder and creative director Carmen Chen Wu swears by. She says the "super thick and fluffy" robe is "truly like wearing your bed around with you" — and, really, how much cozier can you get?
Two cozy outer layers for outside the house
Photo: retailer
Editor's note: MEC lists prices in Canadian dollars, so the prices shown for the Great Northern Down Parka and Tremblant Jacket are approximate conversions to U.S. dollars.
"As someone who married one, I can tell you that Canadians are very proud of two things: their maple syrup and their ability to withstand truly cold winters," writes Strategist newsletter editor Mia Leimkuhler. "Actually, make that enjoy truly cold winters. After recently moving to Montreal, I learned that frosty outdoor activities are built into Canadian culture and infrastructure." Seeing as most of us have months of frosty outdoor activities ahead (if we want to socialize safely, that is), she took to the streets to observe the coats that her Canadian neighbors wear to cross-country ski, ice skate, or just stroll about in — and surprisingly discovered few bore the logo Canada Goose. Her observations were confirmed by some Canadian retail specialists, who say that Canada Goose sells less in Canada than some other just-as-warm outerwear brands. One is MEC, which Leimkuhler says "has been the country's go-to retailer for all things outdoorsy since it opened in 1971. It carries a lot of the same brands as American outdoor stores (Patagonia, the North Face, et al.), and, like the best American outdoor stores, it also has an in-house label that is very popular due to its very high quality." These are some of that in-house label's most popular coats for women and men, according to an MEC employee, who told her that both are insulated with a "plush layer of RDS-certified down to keep you warm."
The cotton face masks Cory Booker and Rosario Dawson wore to the inauguration
While everyone else was (understandably) atwitter about the purple Christopher John Rogers dress-and-jacket and the belted Sergio Hudson jumpsuit that Vice President Kamala Harris and Michelle Obama wore on Inauguration Day, we found oursel