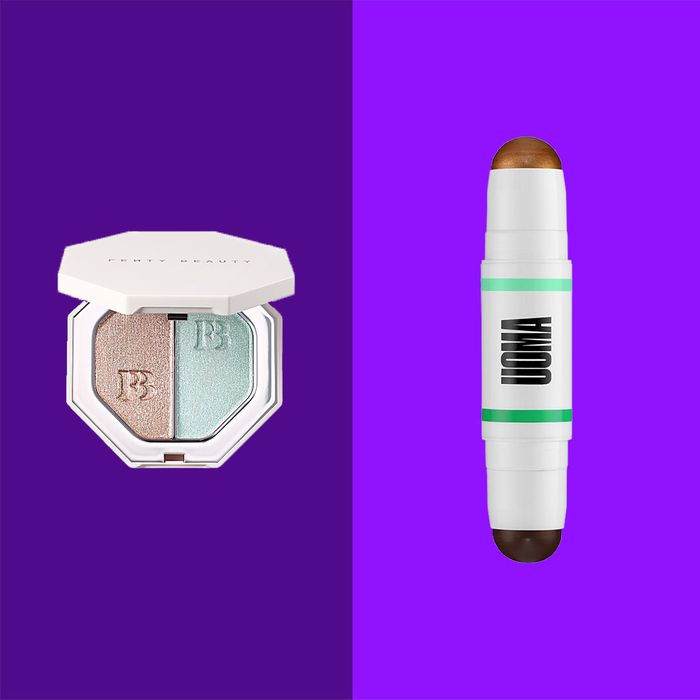 Photo-Illustration: The Strategist; Photos: Retailers
While doing my regular internet sleuthing, I noticed that right now, there is a lot of makeup on deep sale. While I might not be wearing half as much makeup in quarantine as I did pre-pandemic, these bargain-basement deals are the moment to do what I like to call "tactical shopping" — or stocking up on products I'm going to want to have in my arsenal, even if I won't really use them until we're allowed back out into the world. Below, I've rounded up the ten best products I found on deep sale. All are things I love or have long wanted, all are more than 50 percent off, and although the retailers don't advertise how long the discounts will last, the fact that I've never seen them priced this low is enough to assume it won't be for long.
Natasha Denona's makeup is extremely well-loved (by regulars, and celebrities like Gal Gadot) for its easy-to-apply, blendable formulas that give the skin a gorgeous lit-from-within glow. This palette, in my opinion, is really one of her star products. It's includes cream and powder highlighters and blushes that deliver a range of finishes (some dewy, some fresh, some bold and glow-y). There is something for every day in this palette, and not to pick favorites, but this may be the best deal in this post.
Pat McGrath is well-known for her supremely pigmented, ultra creamy eyeshadow formulas. This half-off, now-under-$20 petite palette includes a collection of shimmery golds, browns, and rose shades that are very easy to buff or blend into your lids.
This Fenty Beauty set includes its best-selling high gloss (a rosy, nonsticky gloss that I'm obsessed with), its cream blush (which has a beautiful, easy to blend, creamy formula), and its Diamond Bomb (a high-shine highlighter that can be used on both your face and body for a shimmery glow). If you've never tried any products by Fenty Beauty before, this trio set is a great place to start.
These metallic dual-shade palettes are ultracreamy and pigmented — perfect for adding a quick pop of color to your lids. These little palettes come in a few shades, all of which are special and vibrant. If you're into frosty, twinkly palettes, you'll prefer the mint and light-gold palette "Sand Castle/Mint'd Mojito." If you like warm, bright tones, you'll love this Popsicle-esque duo "Mimosa Sunrise/Sangria Sunset."
This lipstick is a gorgeous mauvy color, with dusty rose undertones — making it the perfect candidate for when you want a rich nude with a little kick. The superlight formula feels weightless, and despite going on incredibly matte, it never dries my lips out.
This pen from Milk Makeup has a triple felt tip, so it creates multiple realistic, hairlike strokes for a quick brow fix.
Uoma Beauty's contour and highlight stick is one of my go-tos for sculpting or adding a little warmth to my tired, dull winter complexion. It has a nice oily-ish formula, which makes for incredibly easy buffing and blending for a seamless finish.
This cream-to-liquid eyeshadow from Natasha Denona is perfect for anyone who likes adding a twinkly bronzy glow to their eyes. The description says it's "metallic," but in reality it's a lot softer and more wearable. I love that you can just pat some one, dab it with your finger, and viola — a wonderfully shimmery eye that wakes your entire complexion us.
KVD liquid lipsticks are some of the brands most popular products — they're known for their vibrant colors and matte, long-wear finish. This set has a few different shades — a peach, a browny-mauve, an orangey red, and a blue. I wouldn't personally wear the blue as lipstick, but the vegan formulas are work on the lids! Also, these particular lipsticks were named after farm sanctuary animals that were saved from bad situations!
The Kylie Cosmetics concealers are actually a lot better than I had expected them to be. For some reason, I had pictured that they would be matte and super full coverage, but they're actually creamy and easy to blend that leaves a nice dewy finish behind. It's great for everyday wear or touching up blemishes.