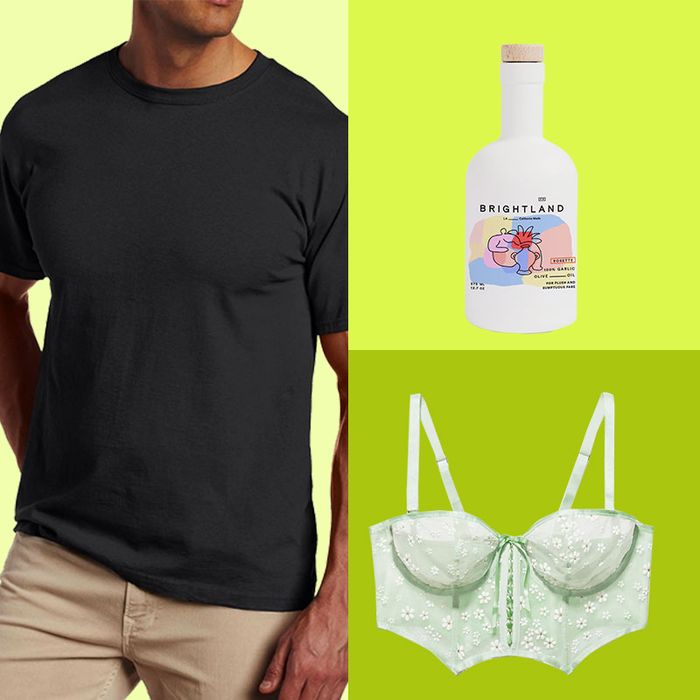 We write about hundreds of products a week. Here, in our version of the Sunday circular, we've plucked out some of our favorites — expert-recommended essentials, life-changing stuff you didn't know you needed, newly launched gizmos, and the very good deals we uncovered while trolling the vast online-shopping universe this past week, including sheepskin covers for cane chairs, a discounted set of our favorite linen sheets, and a virtual Valentine's Day trip to Italy.
A (virtual) Valentine's Day trip to Italy
Photo:
Today is Valentine's Day, so it's officially too late to ship your loved one a bouquet of farm-fresh flowers or box of chocolates that will arrive on time — but you can still gift them a virtual experience to make the most of the day, like this pasta-making class taught by an actual Italian grandmother. (Just remember to pick up the ingredients for the dish that you choose.)
A motivational water bottle for new moms
Registries are often wasted on soon-to-be-parents, because it's hard to know what products will be essential until after your child is born — so our new series asks tasteful people the very simple question, "If you could do your baby registry all over again, what top the list?" Jovian Zayne gave birth to her daughter Jorgie just over a year ago and found the Diaper Genie to be nonessential, because "once the poop gets real, it doesn't make a difference." But this motivational water bottle was a must-have, especially while nursing: "Before the baby I used to set alarms to remind me to drink water, but I'm not trying to do that anymore; I don't have time. This water bottle is just fun; every time I was pumping or nursing I would try to get to at least the next line down."
An unkillable bonsai grow kit
Like many of us who were looking for a hobby once coronavirus hit, writer and Strategist contributor Daniel Modlin and his partner became plant parents during quarantine but found that "within a week, maybe two, it's always the same result: They all keel over and die." That is until they were gifted this terra-cotta bonsai grow set from Modern Sprout, which is easy to set up and comes complete with a self-watering reservoir. "The only maintenance required is checking the soil every four days to see if it's dry. When it is, you just fill the reservoir," he explains, adding that even if that fails, it's okay: "After we forgot to water our bonsai for weeks (we both assumed the other was checking), all it took to revive the tree was adding some water." In fact, his efforts have been so successful that he's "excited to try out one of the company's edible herb growing kits next."
Status-y (garlic) olive oil
We're not-so-secret fans of Brightland's good olive oil and fancy vinegars, which is a favorite of chefs and food enthusiasts alike (and even makes one of our most-stood-behind gifts). So we were excited to hear that Brightland launched a new zesty garlic olive oil this week, that we think will sell out quickly. And, in lieu of their usual bottle art, Brightland collaborated with Los Angeles-based artist Lilian Martinez on this limited-edition design, which is beautiful enough to be "equal parts collector's item and pantry staple."
Comfortable cane chair covers
Last month, Strategist writer Jenna Milliner-Waddell fell victim to the siren song of the cane chair, a "beautiful and timeless" piece of furniture that she quickly realized is "downright unpleasant" to sit in all day long (as a WFH desk chair, for example). Since her chairs were causing her agony, but "far too beautiful to return," Jenna set out to find an aesthetically pleasing and comfortable cane chair cushion. This tight-pile sheepskin that's "more shearling than shag" feels soft, looks classic, and "It doesn't need to be dry-cleaned: You can just wash it by hand with wool-friendly detergent."
A Bridgerton-esque bustier available in up to size 3XL
When writer Dominique Pariso spoke with stylish women to find the best plus-size lingerie, one name came up over and over: Rihanna. After all, "Everyone in the plus-size community loves a good Savage x Fenty piece," says model, writer, and actor Abriana Soll. And this little mint and daisy-printed set is "the Bridgerton-slash-Marie Antoinette bustier of our dreams in up to a size 3XL." Plus-size fashion expert and model Alysse Dalessandro Santiago is another fan, telling us that the set "gives me ditzy '90s vibes," in case that's more your style.
The earring that Shannon Maldonado has worn for eight years