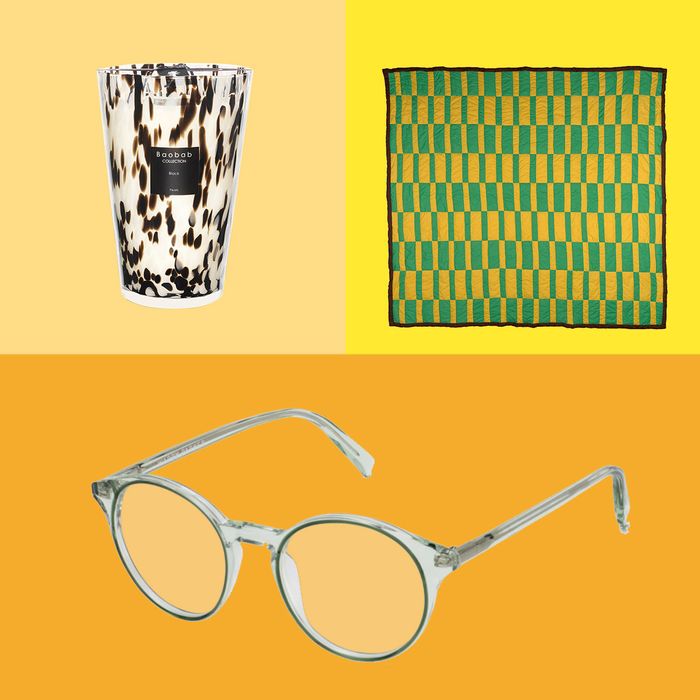 Photo-Illustration: retailers
We write about hundreds of products a week. Here, in our version of the Sunday circular, we've plucked out some of our favorites — expert-recommended essentials, life-changing stuff you didn't know you needed, newly launched gizmos, and the very good deals we uncovered while trolling the vast online-shopping universe this past week, including Black-made museum-quality quilts sold on Etsy, a candle that burns for 800 hours, and the kit that Taraji P. Henson uses for quarantine manicures.
Honeycomb for the valentine who's your honey
Valentine's Day is exactly a week away, but it's not too late to get your best friend or partner something thoughtful that'll still arrive in time — like this pound of organic honey, which we said "can be enjoyed with cheese, on yogurt or ice cream, or just straight out of the box" and would make a good under-$50 Valentine's Day gift for anyone with a sweet tooth. If your budget is under $25, or you'd rather tell them you care in writing, we have picks for you, too. Or, if you flat-out forgot, consider a virtual gift that won't require any shipping time.
The short-story collection that Danielle Evans read while writing her short-story collection
At the onset of writing The Office of Historical Corrections, Danielle Evans thought she was writing a historical novel. But once she realized she was writing a novella and short-story collection, she sought inspiration from Lost in the City, by Edward P. Jones. "Ideally, a story collection should feel like all the stories are in conversation but not quite saying the same thing," she says, noting that Jones's collection of stories about Black life in Washington, D.C., is just that. "He's such a genius with time. He's so good at small moments … bringing the whole weight of time into something."
A candle that burns for 800 hours
"Candles are frequent fodder in a certain corner of TikTok — called WickTok," explains Strategist writer Jenna Milliner-Waddell, but she also recently turned us on to a monstrous candle corner of TikTok. Viewers were especially rapt over a candle from Remedium that "has ten wood wicks and is comparable in size to a space heater," but since it sold out immediately, Jenna found over a dozen other enormous candles, from six to 18 inches in diameter. At 6.2 inches in diameter, this Baobab Pearls candle is actually on the smaller side of her list, but it "can burn for 800 (!) hours, the longest burn time on this list. That means you could burn the candle for more than a month straight (though we don't recommend actually doing that)."
Kamala Harris's Hennessy cocktail kit
There were lots of fun collaborations to be found in this week's installment of Don't Dillydally, our column where we highlight the best new launches and releases, including a Poketo-designed Takenaka bento box and a collection of cherry-covered acrylic trays and coasters from Edie Parker, in partnership with HVN. But perhaps the most unexpected collaboration came in celebration of the first Black and South Asian American madam vice-president, Kamala Harris: Hennessy launched a cocktail kit with Cocktail Courier that includes everything you need to make the so-called 49th cocktail, which is "essentially Hennessy with pomegranate-hibiscus-tea ice cubes." So drink up.
A baby soap for your sex toys