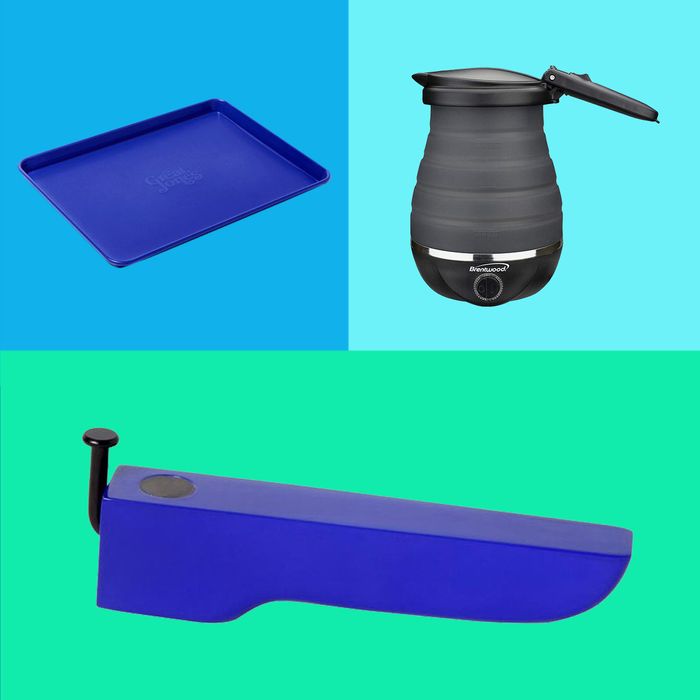 Photo-Illustration: retailers
We write about hundreds of products a week. Here, in our version of the Sunday circular, we've plucked out some of our favorites — expert-recommended essentials, life-changing stuff you didn't know you needed, newly launched gizmos, and the very good deals we uncovered while trolling the vast online-shopping universe this past week, including hand sanitizer made from food scraps, a skin-clearing shower filter, and a list of organizations to donate to in support of Asian communities.
The shower filter that cleared up Trinity Mouzon Wofford's skin
When Trinity Mouzon Wofford, co-founder of the wellness brand Golde, which makes one of our favorite superfood latte blends and (edible) face masks, moved back to Brooklyn after spending some time in upstate New York, her skin "just erupted in crazy breakouts everywhere," she says. "I couldn't figure out what was up until I realized that the water quality was having a pretty significant impact on my skin." This shower filter — one of two filters she can't live without — was the solution. "It hooks right into a showerhead and removes a lot of the mineral buildup that's coming through my 100-plus-year-old pipes. My skin is less clogged up, less irritated, and not as dry."
Three flight attendants' favorite CD-case-size travel kettle
In the before-times, one of the most coveted items among flight attendants was a $24 Amazon jumpsuit. But when Strategist writer Hilary Reid reached out to learn what's popular among flight attendants these days, no less than three named this travel teakettle. "While working with COVID restrictions this past year, food resources can be sparse," says flight attendant Jennifer Beckwith, who has used this collapsible, CD-case-size kettle to make everything from instant oatmeal to steamed veggies. Echoes flight attendant Amber Blansit, "I'll never be stuck on a layover without hot tea or coffee ever again, and if I'm feeling extra-spicy, you better believe you can find me heating up some instant ramen or even hot chocolate on those chilly winter nights."
A tool to find out how terrible your humidifier actually is
If you got embroiled in the Twitter discourse about why it's so hard to find a good humidifier, you'll be somewhat relieved to know that "all humidifiers are terrible," according to Strategist contributor Sarah Z. Wexler, who took a deep dive into the topic this week. So before you go out and buy a second, third, or fourth humidifier on your hunt for the best, consider getting a hygrometer to see how well yours is actually working (or, you know, not). "Hygrometers measure relative humidity (RH), which is the amount of moisture in the air compared to how much moisture the air can hold," says Sarah Drake, a seasonal humidifier brand manager. If your RH measurement is too high, many humidifiers have knobs to adjust to turn down the mist, but Wexler points out that "if your RH is too low and your humidifier is already at its maximum output, you'll either need to add another to the room or replace it with a larger one."
A food mill for less processed baby food
If you read the recent congressional staff report that found high amounts of heavy metals in certain prepackaged, processed baby foods and wanted to throw out everything in your pantry and start over: breathe. Strategist writer (and parent) Lauren Ro spoke with three experts, one of whom explained that the heavy metals in question occur naturally in the ground, which means they are introduced to many ingredients as they grow, which means there's really no way to eliminate them from any diet entirely. But if you're still freaked out and want to minimize the amount of processed food in your baby's diet, you can make your own baby food at home — and a food mill is one of the cheapest and easiest ways to do that. "If your family is having Taco Tuesdays and you want your baby to join in, you can just grind up whatever filling you have into a nice, textured baby food, and they can just join in the meal," says registered dietitian Jennifer Anderson, who explains that feeding kids what you're having starts "to build those taste skills so they can learn different flavors" and can help prevent picky eating habits.
Indré Rockefeller's "pick-me-up" pencils
Throughout her careers as a professional ballet dancer, fashion director, and now co-founder of Paravel, Indré Rockefeller has always kept pencils on hand. "Pencils came to represent the beauty (and messiness) of ideas in progress, and more importantly, the power of owning mistakes," she writes, and they've since become her symbol of "continuously erasing and beginning anew, in rethinking and reworking, in troubleshooting and in staying nimble." Among the classic No. 2s, and the cult-favorite Palomino Blackwing 602s that can be found on her desk or at the bottom of her handbag are these recycled-paper pencils, for "when I need a pick-me up," she says. Rockefeller is especially "charmed" by the "rainbow-colored shavings they leave behind when sharpened."
Hand sanitizer made from food scraps
Photo: Retailer
Unlike the sculptural candles and block-print bath mats that typically abound in Brooklyn homeware stores, most of the items at Thank You Have a Good Day are one of a kind. "Besides our own collection, it's things our friends make, things our friends' friends make, and things we've stumbled upon," says stylist Alicia Yates, who co-owns the shop with her partner, Gary Smith. On the timber shelves — across from the "weird ceramics" and coats made from vintage scraps — are apothecary items, including this hand