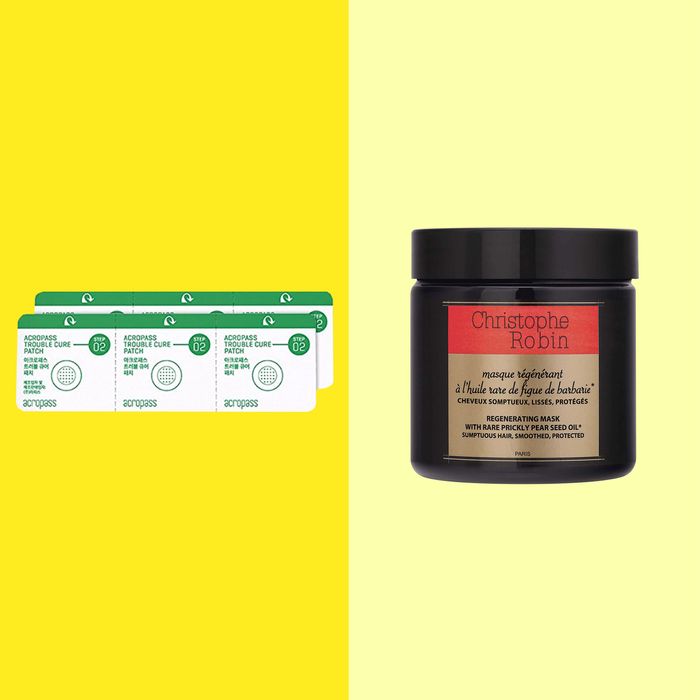 As it turns out, the week of Presidents' Day is an excellent time to shop for skin-care, makeup, and hair-care products. Tons of beauty destinations are (heavily) dropping prices on cult-favorite products, including SkinStore and Soko Glam. Whether you're in the market for a new vitamin C serum or hoping to step up your SPF game, look no further. Below, a list of the very best beauty products on sale this week, including my very favorite hair mask (which is 25 percent off) and a niacinamide-infused pimple patch (at almost 30 percent off). Enjoy!
This brightening serum from BeautyStat has a whopping 20 percent of ascorbic acid (that's vitamin C), which means it works wonders at helping fade hyperpigmentation, even out your skin tone, and just help your skin achieve an all-around glow. It also comes in airtight packaging, which means it won't go bad quickly like so many other vitamin C's out there.
This prickly-pear mask from Christophe Robin is one of the very best for deeply hydrating and repairing dry, damaged, or fried hair. When I took my hair from naturally dark to bright platinum blonde, this was my go-to mask to nurture my fragile, brittle hair.
This neutral, non-fussy French drugstore moisturizer gives your skin the perfect slip for makeup and is beloved by just about every makeup artist (from Hung Vanngo to Pat McGrath). It definitely works as a great moisturizer on its own, but works especially well as a skin primer for makeup — which is why it's long been a makeup-artist-kit staple at Paris Fashion Week.
This hyaluronic acid and ceramide-rich cream is a perfect wintertime moisturizer. It leaves the skin feeling quenched and supple without that heavy, greasy feeling.
This lightweight mineral sunscreen is a favorite of dermatologist Ranella Hirsch. It's formulated specifically with sensitive skin types in mind, and uses a blend of antioxidants and vitamins (such as chamomile, watercress, and calendula) to soothe and calm the skin. It's SPF 40, broad spectrum, and totally safe for toddlers.
The Acropass line uses teeny-tiny, ingredient-infused microneedles that dissolve and deliver ingredients directly into your skin. These specific patches are meant to target fine lines or wrinkles — the microneedles are infused with hydrating and skin-plumping ingredients like glycerin, hyaluronic acid, and peptides, which replenish and plump up the skin.
These patches are similar but made especially for pimples. First, wipe down your zit with the included antibacterial sanitizer wipes (they're soaked in salicylic acid and tea-tree oil). Then slap on the pimple patch — its tiny (painless!) micro-darts are infused with healing and brightening niacinamide and hydrating hyaluronic acid. The combination effectively flattens and calms the zit. No matter how big or angry my zits are, they always look a whole lot smaller in the morning after I've used these stickers, especially if I ice beforehand.
If you're looking to even out or add radiance to your complexion, I would consider checking out this serum. It is jam-packed with all-star ingredients, like 10 percent ascorbic acid, camu camu, and licorice root (which fades hyperpigmentation); niacinamide (which smooths and illuminates your complexion); and ginseng and mushroom (which calms and soothes your skin). This is an incredible daytime serum to make your skin glow-y for the rest of the day (and long after).
These little treatment sticks from Dr. Oracle are some of my favorite products to reach for when I'm dealing with whiteheads or consistent breakouts. They're long Q-tips dipped in exfoliating lactic acid, glycolic acid, wintergreen leaf extract, and antibacterial tea-tree oil, which all work together to remove pore-clogging dead skin cells and reduce the size, redness, and swelling of your breakouts. These sticks help me shorten the life span and general angriness of painful pimples.
These gentle, lemon-infused exfoliating pads use natural AHAs to remove dead skin to reveal a bright, even-toned, smooth complexion. They're excellent for evening out the little bumps on your skin, improving hyperpigmentation and acne to clear up your complexion over time, and help it stay that way.
This "Calming Clean Water" from Juice to Cleanse is an ultrahydrating micellar water, which gently removes dirt, SPF, and makeup from your skin. The fragrance-free formula uses a blend of calming aloe-leaf water, coconut fruit, and cabbage leaf extract to hydrate and soothe the skin.
These Hanskin sheet masks have recently become one of my favorite things to throw on whenever my skin is feeling dry, dull, and pimply. It uses a blend of hyaluronic acid (for hydration,) niacinamide (for, well, everything), and rose water (for antioxidant and barrier protection). Whenever I use this mask, I wake up with a smoother, plumper, and more radiant complexion.
This mask from Klavuu helps you clarify your skin while also hydrating. The formula is a blend of kaolin clay (a gentle clay that helps draw out impurities without stripping the skin), all-star hydrating ingredients such as hyaluronic acid, shea butter, glycerin, and squalane, as well as centella asiatica, panthenol, and algae extract to calm irritation and inflammation. This is an excellent mask for just about any occasion.
If you reach for the Juice to Cleanse water on a light makeup day, this cleansing balm is what you reach for on your sweatiest, heaviest makeup days. This cleansing balm is excellent at melting away waterproof mascara, dirt, sweat, and sunscreen, ensuring that your skin is clean before bedtime. Your white towels will thank you!