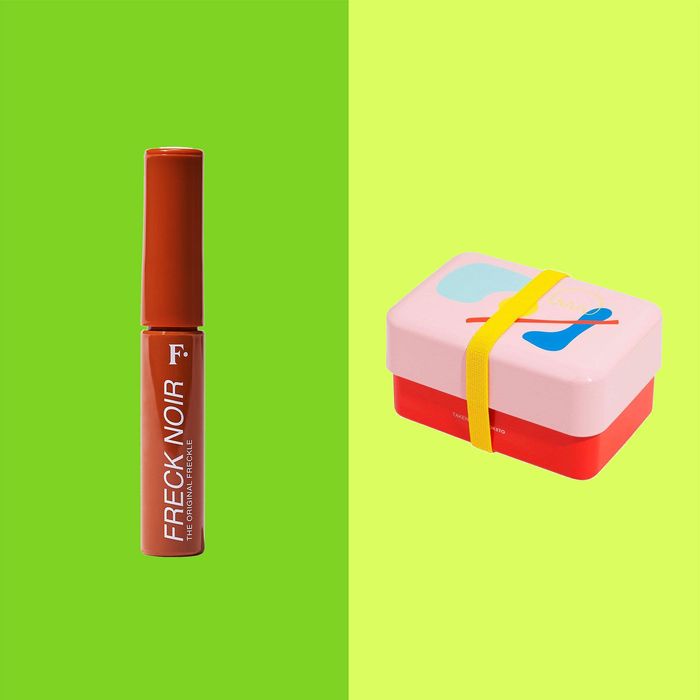 For this week's "Don't Dillydally," we've surfaced a range of limited-edition collabs that will likely be collectibles in the years to come. Among them, a commemorative Kamala Harris cocktail set from Hennessy, T-shirts and totes from Jason Polan x Uniqlo, and bento boxes from Poketo and Takenaka, which has been crafting the mealtime containers for more than 90 years.
Goodee x Nordstrom
Black-owned global marketplace Goodee recently partnered with Nordstrom on a curated mini-marketplace of home essentials — all of which are under $100. The assortment ranges from organic-cotton oven mitts to woven baskets to striped stuffed animals. We're particularly excited about these place mats, which come in three bright hues and are made from jipijapa leaves by Colombian artisans.
Freck
Freck Beauty, makers of the cult-favorite faux-freckle pen, recently released Freck Noir, a more pigmented, cooler-toned pen designed specifically for deeper skin tones. This shade comes in the same size as Freck XL, so you'll have enough Freck to fake it for many months to come.
Hennessy x Cocktail Courier
Hennessy is celebrating Kamala Harris's historic vice-presidency with a commemorative cocktail set. It includes a 750ml bottle of Hennessy X.O, an ice mold, a display tray, glasses etched with the number 49, and a recipe for "the 49th" cocktail (essentially Hennessy and pomegranate-hibiscus-tea ice cubes). The set is available through Cocktail Courier, a service that delivers kits for making bar-quality drinks at home. Hennessy is also pledging a donation to the Thurgood Marshall College Fund, which gives money directly to HBCUs and predominantly Black colleges.
Jason Polan x Uniqlo
Uniqlo recently released a collection in honor of the late, prolific artist Jason Polan, whom we have called "the city's resident illustrator." The collection features a selection of his iconic drawings of people in New York and Tokyo on T-shirts and totes. We like this T-shirt in particular, which has "Every Person in New York" on the front (a reference to his final project) and an assortment of people on the back drawn close together, as if he were capturing a busy (pre-pandemic) day in Union Square.
Poketo x Takenaka
OG bento-box makers Takenaka have teamed with designer Poketo to make colorful, limited-edition versions of its classics. This box, in a fun pink-and-red color-block, has an eye-catching yellow elastic to hold it all together. To complete your set, grab matching chopsticks or a wrapping cloth from the collection.
Donnie Davy x Face Lace